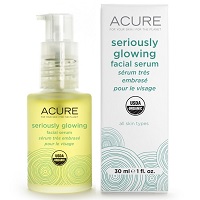 Product Name:  Acure Seriously Glowing Facial Serum
Overall Rating: 

Serum Type:  Skin-brightening serum
Size:  1 fl oz
Price:  $19.99
Cost Per Ounce:  $19.99
Where to Buy:  Click Here
# of Ingredients:  10
Notable Ingredients:  Organic Argan Oil, Borago Officinalis (Borage) Seed Oil, Vaccinium Macrocarpon (Cranberry) Seed Oil
Overall Opinion:
I had never heard of Acure before, and also hadn't tried many skin-brightening serums, so I was anxious to give Acure Seriously Glowing Facial Serum a try.  Unfortunately, it was a total flop.
The texture of the serum is extremely oily; in fact, it's probably the most oily face product I've ever used period.  Unlike other oil-based serums, however, the oiliness of the product did not disappear when other products were applied on top of it.
This made the face serum extremely uncomfortable to wear at night, and nearly impossible to wear during the day, as it made makeup application a complete disaster.
Acure Seriously Glowing Facial Serum is supposed to be applied on top of your moisturizer, which is super unusual.  It didn't specify whether to use it once or twice daily, but I opted to only use it at night after I had a complete meltdown with daytime application.
While this serum is definitely affordable, the overwhelming oily texture, mixed with the intense floral/lemon fragrance, made this face serum a total disaster—and to top it all off, it doesn't even brighten your skin.
It does say that you can use this face serum as an eye makeup remover, as well.  I think this is the only purpose I could see for someone to have Acure Seriously Glowing Facial Serum in their bathroom cabinet.
For that reason, it is absolutely not worth the money.
Detailed Opinion:
Texture/Feel
Acure Seriously Glowing Facial Serum is beyond oily.  I guess that's to be expected since every single ingredient is some form of oil.
I would describe the texture as something close to olive oil or massage oil.  It's very slick, and seems to get everywhere.
The serum is beyond uncomfortable on the skin because of how oily it is.  It doesn't feel like it ever really sinks into the skin, so you are left with a very shiny, oily complexion, with a thick layer of product sitting on your face.
Application
To apply Acure Seriously Glowing Facial Serum, warm 1-2 pumps in your palm, and press into your face, neck, and décolleté.
Unlike most face serums, you're supposed to apply this serum as the final step in your skincare routine.  Most other serums instruct that you apply your moisturizer on top, but this serum has you apply your moisturizer first.
Acure's packaging and website didn't explain whether to use the serum once or twice a day.  I originally tried to use it both morning and night, but had such a disaster with it when applying it in the morning that I switched to just using it once a day at bedtime.
Drying Time
A dry time does not exist with Acure Seriously Glowing Facial Serum.  My skin was so beyond oily after applying it, and even after 10 or more minutes of waiting before getting in to bed, my face was still slick with oil.
Since I applied the product from my face down to my chest, I got oil all over my bed sheets.  It was a complete mess. So that's a testament to just how little this product actually dries after applying it.
I did disregard the instructions on the second night of applying it by using it before my face moisturizer.  While that did help slightly, I still had an uncomfortable amount of oil left on my face.
It was also difficult to apply my moisturizer and acne cream on top of it because the product was moving around my face so much due to the oil in the face serum.
Smell
I am not normally sensitive to odors in my skincare products, but Acure Seriously Glowing Facial Serum has an intense smell.
It is a combination of floral and lemon scents.  While it isn't as horrible as this smell, it did remind me of a cleaning product.
I have found with other face serums that after applying a different product on top of the serum, the odor disappears.  This is not the case with this serum.  The smells remains just as strong on your skin and after applying a moisturizer on top of it as does when you first rub it in your palms.
Immediate Results
As I do with most face serums, I chose to apply Acure Seriously Glowing Facial Serum at night first.  I chose to follow the instructions on the packaging and apply the serum on top of my moisturizer.
Since the product remains very oily, it was uncomfortable on my skin, and made a mess in my bed.  I had oil all over my pillowcase and bed sheets.
When I woke up the next morning, I noticed that I still had quite a bit of oil on my face.  Maybe that's what they mean when they say skin brightening?  Your face is just so oily that it seems to glow?
Beyond an oily complexion, I didn't notice any changes in my skin.
I applied the product that next morning, as well.  I chose to apply it underneath my morning moisturizer fearing that it might mess with my makeup application.
I was right.  Even though I applied a moisturizer on top, and waited a full 30 minutes before applying my makeup, my makeup application was a complete disaster.
I could not get my foundation to stay put on my face.  I tried applying it with both a brush and a beauty blender, and my foundation was sliding around everywhere.  This made me realize that applying this product in the morning would be completely impossible, no matter how dry your skin may be.
Long Term Results
I continued to have the same discomfort using this product nightly.  It's just not a very user-friendly product to introduce into a skincare routine, in my opinion.
Beyond not liking how it felt on my face, I really did not see any results with Acure Seriously Glowing Facial Serum.  My skin didn't have any extra natural glow to it, and I didn't see any of my sunspots disappear or lighten up.
My complexion honestly looked the exact same as it did before I started using the product.  So that, mixed with the fact that it was uncomfortable to wear, made me eager to move on to a different face serum.
Price/Value
At $19.99 for an ounce, Acure Seriously Glowing Facial Serum is one of the more affordable face serums on the market.
However, since it is uncomfortable to wear, regardless of your skin type, has a very intense smell, and does nothing to improve your complexion, it is absolutely not worth the money.
Guarantee
Acure Seriously Glowing Facial Serum offers a full money-back guarantee for 365 days after the product has been purchased.
If the product is unopened, Acure will provide a shipping label.  If the product has been used, the customer must pay to return the item.
Where To Buy
To purchase Acure Seriously Glowing Facial Serum, click here.
Acure Seriously Glowing Facial Serum: Summary
| | |
| --- | --- |
| Factor | Acure Seriously Glowing Facial Serum |
| Overall Rating | |
| Texture/Feel | Very thick, oily texture… similar to olive oil or massage oil. Uncomfortable to wear on skin |
| Application | Apply daily to face, neck, and décolleté. Rub 1-2 pumps in palms of hands and press onto skin.  Apply to a clean face on top of face moisturizer |
| Drying Time | Does not dry at all, even after a full night's sleep |
| Smell | Very overwhelming floral/lemony smell, similar to a cleaning product |
| Immediate Results | More oily complexion, complete makeup disaster when applied in the morning |
| Long Term Results | Extremely uncomfortable product to wear both day and night.  No change in complexion, sunspots, or overall skin brightness |
| Ingredients | Organic Argan Oil, Borago Officinalis (Borage) Seed Oil, Vaccinium Macrocarpon (Cranberry) Seed Oil |
| Price | $19.99 |
| Guarantee | Full money-back guarantee for 365 after product has been purchased |
| Where To Buy | Click Here |