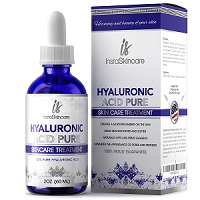 Product Name:  InstaSkincare 100% Pure Hyaluronic Acid Serum
Overall Rating: 

Serum Type:  Hydrating
Size:  2 fl oz
Price:  $15.99
Cost Per Ounce:  $7.99
Where to Buy:  Click Here
# of Ingredients:  5
Notable Ingredients:  Glycerol, Sodium Hyaluronate
Overall Opinion:
If you're looking for a hydrating face serum that delivers almost instant results, InstaSkincare Hyaluronic Acid Serum is a great, and affordable, option.
The consistency of the serum is quite thick, making it a less comfortable face serum than most others on the market, and the brand doesn't offer a refund on used products (lame). However, if you can look past those two aspects of this product, it's a great fit for any skin type.
The minimal ingredients of this serum are gentle on the skin and resulted in a more hydrated, plump complexion than before I started using the product. Overall, I'm really happy with my results!
Detailed Opinion:
Texture/Feel
InstaSkincare Hyaluronic Acid Serum is an extremely thick face serum. It almost feels more like a gel than a serum, so that caught me off guard initially.
When I applied the serum to my face and neck, it felt just as thick as it appeared. Once the serum absorbed into my complexion, it left behind a really strong residue.
My face and neck almost felt tight until I layered my other face products on top of it, so this isn't the most comfortable face serum to wear overall.
Application
The application is pretty straightforward. Apply a pea-size amount on clean, dry skin both morning and night.
This does have a dropper applicator, which makes it a little tricky to get the right amount of product. It's an odd packaging choice given how thick the serum is.
Once the serum absorbs into your skin, layer your other face products on top. Surprisingly, my moisturizer and makeup layered well over this serum despite the strong residue left behind post-application.
Drying Time
The dry time for InstaSkincare Hyaluronic Acid Serum is quicker than I'd expect given how thick the serum is.
After 15 seconds, the initial wet feeling of the serum was replaced by a sticky residue, making my skin feel tight and uncomfortable overall.
Smell
InstaSkincare Hyaluronic Acid Serum is odorless.
Immediate Results
I used InstaSkincare Hyaluronic Acid Serum at night first, and come morning, I could tell that I was going to enjoy using this product. This was definitely a relief given how uncomfortable the serum was to apply!
My complexion both looked and felt more hydrated and healthier in general. I'm impressed at how fast-acting this face serum is.
Long Term Results
Since I'd experienced encouraging initial results with InstaSkincare Hyaluronic Acid Serum, I was optimistic about how my skin would continue to look while using this serum.
The results I initially experienced only increased. My complexion was very hydrated and had a more plump appearance to it. It also felt healthier too, which is always a bonus.
I'm really happy with how my skin look after using this face serum!
Price/Value
In my opinion, InstaSkincare Hyaluronic Acid Serum is worth the money. I saw noticeable changes to my skin almost immediately, and I'm really happy with my long-term results.
It's also an affordable product, which I like in general, but it also takes away any real risk of purchasing since they won't accept returns on used products.
Guarantee
I'm really disappointed with the return policy for InstaSkincare. While they offer a 60-day money-back guarantee, it's only on unopened, unused products.
I never understand why companies do this. It's a total turn off from purchasing because you don't get a chance to see if the product actually works for you.
Where To Buy
To purchase InstaSkincare Hyaluronic Acid Serum, click here.
InstaSkincare Hyaluronic Acid Serum: Summary
| | |
| --- | --- |
| Factor | InstaSkincare Hyaluronic Acid Serum |
| Overall Rating | |
| Texture/Feel | Very thick face serum, almost like a gel. Once absorbed, it leaves behind a strong residue and makes your face feel tight until applying other face products. Wears well underneath most products, however |
| Application | Apply pea-size amount to clean, dry skin both morning and night. Layer other products on top once absorbed |
| Drying Time | 15 seconds |
| Smell | Odorless |
| Immediate Results | Immediately noticed a change in complexion—skin looked more hydrated and healthier overall |
| Long Term Results | Obvious increase in skin hydration and plumpness. Healthy looking and feeling skin. Very happy with results |
| Ingredients | Glycerol, Sodium Hyaluronate |
| Price | $15.99 |
| Guarantee | 60-day money-back guarantee on unopened product. Disappointing return policy |
| Where To Buy | Click Here |