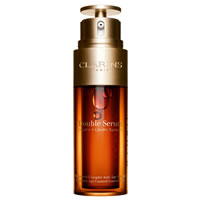 Product Name:  Clarins Double Serum [Hydric + Lipidic System]
Overall Rating: 

Serum Type:  Anti-aging
Size:  1 fl oz
Price:  $122.00
Cost Per Ounce:  $122.00
Where to Buy:  Click Here
# of Ingredients:  53
Notable Ingredients:  Glycerin, Turmeric, Avena Sativa (oat) kernel extract, Musa Sapientum (banana) fruit extract, Theobroma Cacao
Overall Opinion:
Clarins Double Serum is one of the most expensive face serums on the market, but for good reason. As an anti-aging serum that aims to reduce fine lines, restore a more radiant complexion, and reduce pore visibility, the serum sets out to achieve high goals, and hits the mark on all of them. The double serum aspect of it means it contains both water-soluble age-control ingredients, referring to the hydric side of the serum, and oil-soluble age-control ingredients, referring to the lipidic side of the serum. This makes it a great fit for all skins types, from dry to oily, and everything in between.
Since the serum does have oil-based ingredients, including extracts from more than 20 plants, it definitely feels more slick and oily upon application. The product can be applied once or twice daily, so if you have oily skin like me, it's best to introduce this serum into your nighttime skincare routine only.  If you have dry skin, on the other hand, this would be great to give your skin some extra hydration during the day.
At this high of a price point, it can be hard to justify spending $122.00 on a single ounce. However, this serum truly targets all major areas of skin care issues, from enlarged pores and fine lines, to dull looking and uneven skin tone. Since the serum is able to deliver on all of these claims with their advanced formula, it makes it well worth the money and leaves customers feeling satisfied.
Detailed Opinion:
Texture/Feel
Clarins Double Serum is a brown, water- and oil-based face serum. Since it does contain oil-based ingredients, an oily texture is what comes through most when applying this serum. It seems to sit on top of the skin for a long period of time before soaking in, so the oily feeling seems to remain, even after a moisturizer is applied on top of it. While the feeling is slick, it does not feel greasy, so it is still a comfortable product to wear on your face and neck.
Application
Applying the Clarins Double Serum is fairly simple, and can be incorporated into your daytime and/or nighttime routine. The product takes a long time to absorb, which makes it slightly more difficult to wear during the day. However, the product gives you the option of applying it once or twice a day, so if you have oily or even combination skin like me, you may want to stick to applying it at night only. The oil in the face serum will impact makeup wear, and cause additional oil buildup on your skin throughout the day.
To apply this product, simply cleanse and tone your skin, and apply two pumps of the product onto your face and neck. I found that two pumps was too much product, so you may want to start with one pump and see if an additional pump is necessary. Once you've rubbed the serum into your face, apply a daytime or nighttime moisturizer.
Drying Time
The drying time on the Clarins face serum is very long. In fact, it doesn't really seem to dry at all. The product appears to sit on the skin, and slowly seep into your face and neck throughout the day or night. I waited a full minute before applying my face moisturizer on top of it, and found that the texture of the serum was still prevalent on my skin. As I said previously, however, it's still a comfortable product to wear. It just doesn't work its way into the face and neck skin immediately, so a drying sensation is not experienced upon immediate application.
Smell
Clarins Double Serum has a strong, floral perfume scent. While the scent feels very high-end, and made me feel like I was getting a spa treatment, this product wouldn't be a great fit for anyone who is sensitive to odors in their face products. I will say, however, that once the product was on my face and I applied my moisturizer on top of it, the scent disappeared altogether, so it is very temporary.
Immediate Results
Since I have oily skin, specifically in my T-zone, I opted to just use this serum once daily at night. When I initially applied the product, I found it to be very hydrating, which makes sense due to the many plant extracts and other oil-based ingredients. As I explained previously, the product didn't seem to work its way into my skin by the time I went to bed. By morning, however, I could already see a difference. It was clear that the product has seeped into my skin overnight, and I had an overall more plump, hydrated look to both my face and neck.
I also experienced a glow that is not normal for me in the morning. Most mornings, I wake up with more dry, dull looking skin. The morning after using this serum, however, my skin had a gorgeous, healthy-looking glow that made me feel like leaving the house without any heavy foundations or highlighters on.
Long Term Results
The results I experienced immediately with Clarins Double Serum only increased the longer I used this product. I found that the pores on my nose and inner cheeks were noticeably smaller. In the past, I've had to use primers that help fill in those pores, but I found that I could skip that step after using this face serum for a while. This was a unique takeaway from a face serum that I had never experienced before.
My complexion overall improved significantly, as well. The healthy glow increased over time, and that, partnered with the intense hydration and plumping effect this serum gave me, I experienced younger looking skin, and a more even complexion. I also saw a major difference in my fine lines and wrinkles, specifically around my eye area. Where my concealer used to sink into those lines before, I found that I had a smoother, more "filled in" look in those spots.
Price/Value
At $122.00 for a single ounce, the Clarins Double Serum is definitely one of the most expensive face and neck serums available for purchase on the market today. However, since it increases overall skin appearance greatly, from dull skin and other complexion issues to fine lines and wrinkles, this serum is one that actually works to correct any and all skin issues. I experienced incredible results from using this product just once daily, and I opted to use one pump instead of two, so I do think this serum will last you longer than most other serums on the market. For all of these reasons and more, the Clarins Double Serum is well worth the money it costs.
Guarantee
Clarins does not offer any returns, unless the product has been unopened, so unfortunately, if you don't like the product, your options are limited.
Where To Buy
To purchase Clarins Double Serum, click here.
Clarins Double Serum: Summary
| | |
| --- | --- |
| Factor | Clarins Double Serum |
| Overall Rating | |
| Texture/Feel | This is a brown, water- and oil-based serum that feels oily upon application. |
| Application | Easy to apply; Use once or twice daily on face and neck after cleansing and toning. Follow with moisturizer. |
| Drying Time | Doesn't really dry. Wait a minute or two before applying other products and allow serum to sink in throughout the day/night. |
| Smell | Strong floral perfume smell. Disappears after applied onto face and neck, or when moisturizer is applied on top. |
| Immediate Results | Hydrated, plump skin, and an overall healthy glow were experienced immediately. |
| Long Term Results | Smaller pores in T-zone, gorgeous natural glow, decrease in fine lines around eyes, more even complexion overall |
| Ingredients | Glycerin, Turmeric, Avena Sativa (oat) kernel extract, Musa Sapientum (banana) fruit extract, Theobroma Cacao |
| Price | $122.00 |
| Guarantee | No, they don't accept back opened products. |
| Where To Buy | Click Here |