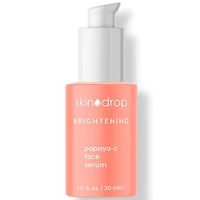 Product Name:  Skin Drop Papaya-C Face Serum
Overall Rating: 

Serum Type:  Skin Brightening/Anti-aging
Size:  1 fl oz
Price:  $39.95
Cost Per Ounce:  $39.95
Where to Buy:  Click Here
# of Ingredients:  27
Notable Ingredients:  Glycerin, Niacinamide, Papaya Fruit Extract, Kakadu Plum, Hyaluronic Acid
Overall Opinion:
Regardless of your skin type, if you're looking for a do-it-all face serum, Skin Drop Papaya-C Face Serum is a product you must try!
I loved everything about this product. From the moisturizing feeling on my skin upon application, to the seamless way it wore underneath makeup, the actual act of using the serum is as enjoyable as they come.
And while I love that aspect about this product, the thing that has me loving this serum most is the incredible results it delivers.
Almost immediately, my skin looked and felt brighter and healthier. I don't think I've had this clear, beautiful, and youthful-looking skin in years!
Because it's gentle yet effective, it's also a great fit for just about every skin type, so there really aren't many downsides here.
Overall, for all these reasons and more, this may be the best face serum I've tried so far!
Detailed Opinion:
Texture/Feel
Skin Drop Papaya-C Face Serum has a good consistency among face serums. However, unlike many other products, it feels extremely soft and moisturizing when applied to your face. I absolutely loved how the serum felt on my skin!
Once the serum absorbs, it only leaves behind a very slight residue. You can tell that the product absorbs well into your face and neck, but it has enough of a residue to let you know something is on your skin.
Overall, this was a very comfortable serum to both apply and wear!
Application
The application for Skin Drop Papaya-C Face Serum really couldn't be easier. Apply a single pump of product on clean, dry skin both morning and night.
Once the serum absorbs into your skin, layer your other daily skincare products on top of it.
I found that this product was super simple to incorporate into both my daytime and nighttime skincare routines as it wore seamlessly underneath makeup, and didn't change how my other face products wore or smelled.
Drying Time
The dry time for Skin Drop Papaya-C Face Serum is about 15 seconds, so very comparable to other face serums I've tried.
It's pretty easy to tell when the serum has absorbed into your face and neck.
Smell
This face serum has a clean, slightly fruity odor to it. I personally love how it smells. In my opinion, it's comparable to products in high-end spas.
For anyone weary of scents in their facial products, it's very slight and goes away once it absorbs into your skin.  So there's nothing to worry about if you fall into that category.
Immediate Results
I used Skin Drop Papaya-C Face Serum at night first, and immediately fell in love with the formula. It felt so hydrating and good on my skin, so I was optimistic about the product right out of the gate.
When I woke up the next morning, my skin truly looked and felt better. There was a noticeable glow to my complexion, and areas of my face that had been irritated the night before looked significantly better.
I was super impressed with the initial results!
Long Term Results
The results I achieved with Skin Drop Papaya-C Face Serum are some of the best I've seen to date.
My skin was noticeably brighter and healthier looking. I truly had a glow to my complexion that wasn't there before using this serum.
I also experienced a major decrease in skin congestion and discoloration.
I am so rarely confident leaving the house without some sort of tinted moisturizer on, but my skin was as close to flawless as possible that I hated to cover it up.
So it's safe to say that the results I achieved with this serum were very impressive, and I really think this product is a great fit for any and all skin types!
Price/Value
At about $39, this is a no-brainer due to its very affordable price (relative to most of the other face serums I've tried).
It goes on easy and absorbs quickly.  It smells good and plays nice with other skincare products.  Finally, the results are immediate and impressive.
You know you're on to something when face serums that cost 203 times more aren't as effective!
Guarantee
Skin Drop has a VERY good return policy. You have 90 days to try out the product, and if you don't love it, you get your money back.
Not only is this about 3x the length of time most brands give you to trial their products, but I also saw immediate results with Papaya-C Face Serum so you'll know well before then whether this serum is a good fit for you.
This is a definite plus for the product and the brand as a whole!
Where To Buy
To purchase Skin Drop Papaya-C Face Serum, click here.
Skin Drop Papaya-C Face Serum: Summary
| | |
| --- | --- |
| Factor | Skin Drop Papaya-C Face Serum |
| Overall Rating | |
| Texture/Feel | Average face serum consistency, and feels so smooth when applied to face and neck. Moisturizing feel overall. Leaves behind light residue, which makes for easy application of other products. Very comfortable to wear |
| Application | Apply one pump on clean, dry skin both morning and night. Once absorbed, apply other skincare products. Wears well underneath makeup so perfect for daytime and nighttime use |
| Drying Time | 15 seconds |
| Smell | Clean, slightly fruity scent. Not overpowering and dissipates once absorbed. Smells like a product in a high-end spa |
| Immediate Results | Immediate increase in skin brightness and decrease in skin congestion |
| Long Term Results | Noticeably brighter, healthier looking skin. Clearer complexion with skin congestion and discoloration. Absolutely love my results! |
| Ingredients | Glycerine, Niacinamide, Papaya Fruit Extract, Kakadu Plum, Hyaluronic Acid |
| Price | $39.95 |
| Guarantee | 90-day money-back guarantee |
| Where To Buy | Click Here |