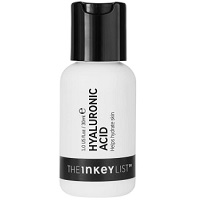 Product Name: The Inkey List Hyaluronic Acid Serum
Overall Rating:

Serum Type: Hydrating
Size: 1 fl oz
Price: $7.99
Cost Per Ounce: $7.99
Where to Buy: Click Here
# of Ingredients: 14
Notable Ingredients: Sodium Hyaluronate, Glycerin, Radish Root Filtrate, Hyaluronic Acid
Overall Opinion:
If you think an $8 serum sounds too good to be true, then you're absolutely right. The Inkey List Hyaluronic Acid promises more hydrated, plump skin, but instead, I was left with an acne-riddled complexion.
While the serum itself seems harmless enough, it's far from it.
The product is odorless, has a quick dry time, and doesn't impact the wear of your other face products, so I suppose it isn't all bad news. However, after a few days of using the serum twice daily, my skin was riddled with congestion, and both looked and felt awful overall.
There are plenty of other hydrating, and affordable, face serums on the market that do a far better job than The Inkey List Hyaluronic Acid, so I'd steer clear of this one altogether.
Detailed Opinion:
Texture/Feel
The Inkey List Hyaluronic Acid has an average face serum consistency. However, once it absorbed into my skin, it left my face and neck feeling dry and tight.
It wasn't until I applied my moisturizer that my skin felt comfortable, so this is definitely a serum that's uncomfortable to wear on its own.
Application
The application for The Inkey List Hyaluronic Acid is pretty easy, but I have to express how much I hate the packaging! This is identical to a travel shampoo bottle. So weird, right?
It also makes it really difficult to get out the right amount of product needed, so that's a major fail in my book.
Other than that, application is straightforward. You apply a pea-size amount on clean, dry skin both morning and night. Once the serum absorbs into your skin, layer your moisturizer and any other face products on top of it.
I didn't notice a change in how my other face products wore, so it was pretty easy to incorporate into my daytime and nighttime skincare routines.
Drying Time
The dry time for The Inkey List Hyaluronic Acid is extremely fast—about 10 seconds.
This quick of a dry time is almost concerning for me because it doesn't feel like the serum absorbed into my skin at all. Instead, it just felt like it dried as a layer on top of my face and neck.
Smell
The Inkey List Hyaluronic Acid is odorless.
Immediate Results
I used The Inkey List Hyaluronic Acid at night first, and when I woke up the next morning, I could tell that this product was going to give me trouble.
I had increased congestion in my T-zone, and while it wasn't anything major right off the bat, I could also feel some underground stuff that I knew was going to make it's way up.
Despite being concerned, I proceeded to use the serum twice daily as directed.
Long Term Results
I was a little worried with the skin congestion I experienced when first using The Inkey List Hyaluronic Acid. I really wish I would've listened to my gut because after a few days of using this serum twice daily, my skin was in total shambles.
My face, and even under my jawline, was covered in zits. My complexion both looked and felt totally awful, and it wasn't until I stopped using the serum that my skin started to clear up.
I have no idea if this serum is hydrating because my skin had such an adverse reaction to it, but I definitely didn't experience any hydration in the first few days of using it.
Price/Value
This face serum is absolutely not worth the money! After just a few days of using The Inkey List Hyaluronic Acid, my face was a total mess.
As much as I love a good deal, this is clearly not worth $8.
Guarantee
I can't believe this is even a real thing, but The Inkey List doesn't accept returns. Period.
I've heard of plenty of brands that only accept returns on unused products, which is ridiculous in my book, but this totally takes the cake. I've never even heard of a brand that does this!
I don't know if they think they can get away with this because their products are affordable, but after the experience I had with the serum, this is beyond disappointing.
Where To Buy
To purchase The Inkey List Hyaluronic Acid Serum, click here.
The Inkey List Hyaluronic Acid Serum: Summary
| | |
| --- | --- |
| Factor | The Inkey List Hyaluronic Acid Serum |
| Overall Rating | |
| Texture/Feel | Average face serum consistency. Once absorbed, skin felt very dry and tight until moisturizer was applied. Not the most comfortable serum to wear alone |
| Application | Apply a pea-size amount to clean, dry skin both morning and night. Once absorbed, layer other face products on top of serum |
| Drying Time | 10 seconds |
| Smell | Odorless |
| Immediate Results | Immediate skin congestion in T-zone—worrisome initial results to say the least |
| Long Term Results | Terrible breakout all over my skin, and no increase in skin hydration whatsoever |
| Ingredients | Sodium Hyaluronate, Glycerine, Radish Root Filtrate, Hyaluronic Acid |
| Price | $7.99 |
| Guarantee | This brand doesn't receive returns—what?!? |
| Where To Buy | Click Here |