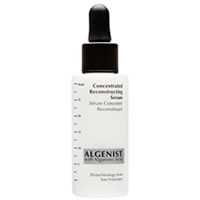 Product Name:  Algenist Concentrated Reconstructing Serum
Overall Rating: 

Serum Type:  Anti-aging
Size:  0.5 fl oz
Price:  $54.00
Cost Per Ounce:  $108.00
Where to Buy:  Click Here
# of Ingredients:  44
Notable Ingredients:  Alguronic Acid, Dimethicone, Glycerin, Isononyl Isononanoate, Pentylene Gycol, Saccharum Officinarum Extract, Butylene Glycol, Glyceryl Stearate
Overall Opinion:
Algenist Concentrated Reconstructing Serum is one of the first face serums I've tried that actually does more than it promises.
As an anti-aging serum, it makes good on its claims to reduce wrinkles and increase skin firmness. However, it also manages to clear away acne and skin blemishes, even out skin tone and texture, and add a healthy, natural glow to your skin.
This face serum is water-based, and extremely easy to apply and work into your skincare routine.
Even after using it for just a few days, it was obvious that my skin was changing significantly, especially when it came to clearing up my blemishes and giving me a natural glow.
After a few weeks, I was seeing rapid changes in my wrinkles and skin tone. My skin looked absolutely beautiful.
As one of the more expensive face serums on the market, Algenist Concentrated Reconstructing Serum is absolutely worth every penny.
In a short amount of time, it rewinds the clock on your face, and leaves you with breathtaking, healthy-looking skin.  Few serums can deliver on the claims it makes, and even fewer provide additional benefits, but this is exactly what Algenist does.
Detailed Opinion:
Texture/Feel
This Algenist serum feels just like you would expect a face serum to feel like.
It has a more thin texture, and definitely feels water based, versus oily or silicone feeling.
This made the face serum extremely comfortable to wear, both during the day and at night, and did not impact the application of any other products, from moisturizers to my liquid foundation.
Application
Applying the Algenist Concentrated Reconstructing Serum was extremely simple, both in my morning and nighttime skincare routine.
The directions on the packaging didn't explain whether to use it both morning and night, but I opted to use it twice a day.
After cleansing your skin, simply apply the product all over your face, and allow it to absorb before applying a moisturizer.
Drying Time
This Algenist face serum completely dries and absorbs into your skin in about 30-45 seconds.
After that length of time, it almost feels like you have nothing on your skin, which is nice when applying your moisturizer and other creams.
While a quicker drying time, and total product absorption, has left my skin feeling dry and zapped of hydration with other face serums, this was not the case with this serum.
There's a slight hint of the product remaining, but it feels like it's already begun to sink in and work on your skin.
Smell
Algenist Concentrated Serum has a slight mint odor to it. While many products that have that smell feel cool upon application, this isn't the case for this serum.
The smell is refreshing, and definitely not overwhelming.  I would compare the smell to a product you would find in a high-end spa.
Additionally, the smell doesn't linger after the serum is applied to your face, so it's temporary.
Immediate Results
When I first started using this serum, I was having a major breakout on my face. I'm not normally prone to acne, but I seemed to have blemishes all over my skin.
I initially applied the Algenist serum at night, and when I woke up in the morning, my acne had improved significantly.
I was really surprised to see some spots completely gone, and others that had gone down in size.
My skin also felt extremely firm when I woke up.
This was something I experienced slightly upon application, and it only continued to increase.
The serum almost had a tightening effect on my skin right off the bat.
My skin looked and felt more smooth and lifted, even after just one application of the Algenist face serum.
Long Term Results
The long-term results I experienced with Algenist Concentrated Reconstructing Serum were shocking, and I didn't even have to wait that long to experience them.
After just a few weeks of using this serum twice a day, I really feel like my skin was transformed.
My complexion was completely clear of any of the blemishes I had when I started using the product, and I didn't have any other spots pop up during that time.
I also saw a major decrease in my wrinkles, specifically around my eyes and on my forehead.
I think this was directly related to the firming ability this serum has.
Every time I applied the serum, my skin felt tight, and the longer I used the serum, the longer that feeling, and look, lasted.
My complexion as a whole also looked more beautiful when using this serum.
And my redness and skin discoloration almost fully disappeared, and I had such a beautiful, healthy-looking glow always, from the moment I woke up, to when I took off my makeup before bed.
My skin just looked and felt young, healthy, and radiant.
I saw these results pretty quickly after using the product, and they only continued to get better and better the longer I was using the face serum.
Price/Value
At $54.00 for half an ounce, Algenist Concentrated Reconstructed face serum is definitely expensive.
However, it makes sense why the brand would charge what it does—the product absolutely works.
The anti-aging claims it makes on the packaging and on the website are all delivered on, so it's a slam-dunk in that skincare category.
It also helps clear up skin of any acne issue, tightens and firms the skin to give it a more youthful, smooth appearance, and leaves you with a gorgeous glow.
I'm so impressed with this serum, and would be willing to pay even more to achieve what this serum does for my skin.
Guarantee
Algenist Concentrated Reconstructing Serum can be returned for a full refund within 30 days of the order date.
Where To Buy

To purchase Algenist Concentrated Reconstructing Serum, click here.
Algenist Concentrated Reconstructing Serum: Summary
| | |
| --- | --- |
| Factor | Algenist Concentrated Reconstructing Serum |
| Overall Rating | |
| Texture/Feel | Thin, water-based texture. Extremely comfortable to wear during the day and at night. |
| Application | Use daily all over face after cleansing. Allow product to absorb, then apply a moisturizer. |
| Drying Time | Dries and absorbs into skin in 30-45 seconds. |
| Smell | Slight mint smell—very refreshing. Disappears upon application. |
| Immediate Results | Acne began to clear up; face felt extremely firm and lifted. |
| Long Term Results | Clear, radiant complexion. Significant decrease in wrinkles. Firm skin that looked youthful, tight and more even. |
| Ingredients | Alguronic Acid, Dimethicone, Glycerin, Isononyl Isononanoate, Pentylene Gycol, Saccharum Officinarum Extract, Butylene Glycol, Glyceryl Stearate |
| Price | $54.00 |
| Guarantee | Serum can be returned for a full refund within 30 days of the order date. |
| Where To Buy | Click Here |