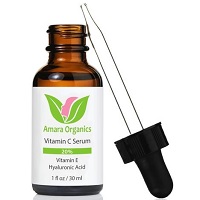 Product Name:  Amara Organics Vitamin C Serum
Overall Rating: 

Serum Type:  Anti-aging, Skin Brightening
Size:  1 fl oz
Price:  $19.95
Cost Per Ounce:  $19.95
Where to Buy:  Click Here
# of Ingredients:  17
Notable Ingredients:  Organic Aloe Vera, Vitamin C, Vitamin E, Organic Jojoba Oil, Botanical Hyaluronic Acid, Witch Hazel, Glycerin, Wild Geranium, Organic Dandelion Extract
Overall Opinion:
Amara Organics Vitamin C face serum has an ingredient list that causes you to pause and take notice.  Packed full of awesome ingredients found in many effective face serums, I was super excited to give this one a whirl!
Unfortunately, there is little to be desired when it comes to this serum.  With promises to increase collagen, decrease fine lines and wrinkles, fade sun spots, brighten complexion, and even out skin tone and texture, Amara Organics gives a tall order on what this Vitamin C serum can accomplish.  It fails to deliver on every single one of them.
As an uncomfortable serum to wear, and one that may cause you to see an increase in skin congestion and blemishes, this is a serum you'll want to save your $20 on and instead pick up something different.  If not, you'll likely be using their stellar return policy in a matter of weeks.
Detailed Opinion:
Texture/Feel
Amara Organics Vitamin C Serum is a very thin serum.  It's more similar to water than it is to an average serum texture, which makes it slightly more difficult to apply.
Once you've applied the serum and allowed it to absorb, it leaves behind a very sticky residue.  It feels like it is tightening your skin, but not in a good, anti-aging way.  It just feels like you've applied something sticky to your face.
Overall, this wasn't a super comfortable serum to wear once it had dried down.
Application
I find with any super watery-feeling face serum, it can be a little tricky to apply.  Amara Organics Vitamin C Serum is like this, so you can't really apply it with your fingertips (as directed) because the liquid just slips through the cracks in your fingers.
The way I chose to apply the serum was use half a syringe full of serum and expel it into the palm of my hand.  I then rub my hands together and work the serum onto my face and neck.
Before you apply it, however, make sure you cleanse and tone your face and allow it to fully dry.  Once the serum has absorbed into your skin, apply your moisturizer and any other daily face products.
Many face serums instruct using their product both morning and night, but Amara Organics has you apply the Vitamin C serum just once daily, morning or night.  I opted to apply it in the morning because I already use more face products in my nighttime skincare routine.
Drying Time
Since Amara Organics Vitamin C Serum is such a thin, watery serum, it didn't really surprise me that it had a longer dry time.  It took at least 30-45 seconds before the wet feeling on my skin had gone away and the sticky residue had remained.
This dry time was achieved when I used half a syringe of the product.  When I used more than that the first few times, it took even longer to dry.  I don't love a long dry time for a face serum, so this definitely tested my patience!
Smell
If you think that Witch Hazel has a distinct smell, then so does Amara Organics Vitamin C Serum.  It smells exactly like Witch Hazel to me, which makes sense since it's one of the ingredients in it.
However, the smell definitely isn't super strong, and it went away once the serum had absorbed into my skin.
Immediate Results
While I normally use a face serum at night first, since I opted to incorporate Amara Organics Vitamin C Serum into my morning skincare routine, I first used the serum then.
I didn't see any immediate results later that night or even the next day.  I didn't love the experience of using the face serum, but I've definitely tried worse, so I didn't have many thoughts, positive or negative, when I initially applied it.
Long Term Results
Unfortunately, Amara Organics Vitamin C Serum is a total flop for me.  Not only did I not achieve a single positive result, but it also caused me to have more blemishes than normal.
I didn't have a full-blown breakout like I've experienced with other face serums, but my face and neck had more congestion than they normally do, which I didn't love.
The serum promises to increase collagen, brighten skin tone, decrease fine lines and wrinkles, fade sun spots, and even out skin tone, and it literally didn't do any of that.  Super disappointing!
Price/Value
At $19.95 for a fluid ounce, Amara Organics Vitamin C face serum is super affordable.  However, this is an instance where the price is too good to be true.  Despite the awesome ingredients it contains, it fails to deliver any positive skin changes, and you may be left with additional blemishes and skin congestion.
There are better options at a similar price point for all different serum types, so this is one you can definitely save your $20 on.
Guarantee
Amara Organics has a really awesome return policy.  You have an entire year after your purchase to reach out to the company and express your dissatisfaction with the product.  They will refund your money no questions asked, and you don't even have to send the product back.
Where To Buy
To purchase Amara Organics Vitamin C Serum, click here.
Amara Organics Vitamin C Serum: Summary
| | |
| --- | --- |
| Factor | Amara Organics Vitamin C Serum |
| Overall Rating | |
| Texture/Feel | Thin, watery texture; sticky residue left behind on skin once absorbed; uncomfortable to wear |
| Application | Cleanse and tone skin, then use half a syringe of the serum on your face and neck. Allow to fully absorb and follow up with moisturizer and other skincare products.  Use once daily, morning or night. |
| Drying Time | 30-45 seconds |
| Smell | Witch Hazel (not overpowering); smell dissipates once serum is absorbed |
| Immediate Results | No immediate results |
| Long Term Results | No positive results achieved; increase in congestion and blemishes while using the product |
| Ingredients | Organic Aloe Vera, Vitamin C, Vitamin E, Organic Jojoba Oil, Botanical Hyaluronic Acid, Witch Hazel, Glycerin, Wild Geranium, Organic Dandelion Extract |
| Price | $19.95 |
| Guarantee | 365 days to contact company for a full refund; don't have to ship back product |
| Where To Buy | Click Here |