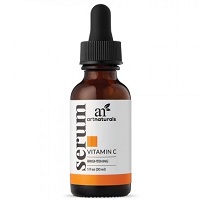 Product Name:  ArtNaturals Vitamin C Serum
Overall Rating: 

Serum Type:  Vitamin C
Size:  1 fl oz
Price:  $13.00
Cost Per Ounce:  $13.00
Where to Buy:  Click Here
# of Ingredients:  19
Notable Ingredients:  Sodium Ascorbyl Phosphate (Vitamin C), Witch Hazel, Organic Aloe, Glycerin, Hyaluronic Acid, Dandelion and Wild Geranium Extract
Overall Opinion:
When you look at the killer price tag and the seemingly incredible ingredients in ArtNaturals Vitamin C face serum, it seems like a total slam dunk.
Promising to minimize crow's feet and dark spots, fight acne, brighten and tighten skin, and moisturize and plump up your skin, ArtNaturals makes big claims for their Vitamin C Serum.
If any of those results were actually attainable, you'd have to bare an extremely uncomfortable feeling face serum on your skin, as well as deal with acne popping up all over your face AND neck.
The saying "if it's too good to be true" couldn't be more true with this face serum.  ArtNaturals Vitamin C Serum is almost impossible to wear with how tight it makes your face feel, and after just three days of use, you'll be fighting blemishes everywhere you look.
Do yourself, and your skin, a favor and avoid this face serum like the plague.
Detailed Opinion:
Texture/Feel
ArtNaturals Vitamin C Serum is a super thick face serum.  It almost has the appearance and feel of a liquid rubber cement.
Once you've applied it on your skin and it has dried, it's such an uncomfortable feeling.  It really does feel like you've applied glue to your face, and it was hard to even sleep with it on.
It made my face and neck feel extremely tight, and not in an anti-aging way, but in a "is this stuff actually supposed to be used on my skin?" way.
Since it was so tight, too, it made it nearly impossible to apply other products, so my skin felt super thick and like my skincare products were just sitting on top of ArtNaturals Vitamin C Serum.  It's almost like the serum created a barrier on my skin.
Application
To apply ArtNaturals Vitamin C face serum, wash and dry your skin first.  If you use a toner, use that before the serum, as well.
It says to use a small amount of product, but it comes with a syringe applicator, so I'm not really sure what a small amount of product looks like.  I chose to use a dime-size portion of the face serum for my both my face and neck.
Once ArtNaturals Vitamin C face serum has fully dried, you can apply your normal skin moisturizers and other products you normally use.
The directions didn't specify whether to use it once or twice daily, but with most Vitamin C serums, you use them twice a day so that's what I did with this one, as well.
Drying Time
ArtNaturals Vitamin C face serum takes about 30-45 seconds to fully absorb.  As I explained earlier, once it has fully dried, it leaves you with the most uncomfortable feeling on your face.
Your skin will start to feel extremely tight—similar to when you use a peel off mask.  It was honestly that difficult to move my face and neck.
I would've applied my moisturizer sooner to avoid this feeling, but the conversion happens pretty fast. ArtNaturals Vitamin C Serum feels wet and sticky until it's all of a sudden super tight and uncomfortable feeling.
Smell
ArtNaturals Vitamin C face serum is odorless.  For anyone who is super sensitive to smells, this would be a bonus for this product.
However, when I use a Vitamin C face serum, I'm looking for that refreshing citrus smell that so many of them have, so the lack of a spa-like smell was actually a negative for me.
Immediate Results
As I do with every new face serum I try, I used ArtNaturals Vitamin C face serum at night first.  My initial thought was how uncomfortable the face serum was.
I also really didn't like the fact that my other face products were just sitting on my face.  I felt like I needed a moisturizer more than ever when using ArtNaturals Vitamin C face serum because of how tight and dry it made my skin feel, and yet the serum had created a barrier where nothing else was sinking in.
When I woke up the next morning, my face just felt greasy from product sitting on my skin all night.  Other than that, no immediate results were noticed.
Long Term Results
I was only able to use ArtNaturals Vitamin C face serum for three days before my skin completely exploded.  I don't know if it's because my other skincare products couldn't break through the thickness of the serum or if it was the actual ingredients in the face serum.
However, three days into using ArtNaturals Vitamin C Serum both morning and night, I had an extreme breakout.  And it literally happened overnight—not even a few gradually popping up before then.
My skin was so red, super congested, and I had a few giant underground zits on my face, too.  I even saw congestion on my neck, which has never happened to me before.
I actually ended up going to get a facial to help my skin recover from this face serum.  Once I stopped using ArtNaturals Vitamin C face serum, my skin immediately started to calm down.
I didn't use a ton of product, so I don't think it was a case of using too much.  I just don't think this product absorbs into your skin.
So even if a breakout hadn't occurred, I'm not confident that any positive changes would've happened to my skin since it just seems to sit on your face and neck versus actually soaking in.  Or, it would have made me super dry since my moisturizer wasn't able to work its magic.
Price/Value
At $13.00 for an ounce of product, ArtNaturals Vitamin C face serum might be the cheapest face serum on the market.  While that is super appealing, I think it's priced what it is for a reason.
With a horrible breakout and uncomfortable feeling left on your skin, I don't think this face serum is worth spending even a penny on.  You'll just spend more money in a spa trying to correct your breakout.
Plus, you can't return opened items, so you're stuck with this purchase if you have a similar response to it.
Guarantee
ArtNaturals only allows returns on unopened items that have been purchased in the last 90 days, which as you probably already know, is a terrible return policy.
Where To Buy
To purchase ArtNaturals Vitamin C face serum, click here.
ArtNaturals Vitamin C Serum: Summary
| | |
| --- | --- |
| Factor | ArtNaturals Vitamin C Serum |
| Overall Rating | |
| Texture/Feel | Super thick; similar to rubber cement |
| Application | Syringe application. Apply twice daily on clean, dry skin. Use toner before application and wait for it to absorb before using moisturizer. |
| Drying Time | 30-45 seconds |
| Smell | Odorless |
| Immediate Results | Super uncomfortable to wear; products used afterwards just sit on your face and neck |
| Long Term Results | Massive breakout all over face and neck; super red and congested skin in every single area |
| Ingredients | Sodium Ascorbyl Phosphate (Vitamin C), Witch Hazel, Organic Aloe, Glycerin, Hyaluronic Acid, Dandelion and Wild Geranium Extract |
| Price | $13.00 |
| Guarantee | 90-day return policy on unopened items only |
| Where To Buy | Click Here |