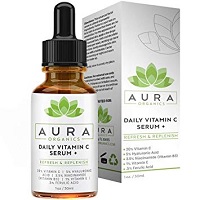 Product Name: Aura Organics Daily Vitamin C Serum +
Overall Rating:

Serum Type: Anti-aging
Size: 1 fl oz
Price: $24.99
Cost Per Ounce: $24.99
Where to Buy: Click Here
# of Ingredients: 29
Notable Ingredients: Aloe Leaf Juice, Vitamin C, Hyaluronic Acid, Vitamin E, Grapefruit Peel Oil, Rose Hips Fruit Extract
Overall Opinion:
I hate to be the bearer of bad news, but when it comes to Aura Organics Vitamin C Serum, you'll likely want to look elsewhere. Not only does it fail to deliver any anti-aging benefits for your skin, but it also doesn't improve your skin in any other aspects either.
Additionally, if you have sensitive skin, you'll definitely want to be cautious about introducing this into your skincare routine. I had a mild reaction to the serum myself and don't have sensitive skin at all, so this formula might be a bit more intense than others on the market (despite the lack of results).
If all of that wasn't reason enough to consider another anti-aging face serum, Aura Organics Vitamin C Serum also has an unappealing odor to it. If you're really interested in giving this face serum a try, they do have a pretty good return policy, so you can give it a shot without much of a risk. However, if your experience is anything like mine, you'll be looking for your money back after a few weeks.
Detailed Opinion:
Texture/Feel
Aura Organics Vitamin C Serum has an average face serum consistency. The instructions say to apply 2-3 drops, but the consistency of the serum partnered with the dropper applicator makes that really difficult, so just know that going into using it (more on that in the application instructions below, though).
Once the serum is applied to your face and neck, it leaves behind a slick residue. The residue isn't overpowering, but it does make your other face products glide on more easily than they normally do without this face serum.
Application
The application for Aura Organics Vitamin C Serum is pretty straightforward. Apply a pea-size amount to clean, dry skin both morning and night. As I explained above, the dropper applicator makes it difficult to actually get out the 2-3 drops they recommend using, but I found a pea-size amount to cover my face and neck perfectly.
Once the serum has absorbed, layer your other face products on top of it. This serum was super easy to use at night and during the day because it didn't impact the wear or appearance of my makeup.
I'll discuss this more in the immediate results section, but if you have sensitive skin, or if you're just cautious with new face products in general, definitely start by using this just a few times a week instead of every day. I don't have sensitive skin at all and experienced a slight reaction, so just start by using it 2-3 times a week if you're concerned.
Drying Time
The dry time for Aura Organics Vitamin C Serum is about 15 seconds.
Smell
I can't even begin to describe how strange the smell of Aura Organics Vitamin C Serum is. I've looked at the ingredients too and I can't figure out why it smells like this, so it remains a mystery.
This face serum smells like a mix of campfire and barbecue sauce. Neither of those are gross smells, per say, but they're definitely not odors I'm looking for in a face product. So this was a negative for me.
The odor does go away once you apply other face products on top of the serum, but the smell itself is pretty strong initially, so be ready for that if you choose to try this face serum.
Immediate Results
As I do with almost every new face serum I try, I used Aura Organics Vitamin C Serum at night first. I didn't have any strong initial thoughts after applying it—it was pretty straightforward and easy to use.
When I woke up the next morning, I had a warm, flushed appearance to my cheeks, forehead, and chin. It wasn't painful by any means, but you could definitely tell that something was making my skin react that way. After about an hour, that side effect went away completely.
This did, however, continue for the first week of using the face serum daily, so definitely make sure if you have sensitive skin to only use this a few times a week to begin with. I'm afraid you could have a much stronger reaction than I did!
Long Term Results
Unfortunately, I didn't experience any long-term results with Aura Organics Vitamin C Serum. I didn't break out or experience any negative side effects, but my skin looks exactly the same after using this morning and night for weeks.
I'm pretty bummed at this. Aura Organics said their Vitamin C serum would tackle every anti-aging complaint under the sun: fine lines and wrinkles, sun and age spots, skin tone and texture, elasticity, etc., and it completely fell flat in each and every category.
Price/Value
Despite the affordable price tag associated with Aura Organics Vitamin C Serum, it's simply not worth the money. While it didn't do anything to negatively impact the appearance of my skin, it also didn't do anything to improve my skin. And that's not just in the anti-aging department. My skin really looked the exact same in every aspect.
Additionally, I don't have sensitive skin at all and this still caused a minor reaction, so you may find anyone with sensitive skin isn't able to handle this formula.
Guarantee
Aura Organics offers a 30-day money-back guarantee on all of their products. However, the 30 days begins from the ship date, not when you receive the product, which seems a bit odd to me. The customer is also responsible for the shipping costs associated with returning it.
I think this is a pretty fair return policy since you'll likely know before the 30 days whether their Vitamin C serum works for your skin or not.
Where To Buy
To purchase Aura Organics Vitamin C Serum, click here.
Aura Organics Vitamin C Serum: Summary
| | |
| --- | --- |
| Factor | Aura Organics Vitamin C Serum |
| Overall Rating | |
| Texture/Feel | Average face serum consistency. Leaves behind a slick residue that makes applying other products easier than without the serum. |
| Application | Apply pea-size amount to clean, dry skin both morning and night. Follow up with other skincare products used daily once absorbed. If you have sensitive skin, begin by using 2-3 times a week instead of daily. |
| Drying Time | 15 seconds |
| Smell | Strong odor—smells like campfire and barbecue sauce. Smell dissipates once other products are applied on top. |
| Immediate Results | Slight warm, pink flush to my skin the next morning, but went away within an hour. This continued for the first week of using the face serum. |
| Long Term Results | No long-term results. Didn't experience any negative reactions but didn't notice any anti-aging benefits (or any benefits at all) from this face serum either. |
| Ingredients | Aloe Leaf Juice, Vitamin C, Hyaluronic Acid, Vitamin E, Grapefruit Peel Oil, Rose Hips Fruit Extract |
| Price | $24.99 |
| Guarantee | 30-day money-back guarantee from ship date; must pay for shipping costs |
| Where To Buy | Click Here |