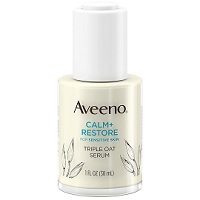 Product Name:  Aveeno Calm + Restore Triple Oat Serum
Overall Rating: 

Serum Type:  Hydrating
Size:  1 fl oz
Price:  $17.97
Cost Per Ounce:  $17.97
Where to Buy:  Click Here
# of Ingredients:  19
Notable Ingredients:  Glycerin, Dimethicone, Oat Kernel Flour, Oat Kernel Oil, Oat Kernel Extract
Overall Opinion:
I'm a big fan of the Aveeno skincare line, so I had high hopes for Aveeno Calm + Restore Triple Oat Serum. While the product didn't altogether disappoint, it also didn't amaze me as I was hoping it would.
A few of the positives for this face serum are the quick dry time, the overall moisturizing feel it leaves behind on your skin post-application, and the affordable price tag.
Really, the only letdown is that the results are less than impressive. My skin ultimately looked and felt more hydrated, but it took a long time to see those results, and the changes to my complexion were minor.
This gentle formula might be a great option for those new to skincare, no matter what skin type you have, which is a great. But for those seasoned in skincare products, this isn't the best option for a hydrating face serum.
Detailed Opinion:
Texture/Feel
The texture is similar to the average face serum, but the formula itself is a bit thicker. However, it doesn't feel that way when applied to your face and neck.
Once the serum absorbs, it doesn't leave behind any residue, which is really nice. Overall, this serum was very comfortable to wear and had a moisturizing feel to it.
Application
Aveeno Calm + Restore Triple Oat Serum is very easy to apply, but I really didn't like the applicator itself.
You need two drops to adequately cover your face and neck, but the dropper applicator only gives you one drop before you need to refill. It's a minor inconvenience, but still a little annoying.
Besides that, the application process is super easy. Apply two drops to clean, dry skin both morning and night. Once its absorbed into your skin, layer your other skincare products on top.
I found this serum to be super easy to incorporate into my daytime and nighttime skincare routines as I could easily layer my other products on top, and it wore perfectly underneath my makeup.
Drying Time
The dry time is super fast—about 15 seconds.
I loved this aspect of this face serum. I didn't have to work too quickly to rub the serum in, but it dried fast enough for me to move seamlessly through my skincare routine. Major bonus!
Smell
Aveeno Calm + Restore Triple Oat Serum is odorless.
Immediate Results
I applied this face serum product at night first, and when I woke up, my skin looked and felt the exact same.
This was a bit surprising to me because I normally see pretty immediate results with a hydrating face serum. However, I continued to use the serum twice daily for the coming weeks.
Long Term Results
Aveeno Calm + Restore Triple Oat Serum did ultimately deliver on its promises for a more hydrated, healthier-looking complexion.
It took longer to see results than many other face serums I've used, especially hydrating serums, and the results I achieved were fairly minor. I definitely didn't experience any major difference in my skin, so the 'wow factor' is missing from this product.
This is a very gentle formula so I think this might be a good option for someone new to skincare products! I also think this serum is good for any skin types, so that wide variety is a nice feature of the serum, as well.
Price/Value
I think this Aveeno serum is very reasonably priced. Even though I didn't achieve super noteworthy results from using this face serum, I still think it's worth the money.
It's also a very gentle formula, so this might be a great serum for someone new to skincare to start with, especially since it's so affordable.
Guarantee
Aveeno sells their products on third-party websites, such as Amazon, and in stores such as CVS and Walmart.
The return policy, and any other product guarantees, is dependent on each individual retailer, so make sure you check with them before purchasing.
Where To Buy
To purchase Aveeno Calm + Restore Triple Oat Serum, click here.
Aveeno Calm + Restore Triple Oat Serum: Summary
| | |
| --- | --- |
| Factor | Aveeno Calm + Restore Triple Oat Serum |
| Overall Rating | |
| Texture/Feel | Average face serum consistency. Very comfortable to apply and wear, and doesn't leave behind any residue. Overall moisturizing feeling when worn |
| Application | Apply 2 drops on clean, dry skin both morning and night. Once absorbed, use other skincare products. Easy to incorporate into daytime and nighttime skincare routines |
| Drying Time | 15 seconds |
| Smell | Odorless |
| Immediate Results | No immediate results |
| Long Term Results | Not a big change to complexion but did notice a slight increase in skin hydration and overall healthy-looking skin. Gentle formula good for all skin types, though |
| Ingredients | Glycerin, Dimethicone, Oat Kernel Flour, Oat Kernel Oil, Oat Kernel Extract |
| Price | $17.97 |
| Guarantee | Sold on third-party websites. Return policy is different for each individual retailer |
| Where To Buy | Click Here |