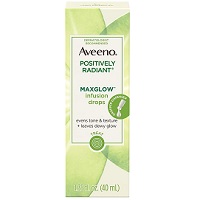 Product Name:  Aveeno MaxGlow Infusion Drops
Overall Rating: 

Serum Type:  Hydrating/Skin Brightening
Size:  1.35 fl oz
Price:  $15.22
Cost Per Ounce:  $11.27
Where to Buy:  Click Here
# of Ingredients:  20
Notable Ingredients:  Glycerin, Yeast Extract, Kiwi Fruit Water, Soybean Seed Extract, Lemon Peel Extract
Overall Opinion:
As a brand overall, I really like Aveeno, so I was intrigued by and excited to try their MaxGlow Infusion Drops. As a product that can be used both as a serum, or an additive to your skin moisturizer, I felt like this product was versatile and couldn't wait to see how it stacked up.
Advertised as both a hydrating and skin-brightening face serum, I expected to see results in both areas. While the skin-brightening aspect of the product was undeniable, I didn't experience the ultra hydration I was hoping for when I used Aveeno MaxGlow Infusion Drops.
While the drops are easy to use and incorporate into your skincare routines, I think they'd work better mixed in with your moisturizer if you're looking for a hydrating product. However, if skin-brightening alone is your goal, this is a great product to use as a face serum.
Detailed Opinion:
Texture/Feel
Aveeno MaxGlow Infusion Drops have a texture similar to an average face serum. I'm not sure how that would impact the feel of your moisturizer if you chose to add them to your product, but as a stand-alone serum, it's pretty straightforward.
Something I really enjoyed about this product is the lack of residue it left behind on my skin. Once the product had absorbed into my face and neck, it almost felt like I had nothing on my face.
Overall, this was a very comfortable face serum to wear.
Application
The application is fairly easy. Since they're marketed as drops, it obviously comes with a dropper applicator. I found this to be a little annoying with the consistency of this product, but for the most part, it just took two dips into the jar to get enough product to cover my face and neck.
Other than that, the application was seamless. I applied a pea-sized amount of product on clean, dry skin both morning and night. Once the product had absorbed, I layered my other face products on top.
As I mentioned in the overall opinion section, you can add these drops directly to your face moisturizer, but I used it as a serum and went on to apply my moisturizer on top.
Drying Time
The dry time was super quick—about 15 to 20 seconds.
Smell
Aveeno MaxGlow Infusion Drops are odorless.
Immediate Results
I used Aveeno MaxGlow Infusion Drops at night first, and in all honesty, I didn't notice any change to my skin come morning.
While the results I did achieve with this serum are undeniable, they definitely weren't immediate and took more than a week before I saw any results.
However, I think Aveeno in general is known for having clean ingredients in their products, so I also didn't have to worry about an adverse reaction when introducing the product into my skincare routine.
Long Term Results
Since Aveeno MaxGlow Infusion Drops is marketed as both a skin brightening and hydrating face serum, I was optimistic that I would see results in both those areas.
On the positive side, the skin brightening results are undeniable. I definitely had a natural glow to my complexion that I didn't have prior to using this product.
On the flip side, however, I really didn't see any increase in skin hydration while using this product. I didn't experience any dry skin, but my complexion mostly felt the same in that regard while using this product.
So I think Aveeno MaxGlow Infusion Drops work best as a skin-brightening face serum rather than a hydrating product.
Price/Value
If you're looking for a skin-brightening face serum, Aveeno MaxGlow Infusion Drops is a great choice. Not only is it affordable, but it also delivers great results after about 7-10 days of twice daily use.
If you're looking for a hydrating product, however, this product isn't worth the money. There are definitely better options available at a similar price point.
Guarantee
Aveeno sells their products online on websites such as Amazon, and in popular stores such as Target and Walgreens. The return policy is dependent on each individual retailer so make sure you check with them first before purchasing.
Where To Buy
To purchase Aveeno MaxGlow Infusion Drops, click here.
Aveeno MaxGlow Infusion Drops: Summary
| | |
| --- | --- |
| Factor | Aveeno MaxGlow Infusion Drops |
| Overall Rating | |
| Texture/Feel | Average face serum consistency. Once absorbed, no residue left behind. Overall comfortable serum to wear |
| Application | Apply pea-size amount to clean, dry skin both morning and night. Layer other products on top once absorbed. Can also be added into your moisturizer |
| Drying Time | 15-20 seconds |
| Smell | Odorless |
| Immediate Results | No immediate results. Took 7-10 days of twice daily use to see results |
| Long Term Results | Noticeable glow to complexion; radiant looking skin. No change noticed in terms of hydration |
| Ingredients | Glycerin, Yeast Extract, Kiwi Fruit Water, Soybean Seed Extract, Lemon Peel Extract |
| Price | $15.22 |
| Guarantee | Sold by third-party vendors. Check with individual retailer for return policy before purchasing |
| Where To Buy | Click Here |