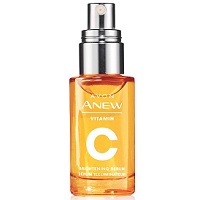 Product Name:  Avon Anew Vitamin C Brightening Serum
Overall Rating: 

Serum Type:  Skin Brightening
Size:  1 fl oz
Price:  $24.99
Cost Per Ounce:  $24.99
Where to Buy:  Click Here
# of Ingredients:  10
Notable Ingredients:  Glycerin, Ascorbic Acid
Overall Opinion:
If you're in the market for an affordable skin brightening face serum, Avon Anew Vitamin C Serum might be an excellent choice for you.  While the results take longer to achieve than many other serums on the market, the results you'll ultimately experience are undeniable and well worth the wait.
Don't let the horribly strong odor fool you into thinking this face serum will be harsh on your skin.  In fact, the opposite is true.  I didn't experience any skin irritation or any acne breakouts while using this product.  Instead, I was left with a healthy, radiant glow, and overall hydrated skin.
All of this, partnered with an affordable price tag and the ease of use, makes this a serum to consider if you're looking for a skin brightening face serum.  You may just need to be more patient than normal and look past an unappealing odor.
Detailed Opinion:
Texture/Feel
The texture of Avon Anew Vitamin C Serum is average, so nothing noteworthy to report there.  It does leave behind a really greasy residue that you can both feel and see on your skin.
The residue is actually really interesting because it's slightly uncomfortable due to the slick feeling, but you can easily wear this serum under makeup, which really surprised me.
Application
Avon Anew Vitamin C Serum is easy to apply and work into both your daytime and nighttime skincare routine.  You simply need to apply one pump to clean, dry skin both morning and night.
Because of the greasy residue this product leaves behind, I did find that taking time to massage it into my skin made it easier to layer my other face products on top of.  My moisturizer still slid around a bit, but really rubbing in the product made a big difference for me in this department.
As I mentioned above too, it's super easy to wear this serum under makeup, which makes it perfect for daytime wear, as well!
Drying Time
When massaged into the skin during application, this face serum takes about 20 seconds to absorb into your face and neck.  I really enjoy a quick dry time, so this was a bonus for me!
Smell
Avon Anew Vitamin C Serum has an absolutely terrible odor.  Not only does it smell like rubbing alcohol, but also, the odor is SO strong.  It actually made my eyes water every time I applied it.
I do want to mention that the smell goes away once it's absorbed into your skin, so it doesn't hang around, but yikes!  This doesn't even smell like a product you should put on your skin.
Immediate Results
As I do with almost every new face serum I try, I used Avon Anew Vitamin C Serum at night first.  My initial thought was how overwhelming the scent was, and based on the odor, I was terrified this serum was going to dry out my skin.
Thankfully, that wasn't the case!  However, I didn't really experience any immediate results.  However, I also didn't have any breakouts or skin irritation either, which is encouraging, but this face serum took longer to see results than other skin brightening serums I've tried previously.
Long Term Results
I'm definitely impressed with the long-term results I achieved with Avon Anew Vitamin C Serum.  While it took longer to see the results than many other face serums I've trialed, both skin brightening and other, the results I ultimately achieved are undeniable.
After a few weeks of use, I had a gorgeous, healthy glow to my skin, and my face looked and felt very hydrated.  My complexion overall looked radiant, and I felt confident leaving the house without any face makeup on.
I also didn't experience any acne or skin irritation while using this face serum, which is super impressive, so definitely worth noting!
Price/Value
I absolutely think this product is worth the money!  The price tag it sports is very fair and comparable to similar products on the market, and it delivers the results it says it's going to deliver.
I also think it's worth trying out if you're interested in a skin brightening serum because of the return policy Avon has.
Guarantee
Avon offers a 90-day money-back guarantee on all of their products.
I think this is totally fair as you'll know well before then whether this serum is a good fit for your skin or not.
Where To Buy
To purchase Avon Anew Vitamin C Serum, click here.
Avon Anew Vitamin C Serum: Summary
| | |
| --- | --- |
| Factor | Avon Anew Vitamin C Serum |
| Overall Rating | |
| Texture/Feel | Average face serum consistency; leaves behind a greasy residue that made my other products slide around when applying them |
| Application | Apply one pump to clean, dry skin both morning and night. Can be worn under makeup despite the greasy residue left behind after application |
| Drying Time | 20 seconds |
| Smell | Strong odor similar to rubbing alcohol (it even made my eyes water) |
| Immediate Results | No immediate results; serum took longer to see results than other skin brightening serums |
| Long Term Results | Impressive results; gorgeous, healthy glow to my skin, and complexion looked and felt very hydrated |
| Ingredients | Glycerin, Ascorbic Acid |
| Price | $24.99 |
| Guarantee | 90-day money-back guarantee |
| Where To Buy | Click Here |