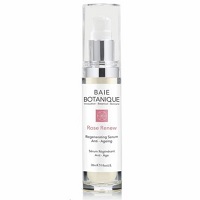 Product Name: Baie Botanique Rose Renew Serum
Overall Rating:

Serum Type: Anti-aging
Size: 1 fl oz
Price: $46.00
Cost Per Ounce: $46.00
Where to Buy: Click Here
# of Ingredients: 32
Notable Ingredients: Rose Water, Aloe, Botanical Hyaluronic Acid, Witch Hazel, Glycerin, Rosehip Seed Oil, Jojoba Oil, Rosewood Essential Oil
Overall Opinion:
There's so much to love about Baie Botanique Rose Renew Serum, starting with all of the wonderful natural ingredients it has in it! From Rose Water and Aloe, to Rosewood Essential Oil and Botanical Hyaluronic Acid, and a bunch of other noteworthy ingredients in-between, this just screams goodness for your skin.
With an affordable price tag slapped on to it, you may be tempted to think this serum isn't all it's cracked up to be. But after just a week of using this both morning and night, you'll find the results to be truly impressive! From starting by clearing up any nasty acne spots, it quickly transforms your entire skin complexion and texture, and hydrates the heck out of your face!
The rose scent it comes with is super strong, so watch out if you're not a fan of odors in your skincare products. If you still want to try, however, Baie Botanique offers a 30-day money-back guarantee, removing any real risk of trying out the product. With how much I loved it, I'm confident you will, too!
Detailed Opinion:
Texture/Feel
Baie Botanique Rose Renew Serum has an average face serum consistency to it. It may be slightly more on the thick side, bordering on a gel, but the consistency and texture of it make it super easy to apply!
Once you've actually applied the serum to your face and neck and the product has dried down, the residue it leaves behind is super comfortable! It almost felt like a light moisturizer had absorbed into my skin versus a serum, so it has a very moisturizing characteristic about it, versus a slick or tacky feeling, which I loved.
Application
The application for Baie Botanique Rose Renew Serum is about as easy as it comes! You can (and should!) use this serum both morning and night on clean, dry skin. Once the serum has absorbed into your skin, layer your moisturizer and any other face products on top of it.
I only needed one pump of product to cover my entire face. However, if you want to drag the serum down your neck and chest, as well, you'll probably need an additional pump to do that. One pump was really just enough for the face to be properly covered.
Finally, I also found that the residue the serum left behind made it super easy to apply my other face products on top of, which is always helpful. And I had no problem wearing this serum under makeup! I didn't experience any additional oiliness, and it didn't impact how long my makeup stayed on either.
Drying Time
Baie Botanique Rose Renew Serum has an average dry time—about 30 seconds.
Smell
I personally enjoyed the smell of Baie Botanique Rose Renew Serum, but it's definitely a very strong odor. It should come as no surprise that this serum has a strong floral smell to it—nearly identical to roses. Duh!
Unlike many other face serums that have strong scents attached to them, this smell doesn't go away when you apply it to your skin, or when you layer other products on top. Like I said previously, I thought the smell seemed high-end and I really liked it, but I know many individuals are sensitive to odors in their skincare products, so just be aware of this aspect of the product!
Immediate Results
As I do with every new face serum I try, I used Baie Botanique Rose Renew Serum at night first. Full disclaimer—when I started using this face serum, I was having a really hard time combating a skin breakout. I didn't have congestion everywhere, but I had these massive, extremely ugly zits in multiple places on my face.
When I woke up the next morning, those acne spots looked SO much better. I was shocked—and delighted! I could see a major difference in their size and irritation, and this serum was the only new product I had introduced, so I knew it was the reason that my skin had begun to clear up overnight.
Long Term Results
I am so impressed the results I achieved with Baie Botanique Rose Renew Serum—and how quickly! After just ONE week of using this product, my skin had completely cleared up. I didn't have a single zit in sight, and my skin continued to be completely clear while using this serum.
Aside from taking away my nasty skin congestion, Baie Botanique Rose Renew Serum changed my entire complexion. From any discoloration (redness or sun spots), to different skin textures on my face, my skin felt and looked completely flawless, and that even transformed how my skin looked when I applied my makeup.
Finally, this serum is super hydrating! Even in cold weather, Baie Botanique Rose Renew Serum kept my skin completely hydrated, without a single patch of dry skin in sight. I'm blown away by the results this serum delivered!
Price/Value
At $46.00 for an ounce of product, Baie Botanique is right in the middle of the price range for face serums. Personally, I think it's absolutely worth the money, and truthfully, I would probably be willing to spend more on it!
The enjoyable experience using the serum partnered with the undeniable results make this well worth the money. And with the brand's money-back guarantee, you can really try it without any risk. Total win!
Guarantee
Baie Botanique offers a 30-day money-back guarantee. Since the product worked so quickly for me, I think this is a very fair trial period to see if the serum is a good fit for your skin!
Where To Buy
To purchase Baie Botanique Rose Renew Serum, click here.
Baie Botanique Rose Renew Serum: Summary
| | |
| --- | --- |
| Factor | Baie Botanique Rose Renew Serum |
| Overall Rating | |
| Texture/Feel | Average consistency and feel of a normal face serum—very comfortable to wear. Leaves behind a residue similar to a light moisturizer—not tacky or slick feeling. |
| Application | Apply to clean, dry skin both morning and night. Only need one pump of product to cover face. Another pump required to drag serum down neck and chest. Apply moisturizer and other products once dry. |
| Drying Time | 30 seconds |
| Smell | Very strong floral smell—smells like roses. Does smell high end but does not dissipate when other products are applied on top. |
| Immediate Results | Immediately began clearing up the giant acne spots I had on my face. |
| Long Term Results | Completely cleared up my skin and repaired any acne spots. Extremely clear complexion regarding skin discoloration and skin texture. Also very moisturizing—no dry skin while using serum. |
| Ingredients | Rose Water, Aloe, Botanical Hyaluronic Acid, Witch Hazel, Glycerin, Rosehip Seed Oil, Jojoba Oil, Rosewood Essential Oil |
| Price | $46.00 |
| Guarantee | 30-day money-back guarantee |
| Where To Buy | Click Here |