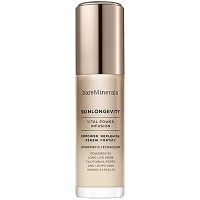 Product Name: bareMinerals Skinlongevity Vital Power Infusion Serum
Overall Rating:

Serum Type: Reparative and Renewing Serum
Size: 1.7 fl oz
Price: $58.00
Cost Per Ounce: $34.11
Where to Buy: Click Here
# of Ingredients: 45
Notable Ingredients: Glycerin, Dimethicone, Citric Acid, Citrus Peel Extract, Californica Leaf Cell Extract
Overall Opinion:
I've used cosmetics from the bareMinerals brand before, but hadn't used any of their skincare line until trying bareMinerals Skinlongevity face serum. After just a week of using the serum both morning and night, it was clear that bareMinerals had created an amazing face serum.
The product itself is very easy to incorporate into your daily skincare routines. It wears beautifully under makeup, and doesn't impact the application of your other skincare products at night. Additionally, it has a refreshing, high-end scent to it, and leaves your face and neck with a moisturizing feel to it.
While the price tag is definitely something to give customers pause, bareMinerals Skinlongevity face serum provides real results that make the cost worth it. From decreasing fine lines and skin discoloration, to improving overall complexion and giving you a gorgeous glow, this product is an excellent choice for all skin types.
Detailed Opinion:
Texture/Feel
bareMinerals Skinlongevity Serum has an average face serum consistency and look to it. However, once the product has absorbed into your skin, it leaves behind a very moisturizing feel. It felt more like I had applied a light moisturizer to my skin than a face serum, which I really enjoyed. However, I made sure to still apply a moisturizer after, so definitely don't skip that step just because of the residue.
Application
The application for bareMinerals Skinlongevity face serum is really easy and straightforward. Apply two pumps of product to clean, dry skin both morning and night. Once the product has absorbed, apply your other face products, such as sunscreen and moisturizer.
When I first read the instructions, I was a bit overwhelmed at the amount of product they wanted me to use. Two pumps seemed like a lot to me. However, it ended up being the perfect amount of product to cover my face and neck adequately.
It was also really easy to incorporate bareMinerals Skinlongevity Serum into my daytime skincare routine because the serum wore flawlessly underneath my makeup, which is always something I'm looking for.
Drying Time
bareMinerals Skinlongevity Serum takes about 30 seconds to absorb into your face and neck, which is pretty average for a face serum.
Smell
I really enjoyed the scent of bareMinerals Skinlongevity Serum! It has a very light, refreshing odor, but it isn't overpowering. It actually smells very high-end, like a line of products you would find in a spa when getting a facial.
Once the product has absorbed into your skin, the odor goes away completely. But like I said, it's very light to begin with and smells very clean and fresh, so it shouldn't be bothersome to anyone.
Immediate Results
As I do with almost every new face serum I try, I used bareMinerals Skinlongevity face serum at night first. The next morning, I was really happy with how my complexion looked! There weren't any massive changes, per se, but my skin looked very hydrated and refreshed, and the serum left me with a nice glow to my face.
When I used it again that morning, I was thrilled to see how well it wore under makeup, since I'm someone who likes to apply liquid foundation and other heavier makeup products.
Long Term Results
I absolutely love the way my skin looks after using bareMinerals Skinlongevity face serum. I truly think the face serum does what it says it's going to do. For starters, my skin was very hydrated and plump looking the entire time I was using it, which gave a healthy, gorgeous glow to my complexion.
I also saw a big difference in the fine lines around my eyes and mouth. I could especially tell when I applied makeup because I didn't have near as much foundation settling into those small cracks. Additionally, my complexion was super clear—I didn't have much discoloration and also didn't experience any texture issues.
One aspect I don't think bareMinerals Skinlongevity Serum touched on my face was the sunspots and age spots. I sadly didn't see any decrease in that aspect on my face, which was a bummer. However, this was still a phenomenal serum in how many results it did produce.
Price/Value
While the price tag for bareMinerals Skinlongevity Serum may seem a big overwhelming at first, you do get quite a bit of product in one bottle. I know it's still on the more expensive end of the spectrum for a skincare line, but I personally think it's worth the money.
It drastically changed the appearance of my skin, and it was very easy to incorporate into both my daytime and nighttime skincare routines. So for that reason, I think it's definitely worth purchasing if it's in your budget.
Guarantee
bareMinerals offers a 30-day money-back guarantee on all purchases. Customers do need to provide a receipt of the purchase when returning the item, so make sure you hold on to that when you make the initial purchase.
This is a pretty standard return policy for skincare companies, so I think it's completely fair.
Where To Buy
To purchase bareMinerals Skinlongevity Serum, click here.
bareMinerals Skinlongevity Serum: Summary
| | |
| --- | --- |
| Factor | bareMinerals Skinlongevity Serum |
| Overall Rating | |
| Texture/Feel | Average face serum consistency. Once the serum has absorbed, it leaves behind a very moisturizing residue—feels like you've applied a light moisturizer, not a face serum. |
| Application | Apply two pumps both morning and nigh to clean, dry skin. Once absorbed, apply other face products, such as sunscreen and moisturizer. |
| Drying Time | 30 seconds |
| Smell | Very refreshing odor; smells fresh and high-end, like products you would find in a spa. Scent isn't overwhelming. |
| Immediate Results | Hydrated look to my skin the next morning; felt very fresh and had a nice glow to my face. Also wore seamlessly under makeup the next morning. |
| Long Term Results | Hydrated, plump skin. Decrease in fine lines around eyes and mouth. Clear complexion—no discoloration or texture issues and gorgeous glow to skin. Did not decrease sun or age spots, however. |
| Ingredients | Glycerin, Dimethicone, Citric Acid, Citrus Peel Extract, Californica Leaf Cell Extract |
| Price | $58.00 |
| Guarantee | 30-day money-back guarantee |
| Where To Buy | Click Here |