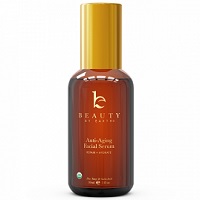 Product Name: Beauty by Earth Anti-Aging Facial Serum
Overall Rating:

Serum Type: Anti-aging
Size: 1 fl oz
Price: $26.99
Cost Per Ounce: $26.99
Where to Buy: Click Here
# of Ingredients: 15
Notable Ingredients: Jojoba Seed Oil, Sunflower Seed Oil, Evening Primrose Oil, Vitamin E, Blue Tansy Oil
Overall Opinion:
If face serums were judged on originality alone, Beauty by Earth Anti-Aging Serum would definitely get 5/5 stars. The rollerball applicator is super unique and adds a sense of fun to actually applying the face product.
The applicator isn't the only positive about this face serum. The affordable price tag, ease of use, and the level of comfort wearing it both morning and night are all positive aspects that can't be ignored.
Unfortunately, this face serum fails to provide any results, anti-aging or otherwise, making this serum less than ideal. I personally think there are many other options available for face serums that provide real results, even if they aren't quite as interesting to apply as this one.
Detailed Opinion:
Texture/Feel
The texture of Beauty by Earth Anti-Aging Serum is straightforward and has a pretty average face serum consistency. It may be slightly oilier than some face serums, but nothing too far off from what you expect to experience with this type of product.
Once the serum absorbs into your face, it leaves behind a very minor residue. You can tell that you have a face serum on your face, and it looks a bit oily, but it's very comfortable to wear. Additionally, the slight oily residue left behind post-application doesn't impact the wear of your makeup, so it's very minor.
Application
Beauty by Earth Anti-Aging Serum has application steps unlike any other I've ever used before because the applicator is so unique. Unlike a dropper or pump, which you often encounter with face serums, Beauty by Earth Anti-Aging Serum has a rollerball. At first, I wasn't sure if I was going to like it, but I actually think this is super cool!
I did find it a little tricky at the beginning to figure out how much I should be "rolling" onto my face, but if you start sparingly, you can always add on more. I personally found that a few swipes of the rollerball along my cheeks, chin, forehead, and nose worked out to be a perfect amount.
As far as other details are concerned for applying the serum, you should use this both morning and night on clean, dry skin. After massaging the serum into your face, follow up with your other face products.
As I mentioned above, this serum is super easy to incorporate into both your daytime and nighttime skincare routine because of its lack of residue. So that's definitely a plus for this product!
Drying Time
The dry time for Beauty by Earth Anti-Aging Serum is pretty quick—about 15 seconds!
I mention this in every review I write, but a quick dry time is always a bonus for me since I don't like to take forever on my skincare routine.
Smell
Beauty by Earth Anti-Aging Serum has a really strong odor and smells a lot like essential oils. I can't really pinpoint exactly what the scent is, and it isn't necessarily good or bad. It's just a really strong smell, so if you're sensitive to that, this may not be the best option for you.
Additionally, the scent doesn't really go away when other products are applied on top of it, so you definitely want to make sure you're comfortable with the scent before applying it all over your face.
Immediate Results
I'm not sure how I got into this habit, but I try all new face serums at night first, and Beauty by Earth Anti-Aging Serum was no exception. I really enjoyed the application with the rollerball, and found it super easy to incorporate into my nighttime skincare routine.
When I woke up the next morning, I didn't see any changes to my skin—positive or negative. So while there weren't any immediate anti-aging results I experienced, I also didn't see an increase in skin congestion or irritation.
Long Term Results
Unfortunately, I didn't really experience any long-term results with Beauty by Earth Anti-Aging Serum. With any anti-aging serum, I normally expect to see a change in my fine lines and wrinkles, skin texture and discoloration, hydration, and the list goes on.
Unfortunately, that just wasn't the case with Beauty by Earth Anti-Aging Serum. I didn't see any negative impact on my skin either, which is a plus considering some face serums have caused major breakouts for me. However, it also didn't improve my skin in any way, even after using it morning and night for weeks.
Price/Value
While the price tag for Beauty by Earth Anti-Aging Serum is super reasonable, it's simply not worth the money. I like so many things about this face serum—the rollerball applicator and comfort of wearing it, just to name a couple. It simply didn't give me any results, which is hard to justify paying anything for it then.
Guarantee
Beauty by Earth offers a 30-day money-back guarantee. I think this is a really fair return policy, especially since if you're going to experience any results, you should be seeing them before those 30 days are up.
Where To Buy
To purchase Beauty by Earth Anti-Aging Serum, click here.
Beauty by Earth Anti-Aging Serum: Summary
| | |
| --- | --- |
| Factor | Beauty by Earth Anti-Aging Serum |
| Overall Rating | |
| Texture/Feel | Average face serum consistency; leaves behind slightly oily residue, but very comfortable to wear both morning and night |
| Application | Roll serum all over face both morning and night on clean, dry skin. Once absorbed, apply other face serum products on top |
| Drying Time | 15 seconds |
| Smell | Strong odor, similar to essential oils. Smell doesn't go away after other products are applied so be cautious before using |
| Immediate Results | No immediate results, good or bad |
| Long Term Results | No results were achieved while using this face serum both morning and night for multiple weeks |
| Ingredients | Jojoba Seed Oil, Sunflower Seed Oil, Evening Primrose Oil, Vitamin E, Blue Tansy Oil |
| Price | $26.99 |
| Guarantee | 30-day money-back guarantee |
| Where To Buy | Click Here |