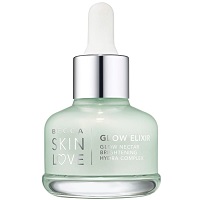 Product Name: Becca Skin Love Glow Elixir
Overall Rating:

Serum Type: Hydrating; Skin Brightening
Size: 0.98 fl oz
Price: $48.00
Cost Per Ounce: $48.97
Where to Buy: Click Here
# of Ingredients: 51
Notable Ingredients: Honey, Licorice Leaf Extract, Whey Protein, Peony Root Extract, Algae Extract, Caffeine, Glycerin
Overall Opinion:
As someone who absolutely loves Becca Cosmetics, I'm so bummed by Becca Skin Love Glow Elixir serum. While the price tag says this product is intended for adult audiences, everything else about the serum looks to be targeted toward youth. From chunks of glitter that give you a strange appearance to your skin, to a very sweet, cantaloupe-type odor, nothing about using this made me feel like an adult.
Beyond the strange experience of using Becca Skin Love Glow Elixir serum, it left me with terrible acne to combat. Riddling my nose with blackheads and the area around my mouth with blemishes, it also left me with a large pimple on my cheek that I haven't experienced since high school.
After just three days, I chose to discontinue using this serum. If you're interested in trying out a hydrating or skin-brightening face serum, I would personally recommend you look elsewhere, or you might be reaching out to Becca in just a few short days to ask for your money back.
Detailed Opinion:
Texture/Feel
Becca Skin Love Glow Elixir serum has an average face serum consistency. It comes with a dropper applicator, and for some reason, it's super difficult to actually get any serum into the dropper using that. I'm not sure if my bottle was just faulty or if it's not the right packaging for this consistency, but I found it hard to actually get the product out.
Once the serum has absorbed into your skin, it leaves behind a slick residue. I could tell that my other face products were gliding on much easier than they normally do. It also looks like you have little pieces of glitter all over you face because of the appearance of the serum. I think this gave my skin a very "child-like" look (not in a good way), so that's a strange aspect to deal with.
Application
The application for Becca Skin Love Glow Elixir serum is pretty straightforward and easy. After cleansing your skin, apply a pea-size amount to your dry face. Once the serum has absorbed, follow up with your other skincare products.
One thing that was interesting is that based on the instructions, it seems like Becca wants this face serum to replace your moisturizer unless you have very dry skin, and I totally disagree with that. I personally think you need a moisturizer no matter what type of skin you have. I have normal skin and couldn't imagine not applying a moisturizer after this face serum.
Finally, it didn't specify whether to use this serum once or twice daily, but I found it super challenging to use this in my morning skincare routine. It made my makeup look terrible—my face was very oily and my concealer was creasing. So if you are someone who wears makeup on a daily basis, you may also find that this serum can only be used at night for you.
Drying Time
The dry time for Becca Skin Love Glow Elixir serum is about 30 seconds, which is pretty average for a face serum.
Smell
While the odor for Becca Skin Love Glow Elixir serum isn't very strong, it's definitely not a scent I enjoy. It has a very sweet smell, similar to cantaloupe. That may sound nice to some people, but it's actually a very "youthful" smell. I felt like I was using a skincare line that was created for teenagers, not something that would help adult skin.
The scent does go away when you layer other products on top, so it's temporary, which is nice, but I personally didn't enjoy this aspect of the face serum.
Immediate Results
As I do with almost every new face serum I try, I used Becca Skin Love Glow Elixir serum at night first. My initial thoughts were mostly focused on the aspects I didn't like about the serum. More specifically, the scent and glittery look it left on my face.
When I woke up the next morning, I had a lot more skin congestion around my mouth and on my nose. I also used the serum again in my morning skincare routine and quickly realized that this serum didn't work well for me under my makeup. I was a lot oilier and my makeup looked caked on, so I continued to just use it in my nighttime skincare routine from that point forward.
Long Term Results
After three days of using Becca Skin Love Glow Elixir serum, my skin looked absolutely terrible. I had an insane amount of blackheads on my nose, gross zits around my mouth, and ended up developing a giant pimple on my cheek. I haven't had a blemish this large in a long time, and it's super embarrassing!
Truthfully, this face serum might be great as far as hydrating my skin and may do a wonderful job in the skin-brightening department, but there's no way it's worth it if my skin completely explodes with acne, which is exactly what happened. Because of this reaction to the serum, I had to discontinue using it after three days, and my skin immediately started to clear up.
Price/Value
Becca Skin Love Glow Elixir serum is definitely not worth the money. I know I don't have sensitive skin, and it takes a very special product to make me break out. Unfortunately, that's exactly what I experienced with this serum.
Beyond the terrible acne I experienced, the actual act of using it wasn't enjoyable either. The child-like scent and look to the serum, and the inability to wear it during the day under makeup was really disappointing to me. For all of these reasons, I don't think this is worth the money at all.
Guarantee
Becca Cosmetics offers a 60-day money-back guarantee on unused or gently-used products. I think that 60 days is pretty generous as far as a return policy goes, but "gently-used" makes it a bit more complicated.
I knew within three days that this serum didn't work for my skin, but that might not be the case for everyone, so you may want to reach out to Becca before trying the serum to see how much of the product you can actually use and still get your money back.
Where To Buy
To purchase Becca Skin Love Glow Elixir serum, click here.
Becca Skin Love Glow Elixir Serum: Summary
| | |
| --- | --- |
| Factor | Becca Skin Love Glow Elixir Serum |
| Overall Rating | |
| Texture/Feel | Average face serum consistency but difficult to get out with dropper applicator. Leaves behind a slick residue that makes applying other products easier than normal. |
| Application | Apply pea-size amount to clean, dry skin at night. Difficult serum to incorporate into daytime use. Once absorbed, apply moisturizer and any other skincare products used nightly. |
| Drying Time | 30 seconds |
| Smell | Sweet, mild odor; smells like cantaloupe. Very youthful scent, which I didn't enjoy |
| Immediate Results | Woke up with increased skin congestion around my mouth and on my nose and discovered that serum couldn't be worn under makeup. |
| Long Term Results | Increase in blackheads on nose, blemishes all around my mouth, and a giant pimple on my cheek |
| Ingredients | Honey, Licorice Leaf Extract, Whey Protein, Peony Root Extract, Algae Extract, Caffeine, Glycerin |
| Price | $48.00 |
| Guarantee | 60-day money-back guarantee for unused or gently-used product |
| Where To Buy | Click Here |