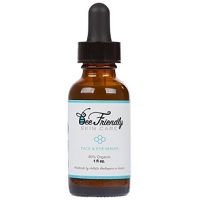 Product Name:  Bee Friendly Face and Eye Serum
Overall Rating: 

Serum Type:  Reparative, Renewing, Anti-Aging
Size:  1 fl oz
Price:  $49.99
Cost Per Ounce:  $49.99
Where to Buy:  Click Here
# of Ingredients:  11
Notable Ingredients:  Organic Jojoba Oil, Avocado Oil, Evening Primrose Oil, Beeswax Pollen
Overall Opinion:
Not to sound overly corny but based on the results I achieved from Bee Friendly Face and Eye Serum, I'm pretty sure bees are my new favorite animal.  Nearly everything about this face serum is a total hit, and I'm pretty blown away at what beeswax pollen can do for your skin.
Bee Friendly Face and Eye Serum has the most delicious smell and is super easy to work into your nighttime skin routine.  Partner that with how quickly you start to see results, and how impressive the results are, and there just isn't much to dislike about this serum.
My skin achieved such a beautiful, youthful glow, a huge decrease in my sunspots, and my skin felt extremely hydrated and plump the entire time I used the serum.  It almost hits every serum category in just one little bottle.
At a fair price point, especially for how little product you have to use, Bee Friendly Face and Eye Serum has quickly climbed to the top of my list of all-time favorite face serums.
Detailed Opinion:
Texture/Feel
Bee Friendly Face and Eye Serum is a bit thinner and more water-like than other face serums.  While it doesn't seem to be oily when you drop it into your hands, it does apply super oily.  However, once the serum has dried down, it doesn't leave a slick residue behind.
There is still a slight sheen to your face, but I was really surprised at how well the product absorbed into my skin.  I was initially worried the face serum would be way too oily for my skin, but based on how well it soaks into your skin, that didn't end up being a problem at all.
Application
To apply Bee Friendly Face and Eye Serum, make sure you shake it up really well before using it.  I forgot to do that a few times, and you can definitely see how much the serum separates.
Once you've cleansed and dried your face, apply a very small amount of product.  Like, even less product than you think you'll need.
Normally I hate dropper applicators, but with this face serum, you seriously only need 5 tiny drops to cover your entire face and neck—and that still feels like you have quite a bit of product on your skin.
This dropper drops out super small drops, so this actually ends up being the perfect packaging for Bee Friendly Face and Eye Serum.
While other face serums tell you to apply the serum and let it dry on its own, this face serum instructs that you continue to rub in small circular motions all over your face and lightly dab your fingertips against your skin until the serum is fully absorbed.
Once that happens, follow up with your other skincare products, such as your moisturizer!
Something I did notice was my skin was slightly red when I used this face serum, and it happened each time I used it.  I kind of saw that as a positive—like there were active ingredients working on my skin.  It wasn't painful at all—it more looked and felt like my face was flushed.
Drying Time
While you do play a role in the absorption/dry time of Bee Friendly Face and Eye Serum, I would say this is one of the longer dry times I've experienced with a serum.
The serum fully absorbs into your skin, which is really nice, but it does take almost a full minute before that occurs.  This makes it more of a time-consuming face serum, so it will definitely add a significant step to your skincare routine.
Smell
Bee Friendly Face and Eye Serum has the most delicious smell—I absolutely love it!  It honestly smells exactly how you would expect it to smell—like yummy beeswax.
I really can't get enough of this smell.  It is definitely strong, so if you are sensitive to odors, this might be tricky for you to use, but for anyone else, the odor smells super high-end and fresh.  It smells like you are using an organic product (which you are).
Immediate Results
As I do with every new face serum I try, I used Bee Friendly Face and Eye Serum at night first.  This serum was one that upon initial application, I could tell I was going to like using it.  I didn't necessarily know it would warrant awesome results, but the experience of actually using the serum was a positive one.
I explained this previously, too, but I did notice my skin take on a slight red tint to it.  Nothing about it hurt or stung, but my skin felt a little warm and red, but it quickly dissipated within 5 minutes.
When I woke up the next morning, I could already see a change in my skin.  It felt so plump and hydrated, and I had such a healthy glow to my skin.  I literally stared at my skin for a good three minutes before actually starting my day.
Long Term Results
Bee Friendly Face and Eye Serum delivered incredible results in almost every serum category.  The entire time I was using it, I found that I had super hydrated, plump skin.  Specifically applying the serum around my eyes too made a big difference in my fine lines, and I swear, my eyes were less puffy each morning, which is a major bonus for me!
I struggle with some skin discoloration, and this serum really helped with reducing my sunspots, and it also left me with such a beautiful, youthful glow to my skin.
My skin looked absolutely beautiful when using this face serum!  I did find that I had trouble using it during the day under my makeup because of the oily components to it, but I was amazed at the results I achieved by just using it at night only.
Price/Value
At $50 for a full ounce of product, Bee Friendly Face and Eye Serum is absolutely worth the money.  With how little product you have to use, too, I think it would take you at least 3-4 months to actually use this entire bottle.
The price point, the incredible experience of using it, and the results it warrants are absolutely worth the money!  I think no matter what type of face serum you're looking for, this should definitely be one you consider.
Guarantee
Bee Friendly doesn't directly give a guarantee on their website regarding product satisfaction or a money-back guarantee.  However, they do stress that customers should reach out to them through their website if they have any questions, concerns, or issues with their products.
Where To Buy
To purchase Bee Friendly Face and Eye Serum, click here.
Bee Friendly Face and Eye Serum: Summary
| | |
| --- | --- |
| Factor | Bee Friendly Face and Eye Serum |
| Overall Rating | |
| Texture/Feel | Thin, water-like consistency; feels very oily on skin until absorbed |
| Application | Shake before use.  Apply a very small amount to face and neck after cleansing. Rub and dab into skin to help absorb. |
| Drying Time | 60 seconds |
| Smell | Delicious scent of beeswax; strong odor but smells very high-end and organic |
| Immediate Results | Red flush to my skin (not painful); more hydrated/plump skin and beautiful glow |
| Long Term Results | Reduced sun spots and fine lines around eyes, youthful glow, plump/hydrated skin, less puffiness under eyes |
| Ingredients | Organic Jojoba Oil, Avocado Oil, Evening Primrose Oil, Beeswax Pollen |
| Price | $49.99 |
| Guarantee | No guarantee listed on website; encouraged to reach out directly to discuss any concerns with products |
| Where To Buy | Click Here |