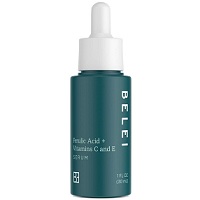 Product Name:  Belei Ferulic Acid + Vitamins C and E Serum
Overall Rating: 

Serum Type:  Hydrating
Size:  1 fl oz
Price:  $40.00
Cost Per Ounce:  $40.00
Where to Buy:  Click Here
# of Ingredients:  19
Notable Ingredients:  Glycerin, Ferulic Acid, Vitamin C, Vitamin E
Overall Opinion:
I'd never heard of the Belei skincare brand before trying out Belei Ferulic Acid Serum. While I was expecting it to deliver on hydrating results, as marketed, I found it served as more of a skin-brightening face serum instead.
The product absorbs quickly, is odorless, and can be worn easily underneath makeup. I also experienced immediate results, which is always super satisfying!
While I'm overall happy with how my complexion looks, I found that the tacky residue left behind made it more difficult to layer my other products on top, and I experienced dry skin around my mouth and on my nose.
Belei Ferulic Acid Serum is still well worth the money, but I think it serves more as a skin-brightening product than a hydrating one.
Detailed Opinion:
Texture/Feel
The texture is slightly thicker than the average face serum. However, it's still very easy to apply and doesn't feel thick on your face and neck.
Once the serum has absorbed, it leaves behind a tacky residue. This made it slightly more challenging to layer my moisturizer and other face products on top, but it's still manageable.
Application
Belei Ferulic Acid Serum has a dropper applicator, which actually works really well for this face serum. You truly only need two drops to cover your entire face and neck—a little goes a long way!
Apply the product on clean, dry skin both morning and night. The serum turns white upon application, almost like you're applying soap to your face. However, that appearance goes away as you rub the product in.
Once the serum has absorbed, apply your other face products. Belei Ferulic Acid Serum wore easily underneath makeup too, so this was simple to incorporate into both my daytime and nighttime skincare routines.
Drying Time
The dry time is almost immediate, and definitely not longer than 5-10 seconds post-application.
As you're applying the serum, it's already drying down, so you have to move quickly to make sure you cover every part of your face before it absorbs completely.
Smell
Belei Ferulic Acid Serum is odorless.
Immediate Results
I applied Belei Ferulic Acid Serum at night first. When I woke up the next morning, I could tell this was going to be a serum I really enjoyed using.
Many of the acne spots on my face looked considerably better than they had the night before, and my entire complexion looked healthier overall. I had a brighter look to my skin even after just waking up.
Long Term Results
Belei Ferulic Acid Serum left me with a more gorgeous complexion than before I used it. While this is marketed as a hydrating serum, I experienced many other long-term results.
As I experienced immediately with this product, Belei serum continued to keep my complexion acne-free. I also had a dewy, glowing look to my skin.
While this gave me the appearance of hydrated skin, I actually battled dry skin around my mouth and on my nose while using this product. So while it left my skin looking beautiful, I think it's more of a skin-brightening serum than a hydrating serum.
Regardless, I'm super happy with the results I achieved!
Price/Value
Despite the more expensive price tag, I personally think this serum is worth the money.
First off, you need a very small amount of product to cover your face and neck, so a single bottle will last you a long time.
Secondly, it delivers both immediate and long-term results so it's definitely worth the money!
Guarantee
Belei sells their products on third-party websites, such as Amazon.
The return policy, and any other product guarantees, is dependent on each individual retailer, so make sure you check with them before purchasing.
Where To Buy
To purchase Belei Ferulic Acid Serum, click here.
Belei Ferulic Acid Serum: Summary
| | |
| --- | --- |
| Factor | Belei Ferulic Acid Serum |
| Overall Rating | |
| Texture/Feel | Slightly thicker face serum consistency. White, soapy appearance when applied to your face and neck, and absorbs as you apply it. Tacky residue left behind once absorbed |
| Application | Apply 2 drops of serum on clean, dry skin both morning and night. Immediately layer other products on top. Easy to wear underneath makeup |
| Drying Time | 5-10 seconds |
| Smell | Odorless |
| Immediate Results | Immediately brighter complexion and decrease in skin congestion |
| Long Term Results | Gorgeous complexion—looked and felt very healthy and glowing. Evened out my skin tone and decrease acne. Did experience dry skin around my mouth and on my nose, however |
| Ingredients | Glycerin, Ferulic Acid, Vitamin C, Vitamin E |
| Price | $40.00 |
| Guarantee | Sold on third-party websites. Return policy is different for each individual retailer |
| Where To Buy | Click Here |