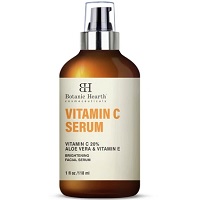 Product Name:  Botanic Hearth Vitamin C Serum
Overall Rating: 

Serum Type:  Skin-brightening
Size:  1 fl oz
Price:  $19.98
Cost Per Ounce:  $19.98
Where to Buy:  Click Here
# of Ingredients:  13
Notable Ingredients:  Dimethicone, Aloe Vera Gel, Vitamin C
Overall Opinion:
While Botanic Hearth Vitamin C Serum might result in a brighter complexion for some individuals who use the serum, I wasn't able to use the product long enough to find out.
After just a week of incorporating the serum into my daily skincare routine, my face was riddled with acne and skin congestion.
I appreciate certain aspects of the product itself, from the ease of use to the brand's more-than-fair return policy. However, based on the reaction I had to the product, I simply can't recommend this serum.
If you're looking for a skin-brightening face serum, there are many others on the market better suited than this one.
Detailed Opinion:
Texture/Feel
Botanic Hearth Vitamin C Serum is thicker than the average face serum. When I applied it to my face and neck, it felt much more like a moisturizer than a face serum.
The residue it left behind post-application also resembled that of a moisturizer, so it was a bit of a different experience than I've had with other face serums.
Application
The application is easy and straightforward. Apply one pump of serum to clean, dry skin both morning and night.
Once the serum has absorbed, apply your other products on top.
I was able to easily wear this serum underneath my makeup, too, which made it easy to incorporate into my daytime skincare routine, as well as my nighttime routine.
Drying Time
The dry time is about 15 seconds.
I was surprised at how quickly it dried because of how thick the serum is, and how much it feels like a moisturizer. However, it did have a fast dry time, which I really liked about the product.
Smell
Botanic Hearth Vitamin C Serum smells just like hand lotion. While this isn't a scent I dislike by any means, it definitely caught me off guard.
The odor itself didn't bother me, and it went away once other products were applied so I don't think it's anything that would bother someone sensitive to scents in their skincare products.
Immediate Results
I applied Botanic Hearth Vitamin C Serum at night first, and when I woke up the next morning, I could already tell I was experiencing skin congestion around my mouth and nose.
I've tried other serums before that give me an initial reaction but lead to great results, so I continued using this product to see if that would be the case here, as well.
Long Term Results
After a week, my skin was breaking out completely. And not just in one area of my complexion. Instead, I had skin congestion and zits pop up all over my face—from my forehead to my chin, and everything in between.
Even if this serum would eventually lead to a brighter skin complexion for me, there's no way it's worth suffering through insane acne. For that reason, I discontinued using the serum after seven days.
Price/Value
It's clear this face serum has an affordable price tag, but it isn't worth the money in my opinion.
I experienced an insane amount of acne once I introduced the product into my skincare routine, and couldn't even use it long enough to see if it resulted in a brighter skin tone.
For those reasons, this isn't worth the money at all.
Guarantee
Botanic Hearth offers a 60-day money-back guarantee, which I think is very fair.
My skin reacted to the serum in less than a week, so I think you'll know well before the 60 days are up whether this serum is a good fit for your complexion or not.
Where To Buy
To purchase Botanic Hearth Vitamin C Serum, click here.
Botanic Hearth Vitamin C Serum: Summary
| | |
| --- | --- |
| Factor | Botanic Hearth Vitamin C Serum |
| Overall Rating | |
| Texture/Feel | Thicker face serum consistency. Feels like a moisturizer when applied to your face and neck, and leaves behind a moisturizer-like residue, as well |
| Application | Apply one pump to clean, dry skin both morning and night. Once absorbed, apply other products. Wears well underneath makeup |
| Drying Time | 15 seconds |
| Smell | Smells like hand lotion; odor goes away once other products are applied |
| Immediate Results | Immediate appearance of small white dots/congestion around my chin and on forehead |
| Long Term Results | No skin-brightening results; major increase in skin congestion all over face |
| Ingredients | Dimethicone, Aloe Vera Gel, Vitamin C |
| Price | $19.98 |
| Guarantee | 60-day money-back guarantee |
| Where To Buy | Click Here |