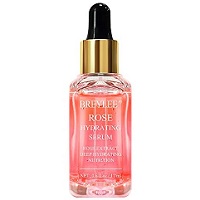 Product Name:  Breylee Rose Hydrating Serum
Overall Rating: 

Serum Type:  Hydrating
Size:  0.6 fl oz
Price:  $12.99
Cost Per Ounce:  $21.65
Where to Buy:  Click Here
# of Ingredients:  12
Notable Ingredients:  Hyaluronic Acid, Rose Extract, Glycerin
Overall Opinion:
Breylee Rose Hydrating Serum is a product that's easy to incorporate into your established skincare routines, has a nice scent to it without being overpowering, and totes a killer price tag.
All of this is enticing from the get-go, but unfortunately, the lack of results it produces throws the entire product off track.
Neither immediate nor long-term results, hydrating or otherwise, were achieved while using this Breylee Rose serum, and the brand doesn't allow you to return used products.
For those two reasons alone, this is a hydrating serum to skip.
Detailed Opinion:
Texture/Feel
Breylee Rose Hydrating Serum has the consistency of most face serums on the market, so there's nothing noteworthy about it. When I applied the serum to my face, you can definitely tell it's water based. It just seems more dry than gel-based as many other serums are.
Once the serum absorbed into my skin, it didn't leave behind much of a residue. This was nice since it allowed me to easily layer my other products on top and wore seamlessly underneath my makeup.
Application
The application is super simple. Apply to clean, dry skin both morning and night.
Breylee recommends using 3-5 drops, but drops don't come out of this applicator easily, so I would aim for a pea-size amount instead. That covered my face and neck thoroughly.
Once the serum has dried, apply your other daily skincare products.
Drying Time
The dry time is very fast—about 10-15 seconds.
I love this aspect about any serum because it keeps my skincare routine moving right along. A point in the pro column, for sure!
Smell
Since this hydrating serum contains Rose Extract, it's no surprise that the serum smells very floral.
I personally enjoyed the scent, but its very minor and goes away once the serum has absorbed into your skin, making it very temporary and hard to distinguish.
Immediate Results
I first applied Breylee Rose Hydrating Serum at night, and hoped it would bring about immediate hydration. In hot summer months, my skin is in desperate need in that department.
When I woke up the next morning, my skin looked exactly the same, as was the case for the coming days. So this serum doesn't produce any immediate results.
Long Term Results
I didn't experience a single result after using this product for multiple weeks.
This is for both positive and negative results. I didn't have any breakouts or dryness, but I also didn't experience any increased hydration, plumpness, or skin elasticity I would expect from a hydrating serum.
This was definitely disappointing!
Price/Value
Breylee Rose Hydrating Serum isn't worth the money. While the price tag is enticing, the serum doesn't produce any results.
Additionally, the return policy doesn't allow you to get your money back after trying out the product, so you're simply wasting money if you have the same experience as I did with the serum.
Guarantee
Breylee has a poor return policy, in my opinion. While you have 45 days to return the purchased item, you can only return unused product.
I have a big issue with any brand that does this. How is a customer supposed to know if they like the product if they can't use it? This is a strike against this company for me.
Where To Buy
To purchase Breylee Rose Hydrating Serum, click here.
Breylee Rose Hydrating Serum: Summary
| | |
| --- | --- |
| Factor | Breylee Rose Hydrating Serum |
| Overall Rating | |
| Texture/Feel | Normal face serum consistency. Feels water-based when applied to skin, and doesn't leave behind any notable residue |
| Application | Apply pea-size amount both morning and night on clean, dry skin. Once absorbed, apply other products used daily |
| Drying Time | 15 seconds |
| Smell | Floral scent; very minor and goes away once absorbed |
| Immediate Results | No immediate results were experienced with this face serum |
| Long Term Results | No long-term results were achieved |
| Ingredients | Hyaluronic Acid, Rose Extract, Glycerin |
| Price | $12.99 |
| Guarantee | 45-day money-back guarantee on UNUSED products; poor return policy |
| Where To Buy | Click Here |