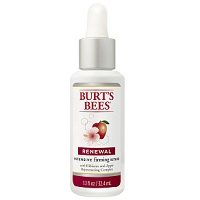 Product Name:  Burt's Bees Renewal Intensive Firming Serum
Overall Rating: 

Serum Type:  Anti-aging
Size:  1.1 fl oz
Price:  $20.00
Cost Per Ounce:  $18.18
Where to Buy:  Click Here
# of Ingredients:  46
Notable Ingredients:  Glycerin, Raspberry Seed Oil, Apple, Watermelon, Lentil, Orange, Lemon, Sugar Maple, and Willow Bark Fruit Extracts, Lactic Acid
Overall Opinion:
As someone overly obsessed with the Burt's Bees brand, I was beyond pumped to try out Burt's Bees Intensive Firming Serum.  I have used many of their cosmetic products, including their makeup line, and have loved almost everything I've used, so I had high hopes for this anti-aging face serum.
Unfortunately, this definitely didn't meet my expectations.  While it promises to reduce the look of deep wrinkles and improve overall skin firmness, that simply wasn't the case.  It was easy to use and was relatively simple to work into my daily skincare routine (except when worn under makeup), but it fails to deliver any results and they have a horrible return policy (as in, they don't have one).
The price point and brand name recognition may be tempting for you to give this face serum a try, but it's definitely one to skip when trying to combat deep-set wrinkles and other signs of aging.
Detailed Opinion:
Texture/Feel
Burt's Bees Intensive Firming Serum has the thickness and consistency of an average face serum, but the texture of it is a bit milky and plant-pulp like.  It actually looks and feels like Aloe Vera when you squeeze it directly from the plant itself.  This look and texture wasn't too surprising since it has so many plant and fruit-based ingredients in it.
Once the serum dried down on my face and neck, it left a slightly sticky residue behind.  It wasn't tacky or uncomfortable, and it definitely wasn't an overpowering feeling either, but you could feel that I had applied a face serum moments before.
Application
The application of Burt's Bees Intensive Firming Serum was super easy.  After cleansing and toning your face and allowing it to dry, apply the face serum to your face and neck both morning and night.
While I normally hate a dropper applicator for a face serum, this one didn't bother me, as much.  I don't know if it's because the end of the dropper is a different shape than most droppers, but it actually seems to pick up the perfect amount of product needed to cover your face and neck when you squeezed the top once.
Once the serum has absorbed into your skin, you can apply your moisturizer and any other face products you use.  I found that even though there was a sticky residue on my skin, it was super easy to layer my other products on top of it.
Unfortunately, I found it difficult to wear Burt's Bees Intensive Firming Serum underneath my makeup.  My makeup applied normally, but my skin became much more oily halfway through the day than normal, and I could see my makeup separating on my face.  I think this had to do with all of the different natural oils it includes, so this might be a tough serum for people with oily or combination skin, like me.
Drying Time
Burt's Bees Intensive Firming Serum has a pretty average dry time.  It took about 30 seconds for it to fully absorb into my skin and leave behind the sticky residue.
Smell
I'm having a hard time pinpointing exactly what Burt's Bees Intensive Firming Serum actually smells like.  It definitely has a natural odor, like a mixture of different plants and fruits.  It's also a very strong smell, both when you initially apply it and even when the product has absorbed into your skin.
I could definitely see this being a polarizing smell.  I even went back and forth on whether I liked the scent, so if you're sensitive to odors, this may be a difficult one for you.
Immediate Results
As I do with every new face serum I try, I used Burt's Bees Intensive Firming Serum at night first.  I took note of how easy it was to use, how unsure I was of the smell, and the ease of layering products on top.  However, other than those initial observations, I didn't have much of an opinion right off the bat on whether I would like the serum or not.
The next morning, my skin looked and felt the exact same, so I didn't experience any immediate results.
Long Term Results
Burt's Bees Intensive Firming Serum literally did nothing for my skin—good or bad.  I was religious about using it both morning and night, even though I didn't like how it made my makeup look.  And still, I literally didn't see any changes to my skin.
This is one of the first serums I've seen advertise that they reduce the look of deep wrinkles.  Most anti-aging serums say they reduce the appearance of fine lines and wrinkles, but I think Burt's Bees made a bold statement with this serum—which is disappointing since it's such a flop.
On the plus side, I didn't have any breakouts or skin congestion, but as far as anti-aging concerns, or any other skin concerns for that matter, my skin literally looks the exact same.
Price/Value
For a skincare company that has as much brand recognition as Burt's Bees, it's definitely tempting to grab one of their face serums, especially when it only costs $20.  Sadly, it yields zero results, so it's a giant waste of money.
Also, since the company literally does not accept any returns or exchanges, you have no way of getting any of your money back if the serum doesn't work for you, so it's a gamble you definitely don't want to take.
This is definitely not worth the money, and there are plenty of other affordable, anti-aging serums that provide actual results for your skin concerns.
Guarantee
Burt's Bees does not offer any returns or exchanges, so they have a terrible return policy!
Where To Buy
To purchase Burt's Bees Intensive Firming Serum, click here.
Burt's Bees Intensive Firming Serum: Summary
| | |
| --- | --- |
| Factor | Burt's Bees Intensive Firming Serum |
| Overall Rating | |
| Texture/Feel | Average face serum consistency; milk and plant-pulp texture, similar to natural Aloe Vera pulp |
| Application | Apply morning and night to clean, dry skin.  Once absorbed, apply other face products |
| Drying Time | 30 seconds |
| Smell | Strong, natural smell; smells like a combination of plants and fruits found in nature. Doesn't dissipate once absorbed |
| Immediate Results | No immediate results |
| Long Term Results | No results at all—good or bad. Skin looked exactly the same |
| Ingredients | Glycerin, Raspberry Seed Oil, Apple, Watermelon, Lentil, Orange, Lemon, Sugar Maple, and Willow Bark Fruit Extracts, Lactic Acid |
| Price | $20.00 |
| Guarantee | No returns or exchanges |
| Where To Buy | Click Here |