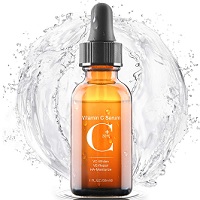 Product Name:  C+ 30% Vitamin C Serum
Overall Rating: 

Serum Type:  Anti-aging
Size:  1 fl oz
Price:  $11.99
Cost Per Ounce:  $11.99
Where to Buy:  Click Here
# of Ingredients:  19
Notable Ingredients:  Vitamin C, Silk Amino Acids, Vitamin E
Overall Opinion:
If you're looking for an anti-aging face serum to incorporate into your skincare routine, C+ 30% Vitamin C Serum isn't the serum for you.
So why the high star rating? This face serum delivers amazing skin-brightening results! I had much healthier looking and feeling skin, and saw a decrease in skin discoloration.
The beautiful glow my complexion gained from using this Vitamin C Serum makes this already affordable serum well worth the money.
Sadly, I didn't experience any anti-aging results, so I think this serum is marketed incorrectly. But I'm happy with the results I did achieve, and would recommend this to anyone looking to boost the appearance of their skin.
Detailed Opinion:
Texture/Feel
C+ 30% Vitamin C Serum is a bit thinner than the majority of face serums on the market. However, once you apply the serum to your face and neck, it feels much more like a gel than a face serum, which was interesting.
Once it absorbed into my skin, it left behind a very moisturizing feeling, and a slick residue on my skin.
The residue, however, didn't impact the layering of my other face products on top, which was nice.
Application
The application is super simple. I applied it on clean, dry skin both morning and night.
I found that a pea-size amount was more than enough product to cover my entire face and neck. In fact, you could probably get away with using a little less than that—a little goes a long way with this serum!
Once the serum absorbed into my skin, I applied my other skincare products as I normally do. I found that my products, including my makeup, wore perfectly on top of this serum, which is always a plus for me.
Drying Time
The dry time is a little bit longer than normal; I think because of how "wet" the serum is at first.
I would say it took 30-45 seconds before it absorbed into my skin enough to layer my other skincare products on top of it.
Smell
C+ 30% Vitamin C Serum is odorless.
Immediate Results
I'm always so excited when I experience immediate results with a face serum, and that was the case with this product. Now with some serums, I literally see results the next morning, but it wasn't that quick in this case.
However, within 2-3 days of incorporating this serum into my skincare routine, my skin looked and felt much more hydrated, healthy, and had a beautiful glow to it.
I was really happy with how quickly I saw changes to my skin and how my skin looked/felt overall!
Long Term Results
C+ 30% Vitamin C Serum did an excellent job at delivering skin-brightening results. I found that any discoloration in my skin went away completely, and I was left with healthy, hydrated skin. I also had a beautiful glow to my complexion, which made me want to wear less and less face makeup.
While the results were impressive, they weren't anti-aging, which is what this serum is marketed as. I didn't see any anti-aging results, which was a bummer simply because that's what I was expecting from the product.
However, I'm very happy with the results I achieved, even if they weren't in the anti-aging department!
Price/Value
Without a doubt, C+ 30% Vitamin C Serum is worth the money! Well, at least if you're looking for a skin-brightening face serum.
Since it's marketed as an anti-aging serum, I don't think it's worth the money in that regard since it doesn't deliver many anti-aging results. However, skin-brightening results are a completely different story.
If you want more hydrated, healthier-looking skin, this serum is totally worth the money. And it's not much of a risk to begin with since it touts an impressively cheap price tag!
Guarantee
C+ 30% Vitamin C Serum is sold on third-party websites, such as Amazon.
Each individual retailer has their own return policy, so make sure you check with them before purchasing so you know what guarantees they have.
Where To Buy
To purchase C+ 30% Vitamin C Serum, click here.
C+ 30% Vitamin C Serum: Summary
| | |
| --- | --- |
| Factor | C+ 30% Vitamin C Serum |
| Overall Rating | |
| Texture/Feel | Thinner face serum consistency, but feels more like a gel than a serum. Very moisturizing feeling once absorbed into skin, and leaves behind a slick residue |
| Application | Apply pea-size amount on clean, dry skin both morning and night. Once absorbed, continue with other skincare products. Wears well under makeup and other skincare products |
| Drying Time | 30 seconds |
| Smell | Odorless |
| Immediate Results | Hydration and natural glow to skin within 2-3 days of using face serum. Impressive immediate results |
| Long Term Results | I didn't see many anti-aging changes but a lot of skin-brightening effects! Healthy-looking glow, hydrated skin, decrease in skin discoloration |
| Ingredients | Vitamin C, Silk Amino Acids, Vitamin E |
| Price | $11.99 |
| Guarantee | Sold on third-party sites such as Amazon. Return policy differs for each individual retailer |
| Where To Buy | Click Here |