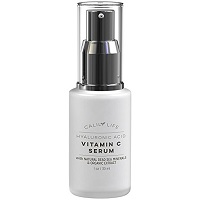 Product Name:  Calily Life Vitamin C Serum
Overall Rating: 

Serum Type:  Anti-Aging
Size:  1 fl oz
Price:  $16.95
Cost Per Ounce:  $16.95
Where to Buy:  Click Here
# of Ingredients:  34
Notable Ingredients:  Glycerin, Dimethicone, Dead Sea Minerals, Argan Kernel Oil, Olive Fruit Oil, Vitamin E
Overall Opinion:
While Calily Life Vitamin C Serum may be marketed as an anti-aging face serum, it really should be labeled as a skin brightening serum, because holy smokes—this face serum gave my skin more glow than I could've ever expected!
At an awesome price point, and the most incredible, moisturizing feeling when you first apply it, (not to mention the fact that you can easily wear this face serum under your makeup), this product is a total winner!
It doesn't wow in the anti-aging department as advertised, but if you're on the prowl for a face serum that will moisturize your skin, give you a fresh, healthy-looking glow, and won't break the bank, look no further than Calily Life Vitamin C face serum.
Detailed Opinion:
Texture/Feel
Calily Life Vitamin C Serum has the consistency of an average face serum.  However, unlike most face serums, it has the most moisturizing feeling and texture to it when you apply it to your face.  It honestly felt like I was applying a moisturizer rather than a serum, which I absolutely loved.
Once the serum had dried, it left behind a bit of a sticky residue, which was unexpected based on the moisturizing feeling it had.  However, once I had applied my other face products on top of it, the stickiness completely went away.
Application
To apply Calily Life Vitamin C Serum, you only need one pump of serum, which is really nice.  First, wash and dry your face, and if you use a toner, go ahead and apply that first.  Once your skin is completely dry, apply the serum to your face and neck.  This serum should also be used twice daily, both morning and night.
Wait for the product to absorb, and follow up with your other skincare products.  As I mentioned before, this serum does leave behind a sticky residue on your face, but that didn't impact the ease of applying products on top.  They applied almost the same as they do when I'm not using a serum.
This was especially helpful when I used Calily Life Vitamin C Serum during the day. Not only was it easy to apply my makeup on top of it, but the serum itself also didn't impact the wear of my makeup at all.
Drying Time
Maybe it's because Calily Life Vitamin C Serum has a texture more similar to a moisturizer rather than a serum, but I was really surprised at how quickly this serum dried!  Within 20 seconds of application, the serum had dried down and created a tacky feeling on my skin.
Smell
Calily Life Vitamin C Serum has a subtle odor to it, which is nice because it's refreshing but not overpowering.  It has a sweet citrus smell, which is what I normally expect from a Vitamin C serum.
Since the smell is very minor, it goes away as you apply it to your skin, so it definitely isn't long lasting.
Immediate Results
As I do with every new face serum I try, I used Calily Life Vitamin C Serum at night first.  The first thing I noticed was how comfortable the serum was to wear, and how good it felt when I applied it.  At the time, I was coming off of trialing another face serum that had completely damaged my skin, and the areas around my mouth and nose were red, chapped, and flaking.  The serum didn't burn those areas at all when I applied it, which was a major relief.
The next morning, I could tell that the moisturizing element of the face serum was already helping improve the damaged areas on my face.  They were less chapped and irritated, and the amount of dry skin I had was noticeably less than I had the day before.  I also noticed that my face looked more plump, which speaks to how hydrating the serum is, as well.
Long Term Results
Calily Life Vitamin C Serum gave my skin the best glow I've ever gotten from a face serum before.  First, the serum helped repaired my skin and heal the dry, chapped areas I was experiencing around my nose and mouth.  I was actually really surprised at how quickly it did that—it was truly in a matter of days.  The hydrating element of this serum is amazing, and my skin felt super plump and supple while using it.
After about a week of using this serum, the tone and texture of my skin was awesome.  I noticed a big difference in my skin discoloration, and my face was seriously glowing.  Even my husband noticed, which is saying a lot.  The natural, healthy glow I had definitely gave me a confidence boost.
I didn't notice anything in the anti-aging department, which was a bit of a bummer since it's advertised as an anti-aging serum, so I'm not sure Calily Life Vitamin C Serum is labeled correctly as far as the serum categories go.
Price/Value
I can't believe how affordable Calily Life Vitamin C Serum is, especially given how effective it is.  I'm still in disbelief at the results I achieved, and in a short amount of time. And furthermore, how much it helped heal my skin!
The fact that it's less than $17 is incredible, and for anyone looking for hydrated, glowing skin, this should definitely be a face serum you pick up and give a try. It is also a great product if you need something to help undo damage from another product that simply didn't work with your skin.
Guarantee
Calily Life offers a 30-day money back guarantee.
Where To Buy
To purchase Calily Life Vitamin C Serum, click here.
Calily Life Vitamin C Serum: Summary
| | |
| --- | --- |
| Factor | Calily Life Vitamin C Serum |
| Overall Rating | |
| Texture/Feel | Average serum consistency; feels like a moisturizer when applied; leaves sticky residue behind |
| Application | Apply one pump of product twice daily to clean, dry skin (face and neck). Allow to absorb and follow with moisturizer and other face products |
| Drying Time | 20 seconds |
| Smell | Subtle scent; sweet citrus smell. Dissipates once applied to skin |
| Immediate Results | Not painful when applied to damaged skin; less irritated skin next morning (improvement in dry, chapped areas), hydrated and plump face |
| Long Term Results | Hydrated, plump skin.  Completely healed damaged area from previous serum. Beautiful, healthy glow. No anti-aging results |
| Ingredients | Glycerin, Dimethicone, Dead Sea Minerals, Argan Kernel Oil, Olive Fruit Oil, Vitamin E |
| Price | $16.95 |
| Guarantee | 30-day money-back guarantee |
| Where To Buy | Click Here |