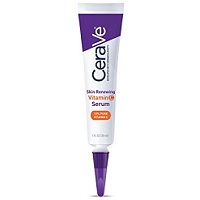 Product Name: CeraVe Skin Renewing Vitamin C Serum
Overall Rating:

Serum Type: Hydrating
Size: 1 fl oz
Price: $19.97
Cost Per Ounce: $19.97
Where to Buy: Click Here
# of Ingredients: 26
Notable Ingredients: Glycerin, Dimethicone, Hyaluronic Acid, Vitamin B5
Overall Opinion:
As a well-known skincare line often recommended by dermatologists, I couldn't wait to see how CeraVe Skin Renewing Vitamin C Serum stacked up against the many other face serums I've trialed. After using this hydrating face serum both morning and night for just a week, it's clear why it comes so highly recommended!
The biggest positive of using this face serum is the fact that it delivers real results—fast! After just the first application, I could see just how hydrating the serum was, and after using it for a week or so, I had a gorgeous, dewy complexion to my skin. I oftentimes chose to wear a tinted moisturizer instead of foundation because of how nice my skin looked—which is a good thing since this product doesn't wear well under makeup at all.
Unfortunately, it's not all rainbows and sunshine when it comes to this serum. The packaging itself leads to a lot of product waste, and I sadly saw an increase in blackheads on my nose and inner cheeks. But the positives definitely outweigh the negatives, making this face serum one to consider!
Detailed Opinion:
Texture/Feel
The texture of CeraVe Skin Renewing Vitamin C Serum is average, so there aren't any surprises there. However, it leaves behind a pretty greasy residue on your face. I've experienced this with other face serums, and in some cases it's nice because it's easy to layer your other face products on top of, but in this instance, I sort of felt like my other products were sliding all over the place.
I didn't see any negative impact on the other face products setting into different parts of my face, though, so no real complaint there! A complaint I do have, however, is how difficult it is to wear under makeup. My makeup looked really cakey and didn't wear as well throughout the day, so this serum is definitely harder to incorporate into your daytime skincare routine.
Application
For the most part, the application for CeraVe Skin Renewing Vitamin C Serum is super easy, but I have to quickly complain about the packaging. It makes it super difficult to squeeze out the proper amount of product, which is super frustrating. The packaging itself is a soft metal tube, so if you squeeze it too lightly, you don't get enough out, but if you squeeze it slightly too much, you get way more product than you need, which could lead to you going through a tube way faster than you should.
Besides that complaint, the application is really easy. Simply apply a pea-size amount of serum to clean, dry skin both morning and night.
On a final note, it's pretty difficult to wear this serum under makeup since it leaves behind a greasy residue. I found my makeup looked pretty cakey and didn't last as long, so beware of that!
Drying Time
CeraVe Skin Renewing Vitamin C Serum takes a bit longer to dry than the average face serum. It wasn't until about 60 seconds post-application that I felt the serum was absorbed enough to apply my other face products.
Smell
If you're sensitive to strong scents in your skincare products, then this face serum is for you! It's completely odorless so there's nothing to worry about in that department.
Immediate Results
As I do with almost every new face serum I try, I used CeraVe Skin Renewing Vitamin C Serum at night first. My first thought was how annoying the packaging was since I accidentally squirted out way too much product. I think my entire décolleté got the serum that night haha.
The next morning, I could already tell how hydrating this face serum is! My skin felt much more hydrated, and it looks really healthy when I woke up.
I also quickly realized that this was going to be a hard serum to wear under my makeup, so that was a bit of a bummer, but since I'm not wearing a ton of makeup these days anyway, I still used it both morning and night.
Long Term Results
Overall, I'm really happy with the results I achieved with CeraVe Skin Renewing Vitamin C Serum. When CeraVe advertises this as a hydrating face serum, they aren't kidding! My skin looked and felt very hydrated, and I was left with a gorgeous, dewy glow to my skin. I often opted to just wear a tinted moisturizer instead of foundation while using this serum because of how pretty my skin looked.
One downside to the face serum is the number of blackheads I had pop up on my nose and inner cheeks. Truthfully, I'm someone who struggles with blackheads on my nose normally, so I might just be more susceptible to them than the average person, but I found myself extracting more than usual. They aren't really noticeable, and the benefits of using the serum definitely outweighed this negative, but I wanted to make sure to mention it in case you also struggle with blackheads!
Price/Value
CeraVe Skin Renewing Vitamin C Serum is absolutely worth the money. Obviously I'm not thrilled with the blackheads I experienced, but other than that, I absolutely love how my complexion looks. The hydration element is undeniable, and my complexion has a gorgeous, dewy glow to it.
The price of the serum is also pretty comparable to other hydrating face serums available, so I think it's definitely a competitive face serum on the market, and one that delivers great results!
Guarantee
CeraVe sells their brand with third-party retailers, such as Walmart, Target, and Amazon. The return policy is dependent on each individual retailer, so make sure you check with the seller first before purchasing.
Where To Buy
To purchase CeraVe Skin Renewing Vitamin C Serum, click here.
CeraVe Skin Renewing Vitamin C Serum: Summary
| | |
| --- | --- |
| Factor | CeraVe Skin Renewing Vitamin C Serum |
| Overall Rating | |
| Texture/Feel | Average face serum consistency; leaves behind a slick residue that makes other face products slide around your face a bit more. |
| Application | Apply a pea-size amount to clean, dry skin both morning and night. Easy to incorporate into nighttime routine but does make your makeup look a bit greasy for daytime wear |
| Drying Time | 60 seconds |
| Smell | Odorless |
| Immediate Results | Immediately experienced intense hydration in my skin, and an overall healthy complexion |
| Long Term Results | Hydrated skin that gave a gorgeous, dewy glow to my complexion. Did see an increase in blackheads on my nose and inner cheeks but majority of complexion was flawless |
| Ingredients | Glycerin, Dimethicone, Hyaluronic Acid, Vitamin B5 |
| Price | $19.97 |
| Guarantee | Sold at third-party retailers; return policy is different for each individual seller |
| Where To Buy | Click Here |