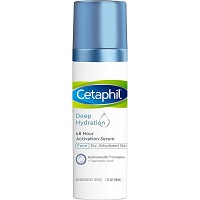 Product Name:  Cetaphil Deep Hydration Serum
Overall Rating: 

Serum Type:  Hydrating
Size:  1 fl oz
Price:  $17.00
Cost Per Ounce:  $17.00
Where to Buy:  Click Here
# of Ingredients:  30
Notable Ingredients:  Glycerin, Sunflower Seed Oil, Shea Oil, Vitamin E
Overall Opinion:
I've always been a fan of the Cetaphil skincare line, but had never tried any of their serums before. After just one use of Cetaphil Deep Hydration Serum, I knew this product was no exception to my love for the brand!
The serum is easy to apply and incorporate into both your daytime and nighttime skincare routines, and you can genuinely see an increase in hydration and decrease in skin irritation after a single use.
I liked the product the longer I used it, as well, as it made my skin look and feel healthier, and left me with a plump, glowing complexion.
Add all of that to the affordable price tag, and this face serum is a total winner. I think this product would be a great fit for any skin type, especially given its gentle formula.
Detailed Opinion:
Texture/Feel
Since you can use Cetaphil Deep Hydration Serum in addition to, or in lieu of, your moisturizer, this product has more moisturizer-like qualities than most other face serums. The look and feel of the serum when pumped into your hand mimics a light moisturizer, and feels like one too when applied.
However, it's not nearly as heavy as a moisturizer once it absorbs into your skin, so it's manageable as a serum underneath a moisturizer.
Additionally, it leaves behind a slightly tacky residue once absorbed, but it's very comfortable to wear overall.
Application
Cetaphil Deep Hydration Serum is about as simple as it can be in terms of application. All you need to do it apply one pump of product on clean, dry skin both morning and night.
Once the serum absorbs into your complexion, layer your other skincare products on top of it.
This serum was simple to incorporate into both my daytime and nighttime skincare routines as it wore well underneath makeup, and didn't impact the feel of my other skincare products on my face.
Drying Time
I was initially concerned that Cetaphil Deep Hydration Serum would have a longer dry time since it has moisturizer-like qualities to it. However, that definitely wasn't the case.
After about 15-20 seconds post-application, the serum had mostly absorbed into my face and neck, allowing me to layer my other skincare products on top of it.
Smell
Cetaphil Deep Hydration Serum has a clean odor to it, and I loved it!
The smell was fresh, but not overpowering. Once my other products were applied, the smell went away, which was a bummer because I loved how it smelled while applying it.
Immediate Results
I used Cetaphil Deep Hydration Serum at night first, and when I woke up the next morning, I could already see noticeable changes to my skin.
My complexion looked more hydrated, and some of the normal redness I have on my face had decreased. I was pleasantly surprised at how quickly this formula worked for me, and felt that my skin looked better than it had the night before.
Long Term Results
The longer I used this deep hydration serum, the more I loved the way my skin looked and felt. The immediate hydration I had experienced continued to increase, and my overall complexion looked more plump and glowing.
I also experienced a major decrease in skin discoloration, mainly with skin redness and irritation, which gave me a clearer complexion than before I started using this product.
Overall, I'm very happy with my long-term results!
Price/Value
Without a doubt, Cetaphil Deep Hydration Serum is worth the money! It isn't altogether expensive to begin with, but it delivers on the results it promises to deliver on.
I saw immediate results with this product, and loved how my skin looked the longer I used it. Additionally, this gentle formula would likely be good for any skin type, so I really like that aspect of the serum, as well.
Guarantee
Cetaphil sells their products online, and in major drugstores such as Target, CVS, and Walgreens.
For information on the return policy, and any other guarantees, check with the vendor before purchasing as it varies with each individual retailer.
Where To Buy
To purchase Cetaphil Deep Hydration Serum, click here.
Cetaphil Deep Hydration Serum: Summary
| | |
| --- | --- |
| Factor | Cetaphil Deep Hydration Serum |
| Overall Rating | |
| Texture/Feel | Feels and looks more like a light moisturizer than a serum. Once absorbed into your skin, however, it doesn't feel as heavy as a moisturizer. Slightly tacky residue left behind post-application |
| Application | Apply 1 pump of serum to clean, dry skin both morning and night. Once absorbed, apply other skincare products. Wears well underneath makeup, too |
| Drying Time | 15-20 seconds |
| Smell | Clean scent. I loved how it smelled! |
| Immediate Results | Immediate increase in hydration and decrease in redness on complexion |
| Long Term Results | Hydrated, healthy-looking (and feeling!) skin. Clear complexion, too—no blemishes or skin discoloration. Very happy with long-term results |
| Ingredients | Glycerin, Sunflower Seed Oil, Shea Oil, Vitamin E |
| Price | $17.00 |
| Guarantee | Sold on third-party websites and select stores; ask individual retailer what return policy is |
| Where To Buy | Click Here |