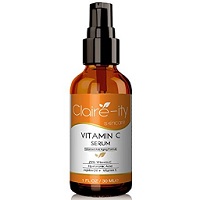 Product Name:  Claire-ity Vitamin C Serum
Overall Rating: 

Serum Type:  Anti-aging
Size:  1 fl oz
Price:  $16.75
Cost Per Ounce:  $16.75
Where to Buy:  Click Here
# of Ingredients:  26
Notable Ingredients:  Green Tea Extract, Witch Hazel, Glycerin, Vitamin E, Hyaluronic Acid, Jojoba Oil   
Overall Opinion:
Claire-ity Vitamin C face serum misses the mark when it comes to anti-aging benefits, or any major skin changes at all.  As an affordable face serum with an impressive ingredient list, every piece of me wanted to love this serum.  However, the results just aren't there to back it up.
While you won't experience any major breakouts or skin backlash from introducing this serum into your skincare routine, you also won't find that it does much to change your skin.  Fine lines and dark spots remain unchanged, skin brightness doesn't change much, and if anything, you feel a little oily in your T-zone, and dry on the rest of your face.
The price point, ease of use, and pump feature of Claire-ity Vitamin C Serum are nice aspects of this serum, but there are other affordable serums on that market that will deliver much better results, and leave you excited about the changes you're seeing on your face and neck.
Detailed Opinion:
Texture/Feel
Claire-ity Vitamin C face serum is a bit thicker than your average face serum.  I would compare it to more of a gel than what a face serum normally feels like.
Once you've applied the face serum, it's a very comfortable serum to wear.  It doesn't impact how other products are applied after, and it also doesn't leave behind an uncomfortable sticky or greasy residue.
Application
One of the things I actually really liked about Claire-ity Vitamin C face serum is the pump applicator.  Any face serum that has this gets major kudos from me because it makes it so easy to figure out how much you actually need.
For this serum, I needed two pumps to cover both my face and neck.  Claire-ity also directs to use it on your décolleté, but I rarely, if ever, use face serums on my chest area.
To apply Claire-ity Vitamin C Serum, use both morning and night on clean, dry skin after you've applied your toner.  Once it has dried, follow with moisturizer.
The serum specifically says you can use it under makeup, which may be true for some people, but I found that it made me super oily in my T-zone area.  I had to use blotting papers anytime I wore makeup to help control the oil, which was a pain.
Drying Time
Claire-ity Vitamin C face serum dries in 15 seconds, which was another nice feature.  Since you have to wait until the serum is dry before applying other products, I always like when a serum has a shorter dry time.
Smell
Claire-ity Vitamin C Serum is odorless, which is nice for anyone who doesn't like strong scents in their face serums, but is a little bit of a bummer if you love the sweet citrus smells that are normally associated with Vitamin C face serums.
Immediate Results
As I do with every new face serum I try, I used Claire-ity Vitamin C face serum at night first.  The first thing I noticed was how comfortable it was to wear, which was super nice!
Beyond that, I didn't see any changes in my skin, good or bad.  No breakouts occurred overnight, which is always a relief, but there weren't any exciting, noticeable initial results either.
Long Term Results
Anytime a serum markets itself as anti-aging, I'm always optimistic about how it will change my skin, even if it's in one small way.  When it comes to Claire-ity Vitamin C Serum, I just genuinely didn't see a single difference.
Despite the fact that it left me greasy in my T-zone area, I still chose to use the serum twice daily, and even then, there weren't any changes in my skin.  Fine lines and wrinkles remained the same, I didn't see an increase in skin brightening, and the texture of my skin wasn't changed.  Overall, it was kind of a flop.
It didn't impact my skin negatively, which I really appreciate, especially when trying a new face serum.  I did find that I was a bit more dry on my chin and around my mouth, but it was definitely manageable with a stronger face moisturizer.
Beyond that, it really just kept my skin the same, which is a bummer for an anti-aging serum, or really any serum at all.
Price/Value
At $16.75 for an ounce of product, Claire-ity Vitamin C face serum is a super affordable face serum.  However, I believe that if the face serum just doesn't work, it's not worth a single penny you spend on it.
Since you won't see any results from using this face serum, it's definitely not worth purchasing, especially when you can find other affordable anti-aging face serums that actually deliver results.
Guarantee
Claire-ity skin products are available for purchase on Amazon, so returns are on a case-by-case basis according to Amazon's discretion.
Where To Buy
To purchase Claire-ity Vitamin C Serum, click here.
Claire-ity Vitamin C Serum: Summary
| | |
| --- | --- |
| Factor | Claire-ity Vitamin C Serum |
| Overall Rating | |
| Texture/Feel | Thicker face serum, gel-like feeling; really comfortable to wear; no residue left behind |
| Application | Apply twice daily on cleansed, toned skin. Wait for serum to dry and apply moisturizer on top |
| Drying Time | 15 seconds |
| Smell | Odorless |
| Immediate Results | No immediate results; no added congestion or blemishes on initial use |
| Long Term Results | Slightly dry skin on chin and around mouth; no positive results. No real changes to skin whatsoever |
| Ingredients | Green Tea Extract, Witch Hazel, Glycerin, Vitamin E, Hyaluronic Acid, Jojoba Oil |
| Price | $16.75 |
| Guarantee | Case-by-case basis based on Amazon's discretion |
| Where To Buy | Click Here |