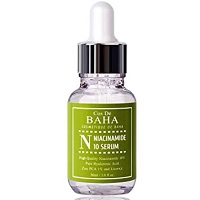 Product Name:  Cos de Baha Niacinamide 10 Serum
Overall Rating: 

Serum Type:  Acne Fighting
Size:  1 fl oz
Price:  $12.95
Cost Per Ounce:  $12.95
Where to Buy:  Click Here
# of Ingredients:  14
Notable Ingredients:  Aloe Leaf Extract, Witch Hazel Leaf Extract, Rosemary and Thyme Extract
Overall Opinion:
Having never heard of Cos de Baha Niacinamide 10 Serum, I didn't know what to expect. Thankfully, I was in the midst of a breakout and needed an acne fighting serum, and along came this one.
On the plus side, this serum does an incredible job at clearing up your skin. After three days of morning and night application, my blemishes were completely gone!
The serum is also comfortable to wear, easy to use underneath makeup, and is beyond affordable for absolutely everyone!
On the flip side, after using this serum for weeks, my skin became very dry, leaving me with flaking skin around my eyes, nose, and mouth. And unfortunately, I started to see a few zits pop up in various spots, too.
Overall, I'm really happy with my initial results and think it's a great first step for controlling acne breakouts. However, you may want to switch to a more gentle serum once your breakout has vanished!
Detailed Opinion:
Texture/Feel
Cos de Baha Niacinamide 10 Serum feels like an average face serum, so there's nothing to report as far as the consistency of the serum is concerned.
Once the serum was absorbed, it left behind a very slight, tacky residue. It was barely there—just enough to remind me that I had, in fact, applied my serum already.
Overall, this was a very comfortable face serum to wear both morning and night!
Application
For the most part, the application is super easy. Apply a pea-size amount on clean, dry skin both morning and night. Once the serum is absorbed, layer your other daily skincare products on top.
The only challenging aspect of the serum was its quick dry time. You have to rub the serum in quickly in order to cover every portion of your face, so keep that in mind when you're using this product.
Other than that, I was able to seamlessly layer my other products on top of the serum, and this was a product that wore beautifully underneath my makeup.
Drying Time
Cos de Baha Niacinamide 10 Serum has a very fast dry time—probably 10 seconds at most.
I really like this aspect in any face serum since it doesn't add a lengthy step to my skincare routine. However, you have to work a little harder to rub it in before it dries and can't be massaged into all areas of your face.
Smell
This serum is completely odorless.
Immediate Results
When I first applied Cos de Baha Niacinamide 10 Serum, I was in the midst of a major hormonal breakout. My skin was looking really rough on my chin and jawline, so I was thrilled to be trying out an acne fighting serum.
When I woke up the next morning, I could see a significant decrease in my breakout. I was totally floored! I couldn't believe how quickly this serum helped clear up my blemishes.
After about three days of use, my skin was completely clear.
Long Term Results
While the immediate results I achieved were stellar, I wasn't as jazzed about my long-term results.
I personally found this serum to be extremely drying, so after two weeks of using it, I had dry skin all over my face. It began to flake around my eyes, nose and mouth, and my skin looked pretty dehydrated overall.
Additionally, I did see a few acne spots pop up again after about three weeks of using the serum, so I'm not sure it could keep acne at bay in the long term, which is unfortunate.
Price/Value
Cos de Baha Niacinamide 10 Serum is extremely affordable, which is always an enticing aspect of any product.
While I didn't love everything about this serum, I actually do think it's worth the money. The immediate results it offers allows your skin to recover from a breakout before moving on to a different face serum (which would be my recommendation).
For that reason, I think this is an awesome choice for acne-prone skin.
Guarantee
Cos de Baha offers a 30-day money-back guarantee on unused product. I think this is a terrible return policy, and I don't know how brands get away with this.
How are you supposed to know whether you like the product unless you have a chance to use it? This is a negative for me when it comes to this serum.
Where To Buy
To purchase Cos de Baha Niacinamide 10 Serum, click here.
Cos de Baha Niacinamide 10 Serum: Summary
| | |
| --- | --- |
| Factor | Cos de Baha Niacinamide 10 Serum |
| Overall Rating | |
| Texture/Feel | Average face serum consistency. Leaves a slightly tacky residue behind once absorbed, but overall a very comfortable serum to wear. |
| Application | Apply a pea-size amount on clean, dry skin both morning and night. Layer other products on top once absorbed. Wears beautifully under makeup. |
| Drying Time | 10 seconds |
| Smell | Odorless |
| Immediate Results | Completely healed my breakout—amazing immediate results |
| Long Term Results | Dry skin in multiple areas on face, acne spots began to pop up again but not nearly as severe |
| Ingredients | Aloe Leaf Extract, Witch Hazel Leaf Extract, Rosemary and Thyme Extract |
| Price | $12.95 |
| Guarantee | 30-day money-back guarantee on unused products. Not a good return policy, in my opinion |
| Where To Buy | Click Here |