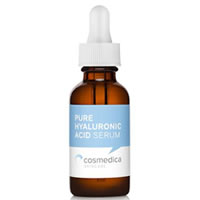 Product Name:  Cosmedica Pure Hyaluronic Acid Serum
Overall Rating: 

Serum Type:  Hydrating, Anti-aging
Size:  2 oz (available in 1 oz, 4 oz, and 8 oz sizes, as well)
Price:  $14.45
Cost Per Ounce:  $7.22
Where to Buy:  Click Here
# of Ingredients:  3
Notable Ingredients:  Sodium Hyaluronate, Benzylalcohol-DHA
Overall Opinion:
Cosmedica Pure Hyaluronic Acid Serum delivers on what it sets out to do for skin— hydrate, hydrate, hydrate! Immediately upon application, my skin feels more plump and moisturized, giving my skin an elastic feel and more youthful appearance.
In some aspects, this face serum delivers both short term and long term results. Since the face serum holds up to 1,000x its weight in water, any dry skin that was present on the skin when first applying the product was quickly hydrated, and no dry patches of skin on my face occurred while using the product.
This face serum is water-based, making it a perfect fit for all skin types, especially those with oily or combination skin. Since the serum needs to be applied both morning and night for best results, the water-based element allows for seamless makeup application and helps control oil in the T-zone.
While the hydrating component of this product is undeniable, it does not improve other aspects of the skin as it claims to, specifically in term of fine lines, wrinkles, and sun/age spots. So, if you're looking to rewind the clock on your face and undo skin damage, this is not the serum for you.
However, if your skin just needs some additional moisture, especially during the colder months, this serum is a great fit. And, with a price tag of less than $15, it's an affordable option for most!
Detailed Opinion:
Texture/Feel
Cosmedica Pure Hyaluronic Acid Serum is a clear, water-based face serum. Compared to other face serums, this one feels a bit thicker and gel-like, due to its hydrating ingredients.
Application
Applying the hyaluronic acid serum is super easy, and should be done after skin has been cleansed and toned. Expelled from a dropper, you simply drop 1-2 drops in your hands and apply directly on to your face and neck daily, both morning and night. Rather than applying in a circular motion, the face serum should be applied using gentle patting motions to promote absorption. After application, apply a face moisturizer.
If you are looking for hydration on your neck, you may need more than 1-2 drops, as that seemed to mostly cover the face alone, with minimal product left over to drag down the neck.
Drying Time
Cosmedica Pure Hyaluronic Acid Serum dries quickly, about 10-15 seconds after application, so it's important to work the product into your skin quickly.
After I applied the product, a tacky feeling remained on my skin. While the sticky feeling is by no means overwhelming, it does disappear once a moisturizer is applied on top of it. This is especially important for daytime application, allowing makeup to be applied without any issue.
Smell
This face serum is perfect for individuals who are sensitive to odors in their beauty products as it seems to be odorless. While you may expect a strong, acidic smell, this serum is void of one.
Immediate Results
Immediately after applying the product, my dry patches of skin were hydrated, and my flaky skin diminished. The next morning, my skin felt extremely hydrated and plump, specifically in the t-zone areas. The intense hydration also gave my skin a youthful look, which was great to see!
Long Term Results
My skin continued to feel hydrated and plump throughout the entire time using Cosmedica Pure Hyaluronic Acid Serum. There were no instances of dry skin, and the skin felt plump and youthful from day one.
No change was seen for sun/age spots, wrinkles, or fine lines, so claims of the serum combating those did not prove to be true for long term results.
Price
At just $14.45 for a 2-ounce bottle, this product is extremely affordable. Given its intense ability to hydrate and plump up the skin, this is well worth the money. Since you're instructed to only use 1-2 drops twice a day, this product lasts a long time as well. However, additional drops may be needed if hydration is desired on the neck area.
Guarantee
Cosmedica offers a 30-day money back guarantee for their Pure Hyaluronic Acid Serum, as well as on all other Cosmedica products. However, customers must ship back and pay for the return of the product to the company, which is a bit of a pain. Additionally, it is 30 days from the purchase date, not from when you receive the product, so you have less time to come to a conclusion about the product before the window is closed.
Cosmedica also guarantees that their products are paraben-free, cruelty-free, vegan, and created in FDA-registered and approved labs in the U.S.
Where To Buy
To purchase Cosmedica Pure Hyaluronic Acid Serum, click here.
Cosmedica Pure Hyaluronic Acid Serum: Summary
| | |
| --- | --- |
| Factor | Cosmedica Pure Hyaluronic Acid Serum |
| Overall Rating | |
| Texture/Feel | This is a thick, water-based serum that feels like a gel. |
| Application | Easy to apply; 1-2 drops applied directly to face and neck in AM and PM. |
| Drying Time | Dries in 10-15 seconds; tacky feeling remains. |
| Smell | Serum has no notable odor. |
| Immediate Results | Face feels more plump immediately upon application. |
| Long Term Results | Over time, my skin became more hydrated; however, my lines and wrinkles didn't improve. |
| Ingredients | Sodium Hyaluronate and Benzylalcohol-DHA are the most notable ingredients. |
| Price | $14.45 |
| Guarantee | 30-day money back guarantee. Serum is also paraben-free, cruelty-free, and vegan. Safe for all skin types. |
| Where To Buy | Click Here |