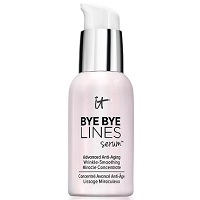 Product Name:  it Cosmetics Bye Bye Lines Serum
Overall Rating: 

Serum Type:  Anti-aging
Size:  1 fl oz
Price:  $58.00
Cost Per Ounce:  $58.00
Where to Buy:  Click Here
# of Ingredients:  113
Notable Ingredients:  Peptides, hydrolyzed collagen, hyaluronic acid, caviar extract, sea water, argan oil
Overall Opinion:
With a face serum that can actually replace your skin moisturizer, you know it Cosmetics Bye Bye Lines face serum is going to hydrate and plump up your skin—and that's exactly what it does.
As a super thick moisturizer, applying this face serum into both your nighttime and daytime skin routine can be a bit challenging, but the results are well worth it.
With an increase in radiance and skin elasticity, and a decrease in fine lines and blackheads, this face serum is a winner when it comes to all things anti-aging.
At just $58.00 for 1 fl. oz., it Cosmetics Bye Bye Lines is an affordable face serum that actually does what it says it will do— and in just a few short weeks!
Detailed Opinion:
Texture/Feel
it Cosmetics Bye Bye Lines serum is super thick— maybe even the thickest face serum I've ever tried.  The texture of the serum is closer to a face moisturizer, but even thicker.  I'd almost compare it to Elmer's glue.
The directions do explain that you can use this serum as a replacement for your face moisturizer, which may be why it's as thick as it is.  However, I chose to use it in addition to my moisturizer instead of in lieu of.
The feel of it Cosmetics Bye Bye Lines serum is super creamy.  It actually feels very hydrating, and leaves your skin with a very soft feeling immediately after application.
Once the serum is dry, it does not leave any sticky or slimy feeling on your skin, which is awesome.
Application
Application of it Cosmetics Bye Bye Lines face serum is relatively easy.
Apply the serum both morning and night onto clean skin before applying moisturizer, or in place of your face moisturizer.
This face serum is meant to be applied on your neck and décolleté, as well.  However, it directs that you only need a small amount of product.
I tried to use just one pump of Bye Bye Lines serum to work over those three areas, and I didn't feel like it was enough product, so I would definitely go for two pumps.
Since this is a thicker face serum, I found it a little more difficult to apply my other face products on top of.  It wasn't that the act of applying them was difficult, but I did feel like I had a lot of product on my face.
This was especially difficult in the morning, and I found that my makeup look much more "cakey" when I applied this in the morning.  It was just too many thick products on my face at once.
I'm sure this could be easily corrected if you just opted to use Bye Bye Lines as your face moisturizer, but I really prefer to use both a serum and a moisturizer instead of a two-in-one.
Drying Time
The drying time for it Cosmetics Bye Bye Lines is about 45-60 seconds.  Since this face serum is extremely thick, it does take a bit longer to sink into the skin.
At around 15-30 seconds, my skin felt a bit tacky and uncomfortable.  However, once it fully dried at about a minute, it was a fairly comfortable face serum to wear.
Smell
it Cosmetics Bye Bye Lines face serum has a sweet, citrus smell to it.
I personally loved the way the serum smelled, and didn't find that the odor continued once the product was applied onto my face, neck, and décolleté.
However, the smell while applying it smells very high end and the citrus aspect of the smell is very relaxing.
Immediate Results
I applied it Cosmetics Bye Bye Lines face serum at night first.  Immediately after application, I noticed just how hydrating this face serum was.  My skin felt almost instantly more plump and hydrated from just applying the serum.
My skin also felt extremely soft, even in areas that I was fighting against blemishes.
When I woke up the next morning, my face felt more hydrated than normal, and my skin looked a bit more radiant, as well.
Long Term Results
My overall experience with it Cosmetics Bye Bye Lines was amazing, but in very specific, targeted ways.
First, I saw a significant difference in the fine lines around my mouth.  I found that the creases from my nose down to my chin looked more plump and filled out, which I loved.
I also found that Bye Bye Lines cleared up a lot of congestion on my chin.  I'm someone who struggles with blackheads on my nose and my chin, and this is the first face serum that has almost completely eliminated the blackheads on my chin and around my mouth.
The hydration and plumping element to the it Cosmetics face serum are seriously impressive.  To experience hydration upon initial application and have noticeable plumpness and skin elasticity in my face increase was one of my favorite things about my long term results using this serum.
I didn't like how my makeup looked when I used this serum and a face moisturizer, but I know that would be easily corrected if I skipped applying my moisturizer on top of Bye Bye Lines serum.
Price/Value
At $58.00 for an ounce, it Cosmetics Bye Bye Lines is a relatively affordable face serum.  If you're looking to solely use the product on your face, this face serum is going to last you a good length of time.
If, however, you're trying to drag the product down your neck and onto your décolleté, you may find that this bottle of product isn't going to last you very long.
Since it can be used as both a face serum and a face moisturizer, and delivers incredible, and noticeable, results long term, I think this serum is absolutely worth the money you pay for it.
Guarantee
It Cosmetics offers a 30-day money back guarantee after the purchase date.
Where To Buy
To purchase it Cosmetics Bye Bye Lines serum, click here.
it Cosmetics Bye Bye Lines Serum: Summary
| | |
| --- | --- |
| Factor | it Cosmetics Bye Bye Lines Serum |
| Overall Rating | |
| Texture/Feel | Extremely thick face serum, creamy texture, but no uncomfortable residue left on face after dry time |
| Application | Apply both morning and night to clean skin before, or in lieu of, face moisturizer. Apply to neck and décolleté, as well. |
| Drying Time | 45-60 seconds |
| Smell | Sweet, citrus smell |
| Immediate Results | Hydrated, plump skin, smooth feeling and more radiant appearance on face |
| Long Term Results | Decrease in fine lines around mouth, cleared up chin congestion, extremely hydrated and plump skin, increase in skin elasticity |
| Ingredients | Peptides, hydrolyzed collagen, hyaluronic acid, caviar extract, sea water, argan oil |
| Price | $58.00 |
| Guarantee | 30-day money back guarantee |
| Where To Buy | Click Here |