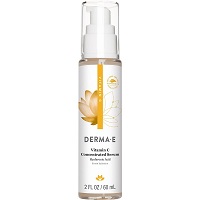 Product Name: Derma-E Vitamin C Concentrated Serum
Overall Rating:

Serum Type: Anti-aging
Size: 2 fl oz
Price: $19.99
Cost Per Ounce: $9.99
Where to Buy: Click Here
# of Ingredients: 23
Notable Ingredients: Glycerin, Vitamin C, Hyaluronic Acid, Green Tea Leaf Extract, Rosehip Fruit Oil, Aloe Vera
Overall Opinion:
As you can tell from my star rating above, Derma-E Vitamin C Concentrated Serum isn't a face serum I can recommend to achieve anti-aging results.
To mention a few positives, however, this face serum carries a very refreshing, high-end scent to it, and the brand itself has a very fair return policy, which is super important in the competitive skincare industry.
Unfortunately, this serum was difficult to incorporate into my daytime skincare routine as it caused my skin to look and feel much greasier, and at the end of the day, it simply didn't deliver any results—anti-aging or otherwise.
The price tag and amount of product you get is very appealing, but it just isn't worth the money based on the lack of results and the way it'll make your complexion look while using it.
Detailed Opinion:
Texture/Feel
The texture of Derma-E Vitamin C Concentrated Serum feels like an average face serum, so there isn't much to report there.
Once the serum absorbed into my skin, it left behind a slightly tacky residue—nothing too overwhelming. The residue also didn't make it difficult to apply my other face products on top of, which is always nice if a serum is going to leave behind a residue (like most do).
I found it strange that this face serum had a tacky residue instead of an oily one because I found this product made my skin much greasier than normal—but more on that later.
Application
Derma-E Vitamin C Concentrated Serum has easy application instructions, which I appreciate. Like you should with most other face serums, make sure you apply this product on clean, dry skin. And if you use a facial toner, use that and allow your skin to fully dry before applying, as well.
I love face serums that come with a pump applicator, which is what this one has. I found that I needed just one pump to cover my face and neck, so this serum will definitely last you a long time, especially since you get so much product to begin with!
Derma-E also instructs to use this both morning and night, which was very difficult for me. The nighttime application was no problem, but I found that this face serum made my skin extremely greasy, which made incorporating it into my daytime routine tricky.
The brand also says that using a moisturizer is optional after applying Derma-E Vitamin C Concentrated Serum, but I personally think you should always use a moisturizer with a face serum, not replace one product with the other. So if you choose to use a moisturizer, or have any other face products you use daily, make sure you apply those once the serum has absorbed into your face and neck.
Drying Time
The dry time for Derma-E Vitamin C Concentrated Serum is about 25 seconds, which is pretty average for a face serum.
You can tell when it's absorbed into your skin because it leaves behind a tacky residue, which is a nice indicator of when you can apply your other face products.
Smell
Derma-E Vitamin C Concentrated Serum smells like citrus and Aloe Vera. I personally found it to be very refreshing, and really enjoyed it!
However, if you're sensitive to odors in your products, I wouldn't be too concerned with this scent. It isn't overpowering, and it goes away when you apply your other face products on top of it.
Since moisturizer is optional for Derma-E Vitamin C Concentrated Serum, you may want to be sure to use one if you're hoping to mask any sort of scent from the serum.
Immediate Results
I didn't experience any immediate results with Derma-E Vitamin C Concentrated Serum. I did notice right off that bat that my skin looked and felt super greasy.
I thought it might just be a fluke at first, but I kept experiencing the greasiness each day I used the serum, which made my skin feel really dirty. Honestly, that feeling alone made me want to discontinue using it right away, but I stuck with it.
As nasty as I looked and felt while using the serum, I didn't experience any breakout from using it, so my face must not have actually been dirty—it just felt that way because of how it looked (super greasy, if I haven't said that enough yet).
Long Term Results
Unfortunately, I didn't experience any anti-aging results with Derma-E Vitamin C Concentrated Serum. Despite how gross the serum made me look when I used it in my daytime skincare routine, I continued to do so for weeks. And even after twice daily use, my skin was unchanged in all anti-aging aspects.
I have experienced with many different face serums results that weren't necessarily marketed for the product itself. For example, an anti-aging serum might not make me look any younger, but I may have amazing skin-brightening results with it. However, that wasn't the case with this face serum either. I simply didn't see any changes to my complexion.
The greasiness that the serum caused me to have on my face made me feel really unattractive while using Derma-E Vitamin C Concentrated Serum, so that's a major negative for me, as well.
Price/Value
As far as price is concerned, Derma-E Vitamin C Concentrated Serum is absolutely affordable. This is especially the case since you get two fluid ounces of product, whereas most other serums only give you one.
Unfortunately, despite the appealing price tag, this serum simply isn't worth the money. It doesn't deliver on the anti-aging results it promises, and it left my complexion extremely greasy during the entire time I used it.
Guarantee
Derma-E offers a 30-day money-back guarantee for any products purchased directly from their website. The purchaser does have to pay for the return shipping, which I think is pretty standard. So overall, I think this is a fair return policy.
I did want to mention that on their website, Derma-E specifically addresses product sold on Amazon and eBay. While Amazon is often a retailer I recommend for purchasing certain face serums, this definitely isn't the case here as they have many counterfeit products on Amazon.
And, as to be expected, they will not honor any money-back guarantee for products purchased from those retailers. So I would avoid purchasing from third-party websites and instead look for products on their website or authorized retailers, such as Ulta.
Where To Buy
To purchase Derma-E Vitamin C Concentrated Serum, click here.
Derma-E Vitamin C Concentrated Serum: Summary
| | |
| --- | --- |
| Factor | Derma-E Vitamin C Concentrated Serum |
| Overall Rating | |
| Texture/Feel | Average face serum consistency that leaves behind a tacky residue once absorbed. Easy to layer other products on top of, however |
| Application | Apply one pump of product on clean, dry skin both morning and night. Moisturizer is optional post-application but I always chose to use one. Difficult to wear under makeup due to greasy residue it builds up |
| Drying Time | 25 seconds |
| Smell | Citrus and Aloe Vera scent; very refreshing and not overpowering. I personally enjoyed it! |
| Immediate Results | No immediate results but experienced a lot of oiliness on face |
| Long Term Results | No anti-aging results achieved; had very greasy looking and feeling skin the entire time I was using the serum, as well |
| Ingredients | Glycerin, Vitamin C, Hyaluronic Acid, Green Tea Leaf Extract, Rosehip Fruit Oil, Aloe Vera |
| Price | $19.99 |
| Guarantee | 30-day money-back guarantee; must pay for return shipping, however |
| Where To Buy | Click Here |