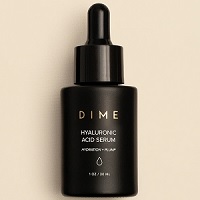 Product Name: Dime Hyaluronic Acid Serum
Overall Rating:

Serum Type: Hydrating
Size: 1 fl oz
Price: $28.00
Cost Per Ounce: $28.00
Where to Buy: Click Here
# of Ingredients: 4
Notable Ingredients: Sodium Hyaluronate
Overall Opinion:
Every single part of me wanted to love Dime Hyaluronic Acid Serum. I've heard such wonderful things about the brand itself, and I absolutely love how clean their ingredient lists are.
While my initial experience with the serum was a positive one, this product ultimately never delivered an increase in skin hydration or plumpness as advertised.
The product didn't work for me personally, but I do think this face serum could be a great fit for individuals with more sensitive skin types since all of the brand's products tote clean ingredients.
The experience wasn't a total bust, but there are plenty of other hydrating face serums that work better for my skin than this one.
Detailed Opinion:
Texture/Feel
Dime Hyaluronic Acid Serum has a thicker-than-average face serum consistency. However, when I applied it to my face and neck, it felt much more water-based than thick, which made it easy to apply and comfortable to wear.
Once the serum absorbed into my skin, it left behind little to no residue, which further added to the ease and comfort of adding it into my skincare routine.
Application
The application is simple. Apply a pea-size amount on clean, dry skin both morning and night.
Once the product absorbs into your skin, layer your other face products on top of it. I found that since there was little to no residue left behind post-application, this was very easy to incorporate into both my daytime and nighttime skincare routines.
It didn't impact the wear of my makeup, and most of my other skincare products applied the same as they do without this face serum as an added step.
Drying Time
The dry time for Dime Hyaluronic Acid Serum is about 10-15 seconds, so super quick! I think that's because it's more of a water-based serum and thus absorbs into the skin faster.
Either way, I really like this aspect about this serum.
Smell
Dime Hyaluronic Acid Serum is odorless.
Immediate Results
Since I'm breastfeeding while using Dime Hyaluronic Acid Serum, I've had a lot of hormonal changes going on in my skin, which has resulted in more acne spots than normal.
I used this face serum at night first, and when I woke up the next morning, there was a noticeable decrease in my skin congestion. Some of my acne spots had disappeared altogether.
I'm super impressed with the initial results, even if they aren't directly related to skin hydration!
Long Term Results
Since I'd experienced such amazing initial results with Dime Hyaluronic Acid Serum, even if they weren't the expected results, I was convinced that the long-term results would be just as amazing.
Unfortunately, after weeks of twice daily use, I never experienced an increase in skin hydration or plumpness. My complexion looked and felt the same as it did before using this face serum.
I also had acne spots begin to pop up again, so this didn't do a great job at keeping my skin congestion at bay.
Price/Value
While I love the clean ingredient list behind Dime Hyaluronic Acid Serum, and think the price tag is comparable to many other serums on the market, it sadly isn't worth the money in my opinion.
I didn't experience any real changes to my complexion as a result of using this product, so it's just not for me. However, since it does contain so few ingredients, this might be an awesome product for individuals with more sensitive skin types.
Guarantee
Dime Beauty offers a 60-day money- back guarantee on all of their products. I really like this aspect about the company. This is a more-than-generous return policy!
Where To Buy
To purchase Dime Hyaluronic Acid Serum, click here.
Dime Hyaluronic Acid Serum: Summary
| | |
| --- | --- |
| Factor | Dime Hyaluronic Acid Serum |
| Overall Rating | |
| Texture/Feel | Thicker-than-average face serum consistency. More water-based feel to it when applied. Leaves behind almost no residue at all |
| Application | Apply pea-size amount to clean, dry skin both morning and night. Layer other products on top once absorbed |
| Drying Time | 10-15 seconds |
| Smell | Odorless |
| Immediate Results | Immediately helped decrease skin congestion—less acne and irritation in the first few days |
| Long Term Results | No change in hydration or appearance of plumpness on complexion |
| Ingredients | Sodium Hyaluronate |
| Price | $28.00 |
| Guarantee | 60-day money-back guarantee. Very generous! |
| Where To Buy | Click Here |