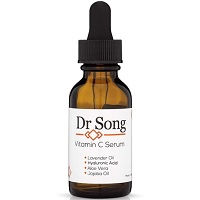 Product Name:  Dr. Song Vitamin C Serum
Overall Rating: 

Serum Type:  Skin Brightening
Size:  1 fl oz
Price:  $9.51
Cost Per Ounce:  $9.51
Where to Buy:  Click Here
# of Ingredients:  15
Notable Ingredients:  Witch Hazel, Glycerin, Jojoba Oil, Aloe Vera, Lavender Oil, Rose Oil
Overall Opinion:
Dr. Song Vitamin C Serum advertises anti-aging results, but that sadly isn't the case with this face serum. However, it does pack some serious hydration effects, and leaves you with a healthy, dewy complexion.
There's plenty more to love when it comes to this face serum, too. Not only is it insanely affordable, but it also has a calming, lavender scent to it and is worn easily under makeup.
On the flip side, it takes a very long time to see any results, and fails to deliver on a single anti-aging result it advertises. So if you're hoping for a more youthful look, this isn't the serum for you.
If your skin is in need of some TLC in the hydration department, however, this Vitamin C serum would be a nice addition to your skincare routine.
Detailed Opinion:
Texture/Feel
Dr. Song Vitamin C Serum has an average face serum consistency, so it's pretty run-of-the-mill in that regard.
Once you apply it to your face and neck, it feels very moisturizing, almost as if you've applied a moisturizer rather than a face serum. There is no uncomfortable residue left behind, but your skin does feel a bit greasier from the product.
Overall, this was a very comfortable serum to wear both morning and night.
Application
The application is as easy as it gets. They instruct to use a nickel-size amount of product to cover your face and neck, but that would be way too much product in my opinion. A pea size, or just slightly larger, is plenty of serum.
Other than that, apply the product to clean, toned skin both morning and night. Once the serum has absorbed, apply your other face products.
I found this serum to be very easy to incorporate into both my daytime and nighttime skincare routines as it wore easily under makeup, and allowed me to seamlessly layer my other face products.
Drying Time
In my opinion, the dry time for Dr. Song Vitamin C Serum is about 30 seconds.
However, they instruct to wait 1-2 minutes post-application before using other face products, so I chose to wait a full 60 seconds before applying anything else.
Smell
Maybe it's because Dr. Song Vitamin C Serum has such few ingredients, but the lavender oil in the ingredient list really comes through as far as scent is concerned.
I personally love the smell of lavender, so this was a bonus for me as far as the serum is concerned. However, the scent is not very strong and goes away once absorbed into your skin.
Immediate Results
I first applied Dr. Song Vitamin C Serum at night. The next morning, my skin looked exactly the same.
The instructions say that it takes a full 30-60 days to see results, which is extremely long in my opinion. But it's also the reason I wasn't surprised when I didn't experience any immediate results.
Long Term Results
Unfortunately, I didn't experience any long-term anti-aging results with Dr. Song Vitamin C Serum. I was optimistic that I would see a change in fine lines and wrinkles, or in skin discoloration, but that simply wasn't the case.
However, I did experience an increase in skin hydration. My skin felt very healthy while using this product, and I noticed a nice appearance of dewiness on my complexion.
This was also impressive since I tend to dry out significantly in the summer months, so my skin felt very protected while using this serum!
Price/Value
Dr. Song Vitamin C Serum is so affordable that it's hard not to consider when looking for a face serum.
If you want anti-aging results, this definitely isn't the right choice. However, if you struggle with skin dryness, either throughout the year or in specific seasons, this might be a great inclusion in your skincare routine!
Guarantee
Dr. Song sells their products on third-party website, such as Amazon. Make sure you check with each individual retailer for money-back guarantees or other questions regarding the product.
Where To Buy
To purchase Dr. Song Vitamin C Serum, click here.
Dr. Song Vitamin C Serum: Summary
| | |
| --- | --- |
| Factor | Dr. Song Vitamin C Serum |
| Overall Rating | |
| Texture/Feel | Average face serum consistency. Feels like a light moisturizer once absorbed; very comfortable serum to wear both day and night |
| Application | Apply pea-size amount on clean, toned skin both morning and night. Wait 1-2 minutes before layering other face products on top |
| Drying Time | 30 seconds – 2 minutes |
| Smell | Lavender scent; goes away once absorbed |
| Immediate Results | No immediate results achieved—takes 30-60 days to see complexion changes |
| Long Term Results | No anti-aging results achieved; however, did see an increase in skin hydration and added dewiness to complexion |
| Ingredients | Witch Hazel, Glycerin, Jojoba Oil, Aloe Vera, Lavender Oil, Rose Water |
| Price | $9.51 |
| Guarantee | Sold on third-party websites. Check individual retailers for money-back guarantees |
| Where To Buy | Click Here |