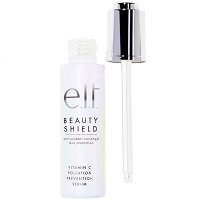 Product Name:  e.l.f. Beauty Shield Vitamin C Pollution Prevention Serum
Overall Rating: 

Serum Type:  Skin Brightening
Size:  0.95 fl oz
Price:  $16.00
Cost Per Ounce:  $16.84
Where to Buy:  Click Here
# of Ingredients:  17
Notable Ingredients:  Glycerin, Sodium Hyaluronate, Pomegranate Extract, Vitamin C, Hydrogenated Castor Oil
Overall Opinion:
As someone who has used, and really enjoyed, e.l.f. makeup products in the past, I was super intrigued to try the e.l.f. Beauty Shield Serum!  Truthfully, I didn't even know they had a skincare line, so I was eager to see how it would stack up to other serums.
As a very comfortable serum to wear, both during the day and at night, and a super easy face serum to apply, it was a great experience to actually use the product itself.  That, partnered with the incredible price point, made me like this face serum right off that bat.
However, once I saw how dewy, hydrated, bright, and evened-out my skin tone looked after just a few days of using the serum, I was totally sold!  I am super impressed with how beautiful my skin looks, and amazed that I achieved this with just a serum, versus numerous makeup products.
Whether you're looking to added a little plumpness to your skin, or you need help with redness and sunspots, e.l.f. Beauty Shield Serum should absolutely be on your radar—whether you're on a budget or not!
Detailed Opinion:
Texture/Feel
e.l.f. Beauty Shield Serum has a very thin consistency.  It almost feels like water when you drop it into your hands.  However, when I actually applied it my face, it had a gel-like consistency, and felt much more like an average face serum.
Once the serum dried down, it left a tacky feeling behind on my face, neck, and chest.  However, it isn't super overwhelming and it didn't impact the application of my other face products on top of it.  This was a super comfortable face serum to wear overall.
Application
The application of e.l.f. Beauty Shield Serum is super easy to incorporate into both your daytime and nighttime skincare routines.  I don't normally like when serums have a dropper applicator, but all you need is 4-5 drops of this serum to cover your entire face and neck, so the dropper applicator was actually super helpful.
Once I cleansed and toned my face, and my skin was totally dry, I applied 4-5 drops to my fingertips and massaged it into my skin.  It says to wait 3-5 minutes before applying other products, but I definitely didn't do that.  I waited until the serum had dried down and left a tacky feeling on my skin before applying my other products.
I used this serum both morning and night, and it was super easy to wear during the day!  It didn't make my makeup look any different or make me any more oily in my T-zone, and I found that applying my other products on top didn't feel any different either.
e.l.f. does recommend that you keep Beauty Shield Serum in a dark place, which I thought was a bit odd, but I did make sure to keep it in my medicine cabinet instead of out on my counter since I have a window in my bathroom.
Drying Time
The dry time for e.l.f. Beauty Shield Serum is super quick.  In 10 seconds (or maybe even less), the serum no longer felt wet on my skin and instead started to feel tacky.  That's when I chose to apply my other products on top of it, and they applied completely normally.
Even though e.l.f. recommends waiting 3-5 minutes, I'm just not willing to add that much time to my skincare routine twice a day. Maybe I would have achieved even better results if I waited longer but I'm really happy with the results I achieved applying it this way.
Smell
When I applied e.l.f. Beauty Shield Serum to my face, I didn't detect any smell.  However, when I sniff the bottle directly or the product on my fingertips, I can smell a very small hint of black licorice.  It's a super random scent but I promise, that's what it smells like!
I don't think it's an overpowering smell at all—I couldn't even smell it on my face, so I don't think anyone would really consider this to have an odor to it.
Immediate Results
As I do with most other face serums I try, I used e.l.f. Beauty Shield Serum at night first.  My initial thought was how comfortable the serum was to wear, and how easy it was to incorporate it into my skincare routine.
When I woke up the next morning, I knew right off the bat I was going to enjoy this serum.  My skin looked so dewy and hydrated, and I already had a little glow to my skin.  I was pretty amazed at how immediate the results were, and I honestly felt like I had gorgeous skin waking up.
Long Term Results
I am extremely impressed with the results I achieved from using e.l.f. Beauty Shield Serum—and how quickly I experienced them!  After the initial results, I continued to see the hydration of my skin increase.  The entire time I was using the serum, my skin looked so dewy, supple, and hydrated.  My natural skin looked like what so many women try to replicate with their makeup looks!
I also found that the brightening aspect of this serum was spot on.  I actually had a horrible cold when I was using this serum, and normally my skin looks so worn out when I'm sick.  But this serum made my skin look flawless, and I had a really gorgeous, healthy glow to my face.  It really did look brighter overall!
Finally, I found that e.l.f. Beauty Shield Serum really evened out my complexion. Not only did I not experience any skin congestion when using it, but any redness or discoloration I had went away completely or was significantly reduced. I am super happy with my skin after using this face serum!
Price/Value
I have used many different e.l.f. makeup products before, and I have found that almost all of them are well worth the money.  e.l.f. Beauty Shield Serum is no exception.  Sometimes a super cheap price tag makes me wary of whether good ingredients are included in the actual product, but I'm extremely impressed with the results I achieved while using this, and how comfortable the serum was to wear.
At just $16 for a serum that requires very little product to see results, this bottle will last you a while.  For that reason, and all of the reasons listed above, this face serum is definitely worth the money!
Guarantee
e.l.f. doesn't accept any returns.  They will replace your product if it breaks during transit, but according to their website, "due to the low cost nature of our products, we are unable to offer any returns or exchanges."
It is true that all of e.l.f.'s products are extremely affordable, but I still think every company should offer a return policy, no matter what their products cost.  This is definitely a disappointing aspect of the brand, in my opinion.
Where To Buy
To purchase e.l.f. Beauty Shielf Serum, click here.
e.l.f. Beauty Shield Serum: Summary
| | |
| --- | --- |
| Factor | e.l.f. Beauty Shield Serum |
| Overall Rating | |
| Texture/Feel | Has a very thin consistency, like water, but feels very gel-like when you apply it to your face.  Leaves a slightly tacky feel on skin once dry. |
| Application | Apply morning and night on clean, dry skin.  Use 4-5 drops and massage onto face, neck, and chest.  Once dry, apply other products on top. Store product in a dark place. |
| Drying Time | 10 seconds (instructions say to wait 3-5 minutes, however) |
| Smell | Very mild odor; smells a bit like black licorice |
| Immediate Results | Loved how the serum wore underneath my products and my makeup; gave skin an immediately bright appearance and added a dewy, hydrated look to skin |
| Long Term Results | Gorgeous skin throughout use.  Skin was brighter, and looked dewy and hydrated. Very clear complexion both in acne congestion and in skin discoloration. Very impressive results. |
| Ingredients | Glycerin, Sodium Hyaluronate, Pomegranate Extract, Vitamin C, Hydrogenated Castor Oil |
| Price | $16.00 |
| Guarantee | No returns accepted due to "low cost nature" of their products |
| Where To Buy | Click Here |