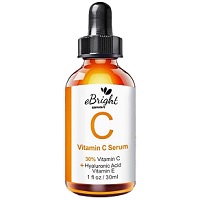 Product Name:  eBright Vitamin C Serum
Overall Rating: 

Serum Type:  Anti-aging
Size:  1 fl oz
Price:  $5.99
Cost Per Ounce:  $5.99
Where to Buy:  Click Here
# of Ingredients:  21
Notable Ingredients:  Vitamin C, Arnica, Mulberry & Peony Extract, Salicylic Acid, Hyaluronic Acid, Glycerin, Vitamin E
Overall Opinion:
It makes sense that any individual would want to try an anti-aging serum for less than $6, and that's exactly what you find with eBright Vitamin C Serum.
Unfortunately, the cheap price tag reflects the results, or lack thereof, you achieve by incorporating this face serum into your skincare routine.
While easy to use, comfortable to wear, and seamless to work into your skincare routine, it simply doesn't deliver on any results at all, anti-aging or otherwise.
You'd be hard-pressed to find a face serum more affordable, but I know there are many other affordable options available guaranteed to deliver real results.
Detailed Opinion:
Texture/Feel
The texture is average. When I applied it to my skin, it had a moisturizing feel to it, and was overall extremely easy to rub into my face and neck.
Once absorbed, it left behind a tacky residue. However, it wasn't overpowering and didn't impact my ability to layer my other face products on top of it.
Overall, this was a very comfortable face serum to wear!
Application
eBright Vitamin C Serum is super easy to apply. Normally I don't like a dropper applicator, but it works really well with the formula for this face serum.
I found I needed 3-4 drops to cover my entire face and neck. Once absorbed, I layered my other skincare products on top of it. Although there's a tacky residue left behind, it was still very easy to layer my other products on top of the serum.
One aspect of the directions I didn't listen to was to wait 1-2 minutes before applying my moisturizer. I waited until it had absorbed and then moved on to that step.
Finally, this serum can be worn easily underneath makeup, so this was an easy product to incorporate into both my daytime and nighttime skincare routines.
Drying Time
The dry time is really fast—about 15-20 seconds.
You'll still feel a tacky residue on your skin before applying your other face products, but the serum has definitely absorbed by that point.
I loved this aspect of this serum as it allowed me to move onto my next skincare step efficiently.
Smell
eBright Vitamin C Serum is odorless.
Immediate Results
I applied eBright Vitamin C Serum at night first, and found that it was very easy to work into my skincare routine.
The next morning, my skin looked and felt exactly the same. That wasn't too concerning or surprising to me, however, because more often than not, that's the experience I have with a face serum.
Long Term Results
eBright Vitamin C Serum didn't produce any results for me.
In some instances, I won't experience the advertised results from a product, but I will see positive changes to my complexion in other areas. That wasn't the case with this serum either.
I didn't see any anti-aging results, or any other results, after using this product twice daily for multiple weeks. I'm really bummed!
Price/Value
The affordable price tag for eBright Vitamin C Serum almost doesn't seem real. You could practically pick this product up at the dollar store.
While I love a smokin' deal, unfortunately, this face serum isn't worth the money. You obviously won't be losing a lot if it doesn't work for you, but if your experience is like mine, you won't achieve any results, anti-aging or otherwise.
Guarantee
eBright sells their products on third-party websites, such as Amazon.
The return policy, and any other product guarantees, is dependent on each individual retailer, so make sure you check with them before purchasing.
Where To Buy
To purchase eBright Vitamin C Serum, click here.
eBright Vitamin C Serum: Summary
| | |
| --- | --- |
| Factor | eBright Vitamin C Serum |
| Overall Rating | |
| Texture/Feel | Average face serum consistency. Feels very moisturizing and easy to rub in when applied to the skin. Leaves behind a tacky residue once absorbed |
| Application | Apply 3-4 drops on clean, dry skin both morning and night. Once absorbed, apply other skincare products. Easy to wear underneath makeup |
| Drying Time | 15-20 seconds |
| Smell | Odorless |
| Immediate Results | No immediate results |
| Long Term Results | No anti-aging results or other changes to my skin, positive or negative |
| Ingredients | Vitamin C, Arnica, Mulberry & Peony Extract, Salicylic Acid, Hyaluronic Acid, Glycerin, Vitamin E |
| Price | $5.99 |
| Guarantee | Sold on third-party websites. Return policy is different for each individual retailer |
| Where To Buy | Click Here |