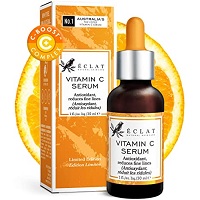 Product Name:  Èclat Vitamin C Serum
Overall Rating: 

Serum Type:  Anti-aging
Size:  1 fl oz
Price:  $6.98
Cost Per Ounce:  $6.98
Where to Buy:  Click Here
# of Ingredients:  14
Notable Ingredients:  Organic Aloe, Vitamin C, Witch Hazel, Glycerin, Retinol
Overall Opinion:
Finding an affordable face serum is normally something to get excited about, but unfortunately, Èclat Vitamin C Serum doesn't deliver the anti-aging results it promises.
It's not all bad with this product, however. The dry time is fast, and the serum wears beautifully underneath makeup. It's also odorless, which is a pro for those sensitive to perfumes in their face products.
Unfortunately, my complexion was worse off after using this serum. The blackheads on my nose and chin increased significantly and I started having random blemishes popping up on my face. I also didn't see any anti-aging changes to my complexion.
If you're looking for an anti-aging serum that's affordable but won't cause skin irritation, there are better options available.
Detailed Opinion:
Texture/Feel
The texture is straightforward—similar to the consistency of most other face serums.
Once the product absorbed into my skin, it left behind a tacky residue. The serum is still overall comfortable to wear, but this residue was a bit more intense than most other serums I've applied.
After my other products were layered on top, however, the serum on my skin felt normal.
Application
Èclat Vitamin C Serum is easy to apply overall. I found that I needed 2-3 drops to cover my face and neck adequately.
As I do with every other face serum, I used this on clean, dry skin and made sure to massage it into my skin to help with absorption.
Once the serum was dried, I layered my other face products on top. The sticky residue left behind post-application made it a little trickier to layer my other products on top. It just required more work to rub it in than the other products normally do.
Finally, this serum wore well underneath makeup, which is a big bonus for me!
Drying Time
The dry time for Èclat Vitamin C Serum is about 10-15 seconds, so really fast.
I really appreciated this dry time because it gave me enough time to work the product into my skin, but once I was done rubbing it in, it was dry. This allowed me to move on with my skincare routine, which I really like in any face serum.
Smell
Èclat Vitamin C Serum is odorless.
Immediate Results
I applied Èclat Vitamin C Serum at night first, and when I woke up the next morning, my skin looked exactly the same.
Actually, I didn't experience any results from this product until a couple weeks after using it twice daily. So there really aren't any immediate results with this face serum.
Long Term Results
After a couple weeks, I noticed that the blackheads on my nose and chin began to increase significantly.
I also had a few random blemishes pop up around my face. It wasn't a full-blown breakout, but my skin definitely looked worse after using this face serum.
I also didn't experience any anti-aging results so that's a bummer, as well.
Price/Value
While this may be one of the cheapest face serums available, Èclat Vitamin C Serum isn't worth the money.
Not only did I not experience any anti-aging results, but I also felt like my skin was worse off after using this product. There are plenty of other affordable face serums that do a much better job, so for that reason this isn't worth the money, even if it's cheap.
Guarantee
Èclat sells their products on third-party websites, such as Amazon.
The return policy, and any other product guarantees, is dependent on each individual retailer, so make sure you check with them before purchasing. However, Amazon does have a great return policy so you shouldn't run into any problems if you purchase from there.
Where To Buy
To purchase Èclat Vitamin C Serum, click here.
Èclat Vitamin C Serum: Summary
| | |
| --- | --- |
| Factor | Èclat Vitamin C Serum |
| Overall Rating | |
| Texture/Feel | Average face serum consistency. Sticky residue remains once product has absorbed. Overall, comfortable to wear |
| Application | Apply 2-3 drops on clean, dry skin both morning and night. Once absorbed, use other skincare products. Easy to incorporate into daytime and nighttime skincare routines but a little hard to layer products on top of |
| Drying Time | 10-15 seconds |
| Smell | Odorless |
| Immediate Results | No immediate results |
| Long Term Results | No noticeable anti-aging changes to my skin. Increase in blackheads and random blemishes popping up |
| Ingredients | Organic Aloe, Vitamin C, Witch Hazel, Glycerin, Retinol |
| Price | $6.98 |
| Guarantee | Sold on third-party websites. Return policy is different for each individual retailer |
| Where To Buy | Click Here |