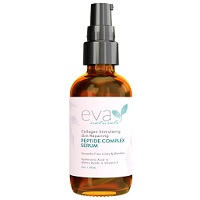 Product Name:  Eva Naturals Peptide Complex Serum
Overall Rating: 

Serum Type:  Anti-Aging
Size:  2 oz
Price:  $29.95
Cost Per Ounce:  $14.97
Where to Buy:  Click Here
# of Ingredients:  27
Notable Ingredients:  Aloe Vera, Witch Hazel, Organic Vegetable Glycerin, Jojoba Oil
Overall Opinion:
When it comes to Eva Naturals Peptide Complex face serum, I am absolutely shocked at how incredible this serum is and at its cheap price tag!  Not to mention, you get two ounces, which is awesome.
From clearing up my skin and giving me a beautiful glow, to decreasing my fine lines and improving skin tone and texture, this serum performs well in every single category—and in just a couple weeks of using it twice daily.
The results and the ease of use that Eva Naturals Peptide Complex Serum delivers for less than $30 almost doesn't seem real, and it's definitely a serum to be considered when shopping around for one.
Detailed Opinion:
Texture/Feel
Eva Naturals Peptide Complex Serum is a very thin serum, and has a texture more similar to water than your average face serum texture.
Once the serum has been absorbed, it doesn't leave behind any strong residue.  You can feel that you have a serum on your skin, but it isn't overly sticky or slick.  It almost feels like a toner that has dried down on your skin.
It's a super comfortable face serum to wear, and it was really easy to use both morning and night with my other face products.
Application
Normally I'm all about a pump applicator, but when it comes to Eva Naturals Peptide Complex Serum, the pump they chose just doesn't work.  You can't push it down slowly to get a small amount of product out.  It's hard to pump and the product shoots out, so I would recommend pumping it into the palm of your hand versus the tips of your fingers.
Besides the poor packaging, application of Eva Naturals Peptide Complex serum is super easy.  I found that I needed two pumps to cover my face and neck.  Once I washed and toned my face and patted it dry, I applied the serum all over my face and neck both morning and night.
Once the serum was dry, I applied my moisturizer and other face products I use daily.  I found that it was super easy to layer my other products on top of it, and it didn't impact the wear of my makeup at all.  The serum seamlessly worked its way into my daytime and nighttime skin routines.
Drying Time
I was surprised at the dry time for Eva Naturals Peptide Complex Serum since it's so watery and applies very "wet".  I expected it to take at least 60 seconds to absorb, but it actually took half that time!
Within 30 seconds, the face serum had completely dried and just had a slight residue left behind on my face and neck.
Smell
For the most part, Eva Naturals Peptide Complex Serum is odorless.  I did notice the slight scent of Witch Hazel, but a lot of people would say that Witch Hazel is odorless.  I just personally think that it has a smell.
The odor makes sense since Witch Hazel is one of the products, but it's definitely a minor smell.  You really have to sniff the product directly to smell the Witch Hazel, and once it's applied to your face, it doesn't smell like anything at all.
Immediate Results
As I do with every new face serum I try, I used Eva Naturals Peptide Complex Serum at night first.  When I began using this serum, I was having a bit of a hormonal breakout, so my skin had a lot of congestion on it.  When I woke up the next morning, the first thing I realized was how much more calm my skin looked.  I really could see a difference in the areas I was breaking out in.
I also felt like my skin had a beautiful glow to it.  I think a lot of it had to do with the absence of redness and normal discoloration I have on my skin when I wake up, but my face looked noticeably better when I woke up the next morning.
Long Term Results
I was pretty amazed at the results I achieved long term with Eva Naturals Peptide Complex face serum.  The serum completely cleared up my face congestion, and only continued to improve my complexion moving forward.  I saw a major difference in my skin tone and texture, with dark spots lightening up significantly.  I also just had a really healthy-looking glow to my skin, too.
Eva Naturals also improved my fine lines and wrinkles.  I was really surprised to see this change in just a couple of weeks of using this serum morning and night.  The lines around my eyes, and the smile lines around my mouth were much less noticeable, both when I had makeup on and when I was bare faced.
Finally, I feel like this face serum was super hydrating.  Not only did I have the glow I mentioned earlier, but my skin also felt very plump, hydrated, and healthy the entire time I used this serum.   Overall, I was extremely happy with the way my skin looked and felt while using this product!
Price/Value
Eva Naturals Peptide Complex Serum is SO worth the money!  When I was researching this serum, I went to their website and they were having a 50% off sale, so the serum was less than $15.  However, even at its normal price of $30, Eva Naturals Peptide Complex face serum is worth every penny you spend on it.
I'm really guarded when it comes to things that seem too good to be true, but with this face serum, that saying actually applies.  Eva Naturals has an unbelievable price point and delivers beautiful results.  Truthfully, I would be willing to pay a lot more for it because it's just that good.
Guarantee
Eva Naturals offers a full money-back guarantee on all of their products.  Videos on their website say there is no timeframe of when you can return the product, but they have a badge on their website, as well, that states they have a 365 day money-back guarantee.
So worst case, you have a full year to return the product if you're unhappy with the results.
Where To Buy
To purchase Eva Naturals Peptide Complex Serum, click here.
Eva Naturals Peptide Complex Serum: Summary
| | |
| --- | --- |
| Factor | Eva Naturals Peptide Complex Serum |
| Overall Rating | |
| Texture/Feel | Thin, watery face serum; leaves behind minor residue; comfortable serum to wear |
| Application | Wash and tone face, apply two pumps to face and neck both morning and night; apply moisturizer and any other products used daily on top |
| Drying Time | 30 seconds |
| Smell | Mostly odorless; slight hint of Witch Hazel smell |
| Immediate Results | Face congestion began to clear up; healthy-looking glow—less redness and discoloration on face |
| Long Term Results | Completely cleared up my skin and diminished discoloration; healthy glow and more hydrated skin; decrease in fine lines around eyes and mouth |
| Ingredients | Aloe Vera, Witch Hazel, Organic Vegetable Glycerin, Jojoba Oil |
| Price | $29.95 |
| Guarantee | Full money-back guarantee; 365 days to return for full refund |
| Where To Buy | Click Here |