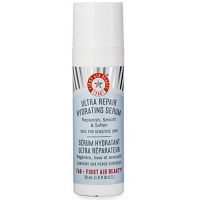 Product Name:  First Aid Beauty Ultra Repair Hydrating Serum
Overall Rating: 

Serum Type:  Hydrating
Size:  1 fl oz
Price:  $36.00
Cost Per Ounce:  $36.00
Where to Buy:  Click Here
# of Ingredients:  27
Notable Ingredients:  Soluble Collagen, Chrysanthemum Parthenium Extract, Glycyrrhiza Glabra Root Extract, Glycerin
Overall Opinion:
While First Aid Beauty Ultra Repair Hydrating Serum leaves you with soft skin, that's about all you can hope to achieve with this face serum.
It fails to deliver on plumping up your skin and reducing fine lines, and while I didn't have any dry skin while using FAB Ultra Repair serum, I also didn't experience the mega hydration I normally find with hydrating serums.
Though easy to apply, this face serum leaves you wanting more in the hydration department, and you may find yourself with unwanted blackheads, as well.
FAB Ultra Repair Hydrating Serum isn't a total flop, but there are definitely better options on the market to help you combat dry skin, and give you more desirable results.
Detailed Opinion:
Texture/Feel
FAB Ultra Repair Hydrating Serum is a super thick face serum.  I would compare it to the consistency of a hair gel of some sort.
While the texture is super thick, it doesn't feel thick when applied to your face.  I think that's why they direct you to use minimal amount of product since it is such a thick face serum to begin with.
Once it had been applied to my face, it actually had more of a moisturizing feel, which made sense since it's a hydrating face serum.  So it didn't feel sticky or gooey at all, which I initially expected given the gel-like consistency.
My face actually felt pretty soft after the product had dried down, which was both unexpected and enjoyable!
Application
Application of FAB Ultra Repair serum is pretty simple, but the instructions made it a bit more stressful for me.
It instructs to use one pump of the hydrating serum both morning and night on clean, dry skin.  Simple enough, right?
The other instructions it gives is to wait until the serum is completely absorbed into your face before applying a moisturizer.  This is the way I apply every face serum, but having that listed on the directions definitely gave me pause to really ensure the product had dried before putting my moisturizer on.
Since I really waited to make sure it had absorbed, it was super easy to apply my moisturizer and other products on top of FAB Ultra Repair face serum, which was a definite bonus.
I also found that one pump of the product really was plenty to cover my entire face without feeling like it was too much product, so I would definitely follow that aspect of the directions, as well.
Drying Time
Like I said above, FAB Ultra Repair Hydrating Serum specifically directs to wait until the product has fully absorbed before applying other products, so I may have been a bit more conservative with this face serum compared to others when it comes to dry time.
I would say it takes a full 60 seconds for FAB Ultra Repair serum to fully absorb into your face and for your skin to experience that soft, smooth feeling I described.
It may have a slightly quicker dry time, but I think it's best to closely follow the directions in order to really see how the face serum performs.
Smell
FAB Ultra Repair Hydrating face serum is completely odorless, so it's a great fit for anyone who is sensitive to strong scents in their products!
And trust me—I really sniffed this product and it doesn't even have a medicinal smell like other "odorless" products, so no worries here on that front!
Immediate Results
As I do with every new face serum I try, I used FAB Ultra Hydrating serum at night first.  While it added a bit of time to my overall skincare routine, I was really happy that it didn't impact how my other face products applied.
The next morning, I noticed that my skin was super soft, which I really loved!
On the flip side, I felt like I had a little more congestion on my nose and chin where I tend to have issues with blackheads, so that wasn't my favorite thing to wake up to.
My skin didn't feel much different as far as being more hydrated or plump.  It looked and felt the same in that department as it had before I used FAB Ultra Repair serum.
Long Term Results
In all honesty, I didn't see a ton of notable changes with my skin while using FAB Ultra Repair Hydrating Serum.  I definitely didn't have any dry skin, but I also didn't really experience the plumpness and mega hydration I would expect from a hydrating serum.
Since there wasn't that plumping aspect of it either, I definitely didn't see any changes to my fine lines, which the serum had advertised it worked on.
I also felt like my blackheads were more prevalent while using FAB Ultra Hydrating serum.  I didn't have any blemishes, but I did feel like my blackheads were more noticeable.
On a positive note, I really enjoyed how soft my skin was while using this face serum, and how it truly didn't impact the outcome of any of my other face products, both in the morning and at night.
Price/Value
At $36.00 for an ounce of face serum, FAB Ultra Repair Hydrating Serum is definitely a more affordable face serum.  I'm not totally sure it's worth the money, though.
I've used other face serums that are more hydrating that aren't even technically hydrating serums, and do a much better job at decreasing fine lines and plumping up your skin.
If you struggle with blackheads too, you could find this to worsen them as well, like it did for me.
Guarantee
First Aid Beauty has a 30-day money-back guarantee.
Where To Buy
To purchase First Aid Beauty Ultra Repair Hydrating Serum, click here.
First Aid Beauty Ultra Repair Hydrating Serum: Summary
| | |
| --- | --- |
| Factor | First Aid Beauty Ultra Repair Hydrating Serum |
| Overall Rating | |
| Texture/Feel | Thick texture, similar to hair gel. Leaves face feeling very soft and moisturized once the serum has dried down. |
| Application | Apply one pump of product both morning and night on clean, dry skin. Wait until product is fully absorbed to apply moisturizer. |
| Drying Time | 60+ seconds |
| Smell | Odorless |
| Immediate Results | Soft skin, super easy to apply other products on top once the serum had dried |
| Long Term Results | Soft skin, more blackheads on nose and chin. No dry skin but definitely no plumping effect or change in fine lines. |
| Ingredients | Soluble Collagen, Chrysanthemum Parthenium Extract, Glycyrrhiza Glabra Root Extract, Glycerin |
| Price | $36.00 |
| Guarantee | 30-day money-back guarantee |
| Where To Buy | Click Here |