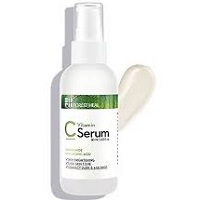 Product Name:  Forest Heal Vitamin C Serum
Overall Rating: 

Serum Type:  Skin Brightening
Size:  2.02 fl oz
Price:  $16.99
Cost Per Ounce:  $8.41
Where to Buy:  Click Here
# of Ingredients:  30
Notable Ingredients:  Glycerin, Hippophae Rhamnoides Fruit Extract, Niacinamide, Adenosine, Grapefruit Peel Oil, Sodium Hyaluronate, Pracaxi Oil
Overall Opinion:
When it comes to face serums, Forest Heal Vitamin C Serum is a total flop.  I'm not even going to sugar coat it.  While it advertises incredible results from anti-aging and skin brightening benefits, to reducing puffiness and under eye bags, it sadly fails to deliver on any of them.
The actual experience of using the face serum is a nice one, though.  The application itself is super easy, and the serum can easily be incorporated into both your daytime and nighttime skincare routines.  That, paired with a delicious scent and cheap price tag, makes this a serum that every part of me wants to love.
However, my skin was left looking nearly the exact same, except for the skin congestion that popped up around my mouth—which isn't a good look.  For that reason, this is definitely a face serum to skip when looking for your next skincare product.
Detailed Opinion:
Texture/Feel
Forest Heal Vitamin C Serum has an average face serum consistency.  I found that it was super easy to apply the product because of this—it wasn't too thick or too runny, so I definitely appreciated the overall texture of it.
Once the serum has been applied to my skin, it left behind a really tacky feeling on my face.  It didn't impact how my other face products applied on top, but if left without anything on top of it, it would've been pretty uncomfortable.
Application
The application of Forest Heal Vitamin C Serum is extremely easy.  I found that I needed two pumps of the product to cover my face and neck.  It doesn't say to use it on your neck too but I do with most other serums, so I just went for it.
This does direct to cleanse your face and use a toner before using the face serum.  I don't think this is super crucial to use a toner beforehand, but I always do anyways, so I made sure to do that.
You're supposed to use the serum both morning and night, and I found that was super easy to do.  It didn't make my makeup greasy or weird looking at all, and all of my products layered on top easily.
Drying Time
The dry time for Forest Heal Vitamin C Serum is pretty average.  It took about 30 seconds before the face serum stopped feeling wet and left behind that tacky feeling.
Smell
I really enjoyed the smell of Forest Heal Vitamin C Serum!  It is a very light smell, and it dissipates once you apply other products on top, so I don't think it would be overwhelming to many people.
The odor is a sweet citrus smell, and smells like something you would find in a high-end spa.
Immediate Results
As I do with most other face serums I try, I used Forest Heal Vitamin C Serum at night first.  I didn't have any initial thoughts on the serum when I first applied it.
When I woke up the next morning, my skin looked exactly the same, so nothing much to report here!
Long Term Results
Forest Heal Vitamin C Serum makes really big claims for what this serum can do for your skin.  Promising to reduce the appearance of fine lines and wrinkles, brighten and even out your skin tone, add a glow to your face, and even reduce puffiness and under eye bags, I was super optimistic about the results I would achieve.
Sadly, I didn't achieve any of those.  Literally, not one single thing they promised to deliver actually occurred for my skin.  The only thing I did experience was more congestion around my mouth in the form of blackheads, which is super gross.
I'm super disappointed with this face serum, and pretty surprised that I didn't experience any positive results.
Price/Value
You may get a lot of product for a very affordable price with Forest Heal Vitamin C Serum, but it's definitely not worth the money.  No matter how cheap something is, if it doesn't deliver the results it promises, it definitely isn't worth a single penny.
If you're going to try this serum out, make sure you know the return policy of the retailer you purchase it from first, because if you have an experience like me, you'll be super disappointed.
Guarantee
Forest Heal Vitamin C Serum is sold through third-party websites, such as Amazon and Ebay.  The return policies and money-back guarantees are based on the individual policies of where you purchase it from.
Where To Buy
To purchase Forest Heal Vitamin C Serum, click here.
Forest Heal Vitamin C Serum: Summary
| | |
| --- | --- |
| Factor | Forest Heal Vitamin C Serum |
| Overall Rating | |
| Texture/Feel | Average face serum consistency—easy to apply to face.  Leaves behind a tacky residue on your face but doesn't impact application of other products. |
| Application | Use both morning and night after cleansing and toning.  Apply other products on top after serum has dried. |
| Drying Time | 30 seconds |
| Smell | Mild odor; sweet, citrus smell. Dissipates after other products are applied. |
| Immediate Results | No immediate results.  Skin looked the exact same the next morning. |
| Long Term Results | Zero positive results.  Skin was not changed in anti-aging aspects, skin brightening, or anything like that.  I did experience skin congestion around my mouth in the form of blackheads, though. |
| Ingredients | Glycerin, Hippophae Rhamnoides, Niacinamide, Adenosine, Grapefruit Peel Oil, Sodium Hyaluronate, Pracaxi Oil |
| Price | $16.99 |
| Guarantee | Sold on third-party sites.  Return policy based on individual retailer's policy. |
| Where To Buy | Click Here |