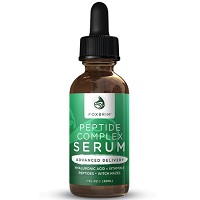 Product Name:  Foxbrim Peptide Complex Serum
Overall Rating: 

Serum Type:  Anti-aging; Hydrating
Size:  1 fl oz
Price:  $19.95
Cost Per Ounce:  $19.95
Where to Buy:  Click Here
# of Ingredients:  32
Notable Ingredients:  Witch Hazel, Glycerin, Organic Aloe, Organic Jojoba, Wild Geranium, Organic Dandelion
Overall Opinion:
After reading the promised benefits of using Foxbrim Peptide Complex Serum, prospective customers are left with high expectations of what this bottle of face serum can accomplish for their complexion.  While it delivers on some of the expected results, it's not the hero product it sets out to be.
With an awesome company return policy, and a near perfect experience of actually using and applying the face serum, there is a lot to love about Foxbrim Peptide Complex Serum.  Not to mention, it does an amazing job at hydrating your skin to give you a youthful, plumped up look.
However, it fails to deliver on any of the anti-aging claims it makes, and does not improve skin texture or clarity at all. So if you're in the market for a hydrating serum, this is definitely one to pay attention to!  However, if you're trying to turn back the clock on your face, this is one skip.
Detailed Opinion:
Texture/Feel
The texture of Foxbrim Peptide Complex Serum is more watery and thin than your average face serum.  However, while it feels like water on your fingers/hands, it actually feels very gel-like when you apply it to your face and neck.
I've never experienced a face serum like that before, but I really liked how it felt on my skin!  Once the serum had absorbed into my face, it left a very moisturizing feeling on my skin.  It didn't feel identical to my face when I use an actual moisturizer, but the residue it left behind wasn't like any serum I've tried before.
Overall, it was a really nice feeling left behind on my face and neck, and enjoyable to wear throughout the day and night!
Application
Applying Foxbrim Peptide Complex Serum was super easy. As instructed, I washed and toned my face and allowed my skin to fully dry before applying the serum.  I used half a dropper full of the serum to sufficiently cover both my face and neck.  Once the serum had absorbed, I followed up with my moisturizer and other skincare products I use daily.
This serum can be used both morning and night, and I found that it was really easy for me to apply my other products on top of.  The moisturizing residue it left behind actually made it feel easier to layer my products on top of than most other face serums I've trialed.
I also found that this face serum didn't impact my makeup application or wear at all, which is a major bonus for me since I wear makeup almost every day!
Drying Time
Foxbrim Peptide Complex Serum has a really average dry time for a face serum.  After applying it to my face and neck, it took 30 seconds before it was fully absorbed and no longer felt wet on my skin.
Smell
Foxbrim Peptide Complex Serum is completely odorless.  Normally when I'm using a face serum that contains Witch Hazel, that's all I can smell.  And I definitely thought that would be the case here since it's one of the first ingredients in the serum, but I don't smell that, or anything at all, in this face serum.
Immediate Results
As I do with every new face serum I try, I used Foxbrim Peptide Complex Serum at night first.  My initial thought was how much I liked the texture of the serum on my face, and what a nice experience it was to use a moisturizing face serum.
When I woke up the next morning, I felt an immediate hydration added to my skin.  My face looked more plump and supple, and just overall really healthy and youthful.  Not a bad way to wake up!
Long Term Results
Foxbrim Peptide Complex Serum has many natural moisturizing agents in its ingredient list, and I definitely saw the impact that had on my skin!  My skin wasn't dry when I started using this serum, but I noticed a significant increase in hydration, plumpness, and overall youthful looking complexion from using this serum.
However, I didn't experience the many anti-aging benefits it promises to deliver.  Claiming to increase collagen, elasticity, and skin firmness, while reducing the appearance of fine lines and wrinkles, I simply didn't experience any of those benefits.
It also claimed to improve skin texture and clarity, which couldn't be further from the truth.  I was having a hormonal breakout when I started this serum, and I didn't see any improvement in my acne spots or face congestion at all while using this serum.
Price/Value
If you're looking for a hydrating face serum, I definitely think Foxbrim Peptide Complex Serum is worth the money.  It does an excellent job at plumping up your skin and giving you a youthful, hydrated look.  And at under $20, it's definitely an affordable option for a hydrating serum.
However, on the other hand, if you're in the market for an anti-aging serum, this is one you should skip and definitely won't be worth the money for you.  It simply doesn't deliver on those claims and will leave you disappointed.
Guarantee
Foxbrim has an awesome return policy.  They offer a 100% money-back guarantee, no questions asked.  They also don't give any sort of timeframe of when you have to return the product by, which is almost unheard of!
Where To Buy
To purchase Foxbrim Peptide Complex Serum, click here.
Foxbrim Peptide Complex Serum: Summary
| | |
| --- | --- |
| Factor | Foxbrim Peptide Complex Serum |
| Overall Rating | |
| Texture/Feel | Thin, watery-feeling texture, but applies very gel-like. Leaves behind moisturizing feeling on face and neck. |
| Application | Apply to clean, dry skin morning and night. Apply moisturizer and other products on top. Can be worn under makeup. |
| Drying Time | 30 seconds |
| Smell | Odorless |
| Immediate Results | More hydrated, plump skin; youthful looking complexion |
| Long Term Results | Hydrated, plump-looking, youthful skin and complexion; doesn't deliver on any anti-aging benefits and does not improve skin texture or clarity |
| Ingredients | Witch Hazel, Glycerin, Organic Aloe, Organic Jojoba, Wild Geranium, Organic Dandelion |
| Price | $19.95 |
| Guarantee | 100% money-back guarantee, no questions asked |
| Where To Buy | Click Here |