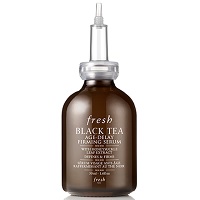 Product Name:  fresh Black Tea Age-Delay Firming Serum
Overall Rating: 

Serum Type:  Anti-aging
Size:  1 fl oz
Price:  $75.00
Cost Per Ounce:  $75.00
Where to Buy:  Click Here
# of Ingredients:  45
Notable Ingredients:  Jojoba Oil PEG-150 Esters, Rubus Fruticosus (Blackberry) Leaf Extract, Lonicera Japonica (Honeysuckle) Leaf Extract
Overall Opinion:
When it comes to the fresh Black Tea Age-Delay Firming Serum, I'll just cut straight to the chase—the serum does not work… at all.
While my skin didn't experience any negative side effects from using the serum, I also did not notice any changes to my skin, initially or long term.
This was especially disappointing since the product is as expensive as it is.
The fresh firming serum was definitely comfortable to wear—which in my opinion, sort of goes against their claim to be firming.  In fact, they say it should have a corset-like effect when applied.
That most definitely did not happen.
I think this serum is a waste of money, and has zero positive impacts on your skin—not just when it comes to anti-aging, but when it comes to changes in your skin period.
Detailed Opinion:
Texture/Feel
fresh firming serum has an oily texture to it.  It's a little thicker than other face serums, but it was still relatively easy to apply to my face and neck.
The look of the serum was also a little off putting, since it's black in the bottle.  Once it's applied to your skin, however, the color completely goes away.
Once the serum has dried on your face, it's super comfortable to wear.  It actually didn't feel like I was wearing anything on my face, which was surprising because of how oily it is initially.
Application
The bottle and application system of fresh firming serum is the strangest system I've ever seen.  You have to tip the bottle over to fill a compartment, to then expel 3-4 drops into your hand.
Once you have 3-4 drops of face serum, you apply it to your face and neck—pretty simple.
Honestly, I didn't find the bottle to be super user friendly, and I often pushed out way more serum than I needed to use to cover my face and neck.
This product should be used daily, but it didn't specify whether to use it both morning and night, so I just opted to use it twice a day.  Since the serum does absorb really well in a short amount of time, I found it super easy to wear both morning and night.
It also didn't impact the application of any of my other face products, which was nice.
Drying Time
The drying time of fresh Black Tea Firming Serum is super quick—about 10-15 seconds.
I was really surprised at how quickly it dried because it's a pretty oily serum to begin with.
In 10-15 seconds, however, the product had completely absorbed into my face and neck, and it didn't feel like I was wearing anything on my skin.
Smell
As ridiculous as this is going to sound, the smell of fresh firming serum is actually very fresh.
It's hard to pinpoint exactly what the face serum smells like, especially since you use such a small amount of the product.
The odor also isn't overpowering at all, but what you can smell is a very light, fresh scent.
Immediate Results
When it comes to immediate results from using fresh firming serum, there isn't much to report.
I applied it at night first, which is what I always do with a new serum.
I was surprised at how comfortable the serum was to wear, especially given how oily the texture was.  It also didn't impact how my other face products applied and felt on my skin.
When I woke up the next morning, there was literally no change to my face or neck.  So no initial results were experienced from using the serum overnight.
Long Term Results
I didn't experience any long term results from using this product.  The serum didn't do anything negative to my skin, which is definitely appreciated, but I also didn't experience any positive results, either.
I've tried face serums before that don't necessarily do what they claim to do, but have other surprising benefits.  With fresh serum, though, it didn't do anything for me anti-aging wise, and it really didn't change my skin in any other ways either.
The product claims that it firms your skin, both when you initially apply it, giving you a "corset-like feeling," and long term with how your skin looks.
This was most definitely not experienced.  So overall, the results are a big zero.
Price/Value
At $75.00 for an ounce, fresh Black Tea Age-Delay Firming Serum is on the higher range of cost for face serums on the market.
This is absolutely not worth the money, in my opinion.  It does not deliver on any of its claims, so it's basically a giant waste of money.
A serum should make your skin look and feel different, and with this face serum, you might as well be applying water to your face and neck.
Guarantee
Purchases made in fresh stores, or on fresh.com, can be returned within 60 days of purchase for a full refund, exchange, or store credit.
Where To Buy
To purchase fresh Black Tea Age-Delay Firming Serum, click here.
fresh Black Tea Age-Delay Firming Serum: Summary
| | |
| --- | --- |
| Factor | fresh Black Tea Age-Delay Firming Serum |
| Overall Rating | |
| Texture/Feel | Oily texture, slightly thicker than other face serums. Oiliness does not remain on skin after application |
| Application | Apply 3-4 drops of serum to face and neck daily |
| Drying Time | 10-15 seconds |
| Smell | Light, fresh smell… very faint |
| Immediate Results | Comfortable to wear, but no other initial results |
| Long Term Results | Zero. Literally zero results—positive or negative |
| Ingredients | Jojoba Oil PEG-150 Esters, Rubus Fruticosus (Blackberry) Leaf Extract, Lonicera Japonica (Honeysuckle) Leaf Extract |
| Price | $75.00 |
| Guarantee | Full refund, exchange, or store credit within 60 days of purchase |
| Where To Buy | Click Here |