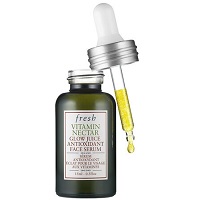 Product Name:  fresh Vitamin Nectar Glow Juice Serum
Overall Rating: 

Serum Type:  Skin-brightening
Size:  0.5 fl oz
Price:  $28.00
Cost Per Ounce:  $56.00
Where to Buy:  Click Here
# of Ingredients:  37
Notable Ingredients:  Glycerin, Coconut Oil, Ginger Water, Sunflower Seed Oil, Lemon Extract
Overall Opinion:
From just looking at the ingredient list, I expected myself, and my skin, to absolutely love fresh Vitamin Nectar Glow Juice Serum. Unfortunately, that wasn't the case.
I really enjoyed how quickly the serum dried, allowing me to move through my skincare routine quickly, and the delicious citrus scent the serum has. The brand also has awesome customer service!
On the flip side, however, the serum doesn't wear well underneath makeup, is super expensive, and simply didn't deliver any obvious changes to my complexion—skin brightening or otherwise.
For me, this serum wasn't great, and I would recommend trying a different skin-brightening face serum instead.
Detailed Opinion:
Texture/Feel
Fresh Vitamin Nectar Glow Juice Serum is slightly thicker than the average face serum. This also made it difficult to have a dropper applicator, so the packaging has some flaws, in my opinion.
When you apply it to your face, however, it feels like most other serums.
Once absorbed, it leaves behind a slightly tacky residue, but nothing overpowering enough to make layering your other skincare products difficult.
Application
The application is really straightforward. Apply a pea-size amount on clean, dry skin both morning and night.
Once the serum is absorbed, layer your other products on top. I found that layering my other skincare products was easy with this face serum, too.
Unfortunately, I don't think this product wears well underneath makeup. I was much greasier in my t-zone, which is a big bummer for someone who enjoys wearing makeup.
Drying Time
Fresh Vitamin Nectar Glow Juice Serum has a really fast dry time—about 15 seconds.
I love this aspect of this serum. If you just massage it into your face for a short while, it absorbs almost instantly, allowing you to layer your other skincare products on top of it.
Lengthening my skincare routine is not something I'm looking to do, so a quick absorption time is a positive.
Smell
I really love the scent of this serum! It smells just like it says in the title—nectar juice.
I absolutely loved the smell, and it definitely seemed like a high-end odor to me. This was a plus for this product in my opinion!
Immediate Results
This face serum didn't have any immediate results for me. My skin looked and felt the same when I woke up the next morning.
The only "immediate" aspect of the serum I experienced was that it wore poorly underneath makeup, which is always a bummer for me as someone who enjoys wearing face makeup.
Long Term Results
Unfortunately, I didn't experience any long-term results to my skin after using this product. This is the case with both skin-brightening results and any other results.
I was a bit surprised by this since the serum itself has so many awesome ingredients in it. However, I just didn't see any change after twice-daily use for weeks on end.
Price/Value
While the initial price tag doesn't seem overly expensive, it's actually a very pricey serum once you realize you only get half an ounce of product.
I personally didn't experience any results from this face serum, so for me, it's definitely not worth the money.
Guarantee
Fresh offers a 60-day money-back guarantee on their products, which I think is more than generous. It's double the time than what most brands offer.
You can also return any online purchases to Fresh stores, which I think is another nice aspect about this brand and their customer service.
Where To Buy
To purchase fresh Vitamin Nectar Glow Juice Serum, click here.
fresh Vitamin Nectar Glow Juice Serum: Summary
| | |
| --- | --- |
| Factor | fresh Vitamin Nectar Glow Juice Serum |
| Overall Rating | |
| Texture/Feel | Thicker face serum consistency, but feels average once applied to skin. Once dry, leaves behind a slightly tacky residue |
| Application | Apply pea-size amount on clean, dry skin both morning and night. Once absorbed, continue with other skincare products. Doesn't wear well under makeup |
| Drying Time | 15 seconds |
| Smell | Strong citrus scent (nectar juice)—really loved the scent |
| Immediate Results | No immediate results |
| Long Term Results | No obvious changes to complexion, skin-brightening or otherwise |
| Ingredients | Glycerin, Coconut Oil, Ginger Water, Sunflower Seed Oil, Lemon Extract |
| Price | $28.00 |
| Guarantee | 60-day money-back guarantee. Can also return to any Fresh store |
| Where To Buy | Click Here |