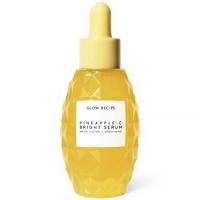 Product Name: Glow Recipe Pineapple-C Bright Serum
Overall Rating:

Serum Type: Skin Brightening
Size: 1 fl oz
Price: $49.00
Cost Per Ounce: $49.00
Where to Buy: Click Here
# of Ingredients: 25
Notable Ingredients: Pineapple Fruit Extract, Dimethicone, Aloe, Squalane, Lactic Acid
Overall Opinion:
The best way for me to sum up Glow Recipe Pineapple-C Bright Serum is that I like almost everything about this product, including the brand, but the product itself simply didn't work for my skin. And I'm super bummed about it!
Everything from the cute bottle and delicious pineapple scent, to the quick dry time and the fact that the brand pays for return shipping on products being returned (amazing!), made me want to love this face serum. Sadly, the results just don't warrant that response.
Rather than achieving the skin-brightening results promised, I instead saw an increase in dry, chapped skin and unattractive blackheads around my mouth, on my chin, and all over my nose. This definitely isn't the look I'm going for.
There's no reason to bash this serum—in all honesty, this might work for someone out there and the brand is worth giving a shot. However, I personally had such a negative experience and for that reason, gave it a low rating and won't be using this serum again.
Detailed Opinion:
Texture/Feel
The actual texture of Glow Recipe Pineapple-C Bright Serum is consistent with most other face serums on the market, so there aren't any surprises there. However, it does have a dropper applicator, and the consistency of the serum really didn't partner well with this type of applicator, so that was a bit challenging.
Once the serum absorbed into my face and neck, it left behind a very minor residue. It was a bit sticky feeling, but not uncomfortable at all, and didn't impact the application of my other face products.
Finally, the fact that it had a minor residue made this very easy to wear under makeup during the day, which I view as a major positive for any face product.
Application
Glow Recipe Pineapple-C Bright Serum is easy to apply for the most part, but does have some interesting aspects to the application process.
For the easy side of things, you simply apply the serum to clean, dry skin both morning and night. And as I mentioned before, the lack of residue made it very easy to incorporate into both my daytime and nighttime skincare routines. Once the serum has absorbed, apply other face products worn daily, making sure to use sunscreen during the day as directed.
On the flip side, Glow Recipe instructs to use 1-2 drops of Pineapple-C Bright Serum, which is challenging for a couple of reasons. Firstly, the dropper applicator makes it nearly impossible to get out actual drops. Instead, it comes out in a stream due to the consistency of the serum.
Secondly, there's no way that 1-2 drops would actually be enough face serum to cover your face and neck adequately. Instead, I used about a pea-size amount, which covered that surface area well.
Something else noteworthy about the application that isn't necessarily difficult but is worth mentioning is that when you are rubbing the serum into your skin, it turns white and soaps up. It goes away as you continue to massage the serum into your face and neck, but you might think the serum is going to be overly sticky because of this, but it isn't, so don't fret!
Drying Time
The dry time for Glow Recipe Pineapple-C Bright Serum is pretty quick—about 15 seconds. I think part of this has to do with the rubbing in of the serum since you want to get rid of that white, soapy-looking appearance it has when you first begin to massage it into your skin.
Either way, I really enjoyed how quickly it absorbed and allowed me to move on to the other steps in my skincare routine.
Smell
Glow Recipe Pineapple-C Bright Serum has a delicious scent to it! No surprise here, but it smells identical to a sweet pineapple, which I personally loved.
If you don't enjoy the smell of pineapple, or if you simply don't like fragrance in your skincare products in general, this odor isn't overpowering at all, and does go away once the serum has absorbed into your skin, so it's temporary.
However, for me, the scent was a positive since I happen to enjoy that type of smell.
Immediate Results
I used Glow Recipe Pineapple-C Bright Serum at night first, and didn't have many initial thoughts besides the strange soapy-looking appearance it had when initially rubbing it in.
When I woke up the next morning, I could already sense that this face serum was going to be drying for my skin. I had a more chapped, dry feeling to my face overall, and already saw dry skin around my nose and on my chin.
I did continue to use Glow Recipe Pineapple-C Bright Serum, however, because the weather had been extra cold that week and I wanted to make sure the serum was the cause of my dry skin and not the change in temperature.
Long Term Results
Glow Recipe Pineapple-C Bright Serum did not deliver on any skin-brightening results, or any positive changes to my complexion as a whole, unfortunately.
Instead, I found the serum to be very drying, and day-by-day I noticed an increase in dry skin specifically around my chin and nose, and an uncomfortable chapped feeling to the entirety of my face. The dry looked made me look older, and gave my face an overall dull appearance to it, which I really didn't enjoy.
Additionally, and maybe because of the dry skin in these areas, but I had a lot more blackheads around my mouth, on my chin, and all over my nose, which was super gross!
So I'm definitely disappointed in the results I experienced after using Glow Recipe Pineapple-C Bright Serum.
Price/Value
The instructions for Glow Recipe Pineapple-C Bright Serum say to use just 1-2 drops, so from a volume perspective, this face serum will last you a long time, which seems to make the price tag justifiable.
However, the serum simply didn't work for my skin at all, and left my complexion worse off than it was before, so for that reason, I definitely don't think it's worth the money.
Guarantee
Glow Recipe has an amazing return policy, so I have to give the brand major kudos there.
Not only do they offer a 30-day money-back guarantee, which is plenty of time to know whether the serum works for you or not, but they also pay for return shipping.
Where To Buy
To purchase Glow Recipe Pineapple-C Bright Serum, click here.
Glow Recipe Pineapple-C Bright Serum: Summary
| | |
| --- | --- |
| Factor | Glow Recipe Pineapple-C Bright Serum |
| Overall Rating | |
| Texture/Feel | Average face serum consistency. When applying the serum, it turns white, like a soapy residue. However, it doesn't leave behind any uncomfortable residue. Just slightly sticky, but can be worn under makeup. |
| Application | Apply 1-2 drops on clean, dry skin both morning and night. Dropper applicator makes it difficult to actually get out a single drop, so use pea size amount and follow up with moisturizer and other skincare products |
| Drying Time | 15 seconds |
| Smell | Pineapple scent; minor and smells very good, in my opinion |
| Immediate Results | Immediately drier skin, specifically on my chin and nose |
| Long Term Results | Blackheads on my nose and chin, and an increase in dry skin around my mouth and all around my nose. No improvement in skin brightening or any other positive changes to complexion |
| Ingredients | Pineapple Fruit Extract, Dimethicone, Aloe, Squalane, Lactic Acid |
| Price | $49.00 |
| Guarantee | 30-day money-back guarantee AND they pay for return shipping. Amazing return policy! |
| Where To Buy | Click Here |