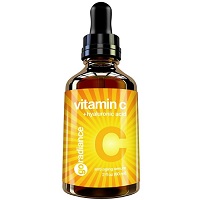 Product Name: Go Radiance Vitamin C + Hyaluronic Acid Serum
Overall Rating:

Serum Type: Anti-aging
Size: 2 fl oz
Price: $16.75
Cost Per Ounce: $8.37
Where to Buy: Click Here
# of Ingredients: 12
Notable Ingredients: Organic Aloe, Vitamin C, Botanical Hyaluronic Acid, Witch Hazel, Vegetable Glycerin, Organic Jojoba Oil
Overall Opinion:
The star rating I've given Go Radiance Vitamin C + Hyaluronic Acid face serum is indicative of how this product performs overall. It's simply average in almost every aspect about it.
The price point is stellar, making it affordable to nearly anyone in the market for a face serum. However, the price point also reflects the results you can hope to achieve. The decrease in skin hyperpigmentation and reduction of crow's feet can't be denied, but it was a long road to get there. And sadly, that's where the anti-aging benefits of this serum end.
Though super easy to use and wear both morning and night, minor changes are all you can expect to achieve with Go Radiance Vitamin C + Hyaluronic Acid. It may be a good fit for some, but for most, there are better options on the market for anti-aging face serums.
Detailed Opinion:
Texture/Feel
Go Radiance Vitamin C + Hyaluronic Acid Serum is very thin and watery. It has a consistency similar to liquid, which can make it a more difficult serum to apply. It does come with a dropper applicator, which makes it slightly more manageable to work with, in my opinion.
Once the face serum has dried down, it leaves behind a very comfortable residue. Honestly, it doesn't leave behind much residue at all! You can sense that there is something on your face and neck, but it's not sticky or greasy like many face serums are. Overall, it's a very comfortable face serum to wear, both during the day and overnight.
I also found that the lack of any real residue made it super easy to layer my other face products, such as my moisturizer, on top of it, which is always a plus!
Application
Whenever I'm applying a face serum that has a liquid consistency, like Go Radiance Vitamin C + Hyaluronic Acid Serum, I always find it a bit tricky to work with. Since it can easily slip through the cracks of your fingers, I recommend putting the serum into the palm of your hand for application instead.
The instructions simply say to use a few drops of the serum on your face, neck, and décolleté. I personally found that I specifically needed 5 drops to cover my face, and 2 additional drops for my neck and chest.
I recommend applying the serum to your face first, and then your neck and chest. Go Radiance Vitamin C serum has a very quick dry time, so it was easier for me to target one area at a time. Additionally, because of the rapid dry time, be sure you're rubbing it all over your face quickly so you have time to get the serum everywhere before it's dry!
Of course, with any face serum, make sure you cleanse and dry your face before applying Go Radiance Vitamin C serum, and make sure you use it both morning and night. It's super easy to wear under makeup, so you shouldn't run into any problems there.
Drying Time
The dry time for Go Radiance Vitamin C + Hyaluronic Acid Serum is super quick. Within 10-15 seconds of applying it to your face and neck, it's completely absorbed.
For the most part, I love when serums have a quick dry time, but you definitely need to move fast with this product. If you aren't aggressive about rubbing it into all of the areas on your face, it'll be dry before you have time.
Smell
Go Radiance Vitamin C + Hyaluronic Acid Serum is completely odorless.
Immediate Results
As I do with every new face serum I try, I used Go Radiance Vitamin C + Hyaluronic Acid Serum at night first. Both when I used it in my nighttime skincare routine and the next morning when I was getting ready, I noticed how easy it was to use and incorporate into my skincare routine. So I liked that about the serum right off the bat.
Beyond that, there's not much to report about immediate results I achieved. This face serum definitely took longer than most to actually see any anti-aging results, so you'll need to be patient if you choose to use this product.
Long Term Results
Though it took quite a while, I did ultimately achieve some results with Go Radiance Vitamin C + Hyaluronic Acid Serum. The most noticeable changes to me were with my crow's feet and hyperpigmentation.
I'm terrible at wearing sunglasses, so I'm constantly squinting. This has sadly left me with crow's feet at a young age. This face serum definitely made a difference in those fine lines around my eyes. My makeup applied much more smoothly in that area, and there were simply less lines there than when I began using this face serum.
While Go Radiance Vitamin C serum didn't do anything for my sun damage or age spots, I did see an improvement in any hyperpigmentation on my face, which was really nice! Any areas I normally struggled with redness, or even dark circles under my eyes, had gone away completely after using this serum for a while.
Beyond that, I didn't experience any other notable changes. Go Radiance said this serum would do everything from increase the production of collagen, to reducing wrinkles and sun damage, and that wasn't my experience with the serum, even after using it religiously for weeks and weeks.
Price/Value
At $16.75 for two ounces of product, Go Radiance Vitamin C + Hyaluronic Acid Serum is extremely affordable. And since you only have to use a very small amount of product twice daily, this serum will last you quite a while!
If you're simply looking for small changes to your skin and you're working within a tight budget, I think Go Radiance Vitamin C serum is worth the money. You'll see changes to your complexion, but they'll be minor and you'll have to wait to notice them.
On the other hand, if you have a little more to spend on a face serum, there are definitely better options out there for anti-aging, or any other type of face serum.
Guarantee
Go Radiance sells their products on third-party websites, such as Amazon. For returns and other guarantees, contact the retailer of your choice directly for specific information.
Where To Buy
To purchase Go Radiance Vitamin C + Hyaluronic Acid Serum, click here.
Go Radiance Vitamin C + Hyaluronic Acid Serum: Summary
| | |
| --- | --- |
| Factor | Go Radiance Vitamin C + Hyaluronic Acid Serum |
| Overall Rating | |
| Texture/Feel | Thin, water-like consistency, which makes it slightly difficult to apply. Once absorbed, it doesn't leave behind any notable residue and feels very comfortable on skin |
| Application | Apply 5 drops of serum on clean, dry skin both morning and night. Make sure to rub in quickly as it has a rapid dry time. Once dry, apply other face products on top. Can be worn under makeup. |
| Drying Time | 10-15 seconds |
| Smell | Odorless |
| Immediate Results | No real immediate results. Serum takes longer to see anti-aging results than most other face serums I've tried |
| Long Term Results | Decrease in crow's feet and hyper-pigmentation. Didn't see a change in other fine lines/wrinkles, or any noticeable changes with sun damage and age spots. No 'natural glow' was achieved. |
| Ingredients | Organic Aloe, Vitamin C, Botanical Hyaluronic Acid, Witch Hazel, Vegetable Glycerin, Organic Jojoba Oil |
| Price | $16.75 |
| Guarantee | Return policy dependent on third-party retailers where product is sold |
| Where To Buy | Click Here |