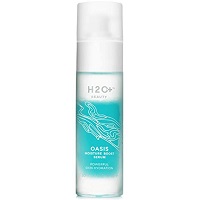 Product Name: H2O+ Beauty Oasis Moisture Boost Serum
Overall Rating:

Serum Type: Hydrating
Size: 1 fl oz
Price: $22.25
Cost Per Ounce: $22.25
Where to Buy: Click Here
# of Ingredients: 44
Notable Ingredients: Glycerin, Sea Grass extract, Water Lily extract, Panthenol, Biotin, Citric Acid
Overall Opinion:
If your opinion of hydrating face serums is that they simply keep you from experiencing dry skin, then you need to give H2O+ Beauty Oasis Moisture Boost Serum a serious try.
As a hydrating face serum, this product does more than just combat chapped skin. It leaves you with a glowing, healthy-looking complexion that almost gives the appearance of wet skin because of how moisture-filled it is.
You may need to wait a few weeks for the results to show up, but they're well worth the wait. And incorporating this new face serum into your skincare routine is easy as pie. It's simple to apply, wears seamlessly under makeup, and doesn't have any strong scents you'll have to deal with.
At such an affordable price point, H20+ Beauty Oasis Moisture Boost Serum hits this serum out of the park, and should definitely be considered by everyone, regardless of your skin type!
Detailed Opinion:
Texture/Feel
H2O+ Beauty Oasis Moisture Boost Serum is a bit more watery than an average face serum. It definitely isn't the thinnest face serum I've tried before, as some I've used feel like actual water, but it's definitely more of a water-based serum than a gel-based serum as far as consistency is concerned.
Once you've applied it to your face and neck, it leaves behind a very comfortable, moisturizing residue! It feels more like you've just applied a light moisturizer than a face serum, which I really enjoyed.
It also made layering my other face products on top of it super easy. However, since it's such a light serum, it didn't feel like too much product on my face when I applied my actual skin moisturizer, which was a relief.
Application
I think applying H2O+ Beauty Oasis Moisture Boost Serum is super easy, but I didn't totally follow the directions exactly as they're written—whoops!
First, something you need to do with this face serum that isn't common with other face serums is shake it up! So make sure you follow that aspect of the directions. You can see that there's been separation of the ingredients in the bottle since the last time you used it, so make sure you give it a good shake to mix it all up again.
H2O+ Beauty didn't specifically say to use the Moisture Boost Serum both morning and night, but I always use a serum that way unless otherwise specified. This proved to be super easy since this serum wore really well under makeup.
The part of the face serum instructions that I didn't totally follow was the amount you're supposed to use. It says to use 1-2 drops, but I have no idea how you get drops out of a pump applicator, and there's no way that would be enough product to cover my face with, so I just used one pump to cover my face and neck, which was the perfect amount!
Finally, once the serum has absorbed into your skin, follow up with your moisturizer and any other skincare products you use!
Drying Time
Given how thin and water-like H2O+ Beauty Oasis Moisture Boost Serum is, I was surprised at the dry time. It actually has a very average dry time for a face serum—about 30 seconds.
It's really easy to apply your other products on top of the serum since it leaves behind a moisturizer-like residue, so you might think it hasn't fully absorbed, but I've waited longer and it felt the exact same. So you can trust me with the 30 seconds J
Smell
H2O+ Beauty Oasis Moisture Boost Serum is completely odorless. I was that crazy person that squirted the serum into my hand and sniffed it directly, and it doesn't have any scent at all. You're welcome J
Immediate Results
As I do with every new face serum I try, I used H2O+ Beauty Oasis Moisture Boost Serum at night first. The next morning, I didn't see any noticeable changes to my skin— either good or bad.
In all fairness, I wasn't experiencing any dry skin on my face that would've been noticeably more hydrated, so hydration serums can be tough to see immediate results. But on the plus side, I didn't experience any skin irritation or breakouts, which is always a win in my book when trialing a new skincare product.
Long Term Results
While H2O+ Beauty Oasis Moisture Boost Serum took a little longer to see results than other face serums I've tried, I am really impressed with the results! I wasn't sure what to expect from this hydrating serum since I wasn't battling any dry skin when I started trying it, but I was pleasantly surprised.
Not only did I not experience any dry or chapped skin while using this face serum, but it also gave me such a beautiful complexion. My skin almost looked wet (in a good way) from how hydrated and healthy it was. It almost left me with a glow that you would expect from a skin brightening serum.
The results were absolutely worth the wait, and this face serum definitely contributes more to your skincare routine than simply keeping dry skin at bay. I'm super happy with the results I achieved!
Price/Value
At $22.25 for one fluid ounce of product, H20+ Beauty Oasis Moisture Boost Serum Is extremely affordable. And in my opinion, it's worth every penny!
If you're looking for a hydrating face serum that will genuinely better your skin and leave your face looking healthy and free of dry skin, this is an incredible choice at a very reasonable price point. I highly recommend it!
Guarantee
H2O+ Beauty's products are sold through third-party retailers, such as Amazon and Ulta. For return policies on this serum, reach out to your chosen retailer directly.
Where To Buy
To purchase H2O+ Beauty Oasis Moisture Boost Serum, click here.
H2O+ Beauty Oasis Moisture Boost Serum: Summary
| | |
| --- | --- |
| Factor | H2O+ Beauty Oasis Moisture Boost Serum |
| Overall Rating | |
| Texture/Feel | Thin, water-like consistency, but still easy to apply to face and neck. Leaves behind a comfortable, moisturized residue on your skin. Easy to apply other skincare products on top of. |
| Application | Apply one pump both morning and night to clean, dry skin. Be sure to shake bottle well before applying. Once absorbed, layer other skincare products on top of it. |
| Drying Time | 30 seconds |
| Smell | Odorless |
| Immediate Results | Didn't have any dry skin when starting this serum, but I didn't see any immediate results. Skin looked and felt the same for the first couple of weeks. |
| Long Term Results | Very hydrated, glowing skin. Skin almost looked wet with moisture (in a good way) from how hydrated my face was. Definitely delivers on hydration claims! |
| Ingredients | Glycerin, Sea Grass extract, Water Lily extract, Panthenol, Biotin, Citric Acid |
| Price | $22.25 |
| Guarantee | Return policy dependent on third-party retailers where product is sold |
| Where To Buy | Click Here |