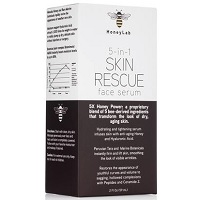 Product Name:  Honeylab 5-in-1 Skin Rescue Face Serum
Overall Rating: 

Serum Type:  Anti-aging, Hydrating
Size:  2 fl oz
Price:  $40.00
Cost Per Ounce:  $20.00
Where to Buy:  Click Here
# of Ingredients:  39
Notable Ingredients:  Honey Extract, Algae Extract, Glycerin, Sodium Hyaluronate, Ceramide 2
Overall Opinion:
If you're simply looking for a face serum that will hydrate your skin, HoneyLab Skin Rescue face serum is the product for you.  But that really has to be all you're hoping to change, because that's all this face serum has to offer.
You get a lot of product at an awesome price point, and the serum is absolutely delicious to smell!  The pump applicator and insane hydrating abilities definitely make this a worthwhile serum to look into if you're suffering from dry skin.
However, while you may kiss flaky skin goodbye, you'll also find your complexion to be dull and waxy looking, which is most definitely not the look I'm going for.
With some major pros and cons to this face serum, HoneyLab Skin Rescue face serum is both a winner and a loser—depending on how you look at it.
Detailed Opinion:
Texture/Feel
HoneyLab Skin Rescue face serum has the texture and consistency of most other face serums.  The texture makes it really easy to work with and apply to your face and neck since it isn't too thick or too watery.
Once you've applied the serum on your face, it leaves behind a bit of a waxy, borderline slick feeling.  It definitely isn't uncomfortable, but you can feel that you have something on your skin.  Applying other products on top, however, was super easy, so the feeling it leaves behind doesn't impact that aspect of your skincare routine.
Application
One of my favorite things about a serum is when it comes with a pump applicator, and that's exactly what HoneyLab Skin Rescue face serum has.  One pump of the product is the perfect amount to thoroughly cover both your face and neck without using too much product.
To apply HoneyLab Skin Rescue, wash and dry your face, and massage the face serum generously into your face and neck.  Once it's had time to absorb into your skin, follow with your moisturizer and any other skincare products you typically use.
Drying Time
This is one of the first face serums that didn't specifically put in the instructions to wait until HoneyLab Skin Rescue has dried before applying any other products.  However, I think that's the best way to apply any face serum, especially when you're layering a bunch of different products.
That being said, the dry time for HoneyLab Skin Rescue face serum is about 30 seconds.
Smell
HoneyLab Skin Rescue face serum smells exactly as you would expect a bee-derived product to smell like.  It has that odor of actual beeswax mixed with a slight sweet odor of honey.
The smell of this serum was one of the things I liked best about this product. It smells very luxurious and refreshing, but it also wasn't overpowering at all.  I think anyone, whether you love scents or not so much, would find this to be an enjoyable odor to use.
Immediate Results
As I do with every new face serum I try, I used HoneyLab Skin Rescue face serum at night first.  The first thing I noticed was how much I loved the smell of the serum, and how easy it was to incorporate into my skincare routine.
Before I started using this face serum, I started using a strong retinol, so I was struggling with a lot of dry skin on my chin and around my nose.  When I woke up the next morning, I could already tell that hydration was being drawn to those areas on my face.  It was less dry, red, and irritated, and I felt a lot of relief there that I hadn't in a few weeks.
So initially, I was super happy with how it delivered on it's claim of being hydrating and boosting moisture levels.
Long Term Results
HoneyLab Skin Rescue completely helped me control my dry skin when I was introducing a retinol into my skincare routine.  I am extremely impressed at how well it hydrated my skin, and the amount of moisture it pulled into problem areas.  It completely eliminated by dry, flaky skin.
That intense hydration definitely gave my skin a plump, youthful look that I really enjoyed from using this serum.  Besides the hydration though, I didn't see any other improvements or skin benefits.
HoneyLab claims this is an anti-aging face serum, but it most definitely isn't.  I didn't see a single change in fine lines or wrinkles, dark spots, skin texture, etc.  The only major difference I saw was in hydration.
I also found that I really didn't love how my complexion looked after using HoneyLab Skin Rescue serum for a few weeks.  It was almost like there was a wax build up on my skin.  My skin looked waxy, dull, and just overall dirty, which I absolutely hated.
Price/Value
At $40.00 for two full ounces of product, HoneyLab Skin Rescue face serum is super affordable.  Like I mentioned previously, I love the smell, the pump applicator, and just how well it does hydrate your skin.
I'm a little torn on if this price point is worth it for the serum.  I have used other hydrating face serums that work just as well that are just as affordable, but they don't leave you with a waxy, dirty-looking complexion.
If you're looking at it from an anti-aging standpoint, it's definitely not worth the money.  But from a hydrating standpoint, a case could be made, especially since you get a generous amount of product.
Guarantee
HoneyLab does not have any information on their website regarding their return policy or money-back guarantees, which is super strange.
Where To Buy
To purchase HoneyLab Skin Rescue face serum, click here.
HoneyLab Skin Rescue Face Serum: Summary
| | |
| --- | --- |
| Factor | HoneyLab Skin Rescue Face Serum |
| Overall Rating | |
| Texture/Feel | Average texture; leaves behind waxy, borderline slick residue |
| Application | Apply on clean, dry skin both morning and night. Once absorbed, follow with moisturizer and other skin products |
| Drying Time | 30 seconds |
| Smell | Beeswax and honey. Very luxurious and refreshing; not overpowering |
| Immediate Results | Immediate hydration especially in areas I had dry skin |
| Long Term Results | Super hydrated skin—dry patches vanished. Weird waxy residue that made my skin look waxy and dirty |
| Ingredients | Honey Extract, Algae Extract, Glycerin, Sodium Hyaluronate, Ceramide 2 |
| Price | $40.00 |
| Guarantee | HoneyLab does not have any information on their website about return policy or guarantees |
| Where To Buy | Click Here |