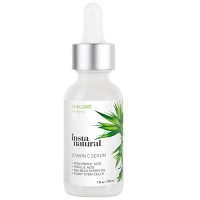 Product Name:  InstaNatural Vitamin C Serum
Overall Rating: 

Serum Type:  Vitamin C
Size:  1 fl oz
Price:  $17.97
Cost Per Ounce:  $17.97
Where to Buy:  Click Here
# of Ingredients:  28
Notable Ingredients:  Witch Hazel, Hyaluronic Acid, Plant Stem Cells, Sea Buckthorn Oil, Ferulic Acid
Overall Opinion:
Unless you want your skin to experience a major breakout and fail to see any improvements whatsoever, InstaNatural Vitamin C Serum is a face product you can completely skip.
Despite positive reviews on their website, InstaNatural Vitamin C Serum caused multiple large blemishes to pop up on my face, and continued use of the serum only worsened the issue.
Even if the acne hadn't been an issue, I did not experience any improvement in my skin as advertised.  There was absolutely no difference in skin brightness, anti-aging, or overall health and appearance of my face from using InstaNatural Vitamin C Serum.
The price tag may seem too good to be true, and that's because it is.  It may not cost you a lot to use the serum, but you'll regret you even spent a penny on it.
Detailed Opinion:
Texture/Feel
InstaNatural Vitamin C Serum is a very thin serum.  With an orange color and almost liquid-like consistency, it sort of feels like you're applying orange juice directly to your face.
Once the product has been applied to your face and has dried, it leaves a very strong, sticky residue behind on your skin. It gives a tightening effect, but not like you'd find with an anti-aging serum.  The tightness is borderline uncomfortable.
However, once other products have been applied on top of InstaNatural Vitamin C Serum, it doesn't feel uncomfortable to wear anymore.
Application
Since the applicator for InstaNatural Vitamin C Serum is a dropper, I found it fairly difficult to apply.
Since it's almost a liquid, the dropper may be the only way to actually expel the product, but I felt like the amount of product you got out with one full dropper wasn't enough to cover your face and neck, so I had to go back in for more, making it a difficult product to work with.
Despite the difficult packaging, InstaNatural Vitamin C Serum was pretty simple to spread across my face, and the liquid-like consistency quickly felt thicker once I rubbed it onto my face and neck.
After I applied the serum on clean, toned skin, I let the serum absorb and followed up with my acne cream and moisturizer both morning and night.
As I explained previously, a very intense sticky feeling is left behind on your face once you've applied InstaNatural Vitamin C Serum, so I found it difficult to rub my other products on top of it.  It felt like I had to work hard to spread those products on top of the serum, which I really didn't like.
Drying Time
InstaNatural Vitamin C Serum dries in about 15-30 seconds.  I think it's relatively absorbed at 15 seconds, but to really experience the sticky, tight feeling that is left behind once it's fully absorbed, I think you need to wait the full 30 seconds before applying other products.
Smell
As you might expect, InstaNatural Vitami C Serum smells identical to orange juice.  It's very sweet, and gives off a really nice high-end smell.  This is one of the few things I really enjoyed about this face serum.
Immediate Results
As I do with every new face serum I try, I used InstaNatural Vitamin C Serum at night first.  My initial thought was that I didn't like how sticky my face felt, or how difficult it was for me to apply other face products on top of it.
The next morning, I had a TON of congestion on my face.  I had a significant amount of blackheads around my mouth and on my nose, and I could see 3 or 4 zits starting to pop up.
I was pretty freaked out by the reaction, but wanted to give the serum a fair shot, so decided to continue using InstaNatural Vitamin C Serum.  This proved to be a big mistake.
Long Term Results
My skin is a total train wreck after using the serum for 5 days.  I really wanted to give it a fair shot, but now I'm treating a ton of unwanted acne and blackheads.
I have never seen so much congestion around my mouth and on my nose as I had using this face serum, and I had way more zits popping up in other areas of my face that I don't normally have.
If the horrible complexion wasn't bad enough, I didn't see improvements in any area of my skin using InstaNatural Vitamin C Serum.  My skin is no brighter or youthful looking in any capacity than it was before using this face serum.
I really regret even using it for five days.  I wanted to give it a fair chance, but I couldn't even make it a full week.  It was clear to me after just five days that the serum was the cause of my skin issues, and they have begun to clear up now that I've discontinued using InstaNatural Vitamin C Serum.
Price/Value
At $17.97 for an ounce of face oil, InstaNatural Vitamin C Serum seems like a total steal, and a super affordable option for a face serum.
Unfortunately, it isn't worth a single penny of that.  Based on my major breakouts and no skin improvement, this isn't worth saving a few bucks to try out.
There are plenty of other affordable Vitamin C serums on the market that do a much better job than InstaNatural Vitamin C Serum.
Guarantee
InstaNatural has a 100% satisfaction guarantee, so you can return the product at any point for a full refund.
Where To Buy
To purchase InstaNatural Vitaminc C Serum, click here.
InstaNatural Vitamin C Serum: Summary
| | |
| --- | --- |
| Factor | InstaNatural Vitamin C Serum |
| Overall Rating | |
| Texture/Feel | Thin, orange face serum; liquid-like consistency. Leaves sticky residue on face |
| Application | Difficult to apply with dropper applicator; used both morning and night on clean, toned skin and followed up with face moisturizer |
| Drying Time | 15-30 seconds |
| Smell | Smells like orange juice; sweet smell—very high end odor |
| Immediate Results | Uncomfortable tight feeling on skin; major congestion on nose and mouth; blemishes |
| Long Term Results | Major skin issues with acne and no improvements in skin brightness or anti-aging |
| Ingredients | Witch Hazel, Hyaluronic Acid, Plant Stem Cells, Sea Buckthorn Oil, Ferulic Acid |
| Price | $17.97 |
| Guarantee | 100% satisfaction guaranteed; no time frame for money returned |
| Where To Buy | Click Here |