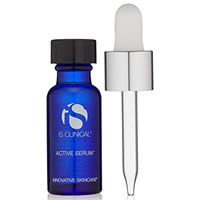 Product Name:  iS Clinical Active Serum
Overall Rating: 

Serum Type:  Anti-aging, acne fighting, skin brightening
Size:  0.5 fl oz
Price:  $71.00
Cost Per Ounce:  $135.00
Where to Buy:  Click Here
# of Ingredients:  13
Notable Ingredients:  sugar cane extract, bilberry extract, glycerin, white willow bark extract, Arbutin, mushroom extract
Overall Opinion:
Having never heard of iS Clinical before, I didn't have any expectations of how well iS Clinical Active Serum would perform compared to other face serums.
While this serum claims to be anti-aging, anti-acne, and illuminating, it does much more than that.  Upon initial application, I noticed my acne went away completely, and my makeup stayed on longer than it has any other day.
There is an initial tingling that occurs with the product, and it does have a strong medicinal smell to it, which could be uncomfortable for some people.  However, the results are well worth those minor aspects of the serum.
The serum feels exactly like water, so it is a bit more difficult to apply to your face and neck, but it is very comfortable to wear throughout the night and day.
After using iS Clinical Active Serum for just a couple of weeks, I noticed a complete transformation of my skin in every way.
From my acne completely disappearing, to my overall complexion looking more healthy and radiant than it ever has before, this face serum is worth every penny of its high price tag.
Detailed Opinion:
Texture/Feel
iS Clinical Active Serum feels identical to water.
I actually had a hard time applying it initially because it kept running through the cracks between my fingers.
Once the serum had been applied to my face, it had an instant cooling sensation.  That was quickly followed by a dull tingling feeling all over my face and neck.
The tingling is not painful in any way—it just feels like it's an active product that is beginning to work on your skin.
Application
To apply iS Clinical Active Serum, begin by cleansing and toning your face.
The instructions then direct to apply a small amount to your face and neck.
This part was a little tricky since a "small amount" can mean a lot of different things to different people.  However, I opted to use about half a syringe full of the product.
Since the serum is so thin and dropped through the cracks between my fingers, I put the product into the palm of my hand and rubbed my hands together to apply it to my face and neck.
It's easy to smooth the product over your face and neck since it is water based, but once it's touched your skin, it has a slightly tacky feeling for a small amount of time.
I chose to use the serum twice a day, both morning and night.  However, the instructions didn't specify whether to use it once or twice daily.
Drying Time
The drying time of iS Clinical Active Serum is almost immediate.
While that may seem stressful, it is easy to rub the serum over your face and neck since it is completely liquid.
Once you've touched the serum to your face, it isn't going to move.  It actually has a slight sticky feeling to it once you've applied it to your skin, which goes away in 10-15 seconds.
The serum does leave a cold, tingling feeling on your skin, which takes about 2-3 minutes before going away.
The feeling is definitely not uncomfortable, but I chose to wait until the tingling sensation went away before applying any other products on top of the serum.
Smell
iS Clinical Active Serum has a very strong medicinal smell.  I would compare it to cough medicine.
It also has a slight mint smell to it, which is expected with the cooling sensation it brings to your skin.
While this scent can be overwhelming, it also makes you feel like it is actually an active serum, almost like a prescription for your skin, so it didn't bother me very much.
Immediate Results
I applied iS Clinical Active Serum at night first.
I don't really struggle with acne, but I normally have a few blemishes on my face.
When I woke up the next morning, the blemishes were completely gone.  Not just a lot smaller.  They were literally gone.
I also felt like my skin was very hydrated and plump, and gave off a natural glow.  This is definitely not how my skin normally feels when I wake up.
When I applied the serum in my morning skincare routine, I couldn't believe how much better my makeup looked.
Not only did my skin look almost airbrushed, but my makeup also lasted all… day… long.  My skin was super matte without feeling dry, and my makeup looked freshly applied until I removed it at night.
Long Term Results
My skin has never looked better after using iS Clinical Active Serum.
When it comes to the anti-aging aspect of the serum, I see a major difference in my fine lines, specifically around my eye area.
I also noticed that my age spots, which drive me crazy, are significantly lighter, and can easily be hidden under my foundation, which has never been the case before.
When it comes to the anti-acne claims, I don't think any other face serum works better.  My acne was completely gone, not just less significant.
I also didn't have any new acne spots pop up while using the face serum.
When it comes to the illuminating feature, iS Clinical Active Serum made my face feel completely hydrated and plump, and gave me a natural glow that I find hard to obtain normally.
The way my makeup looked the entire time I used this serum was incredible.
Not only has no other face serum given me such a matte, airbrushed look on my skin, but no other face primer I've used has done this either.
Price/Value
At $71.00 for half an ounce, iS Clinical Active Serum is on the higher end of the price scale.
It is worth every penny, though.  No matter what your skincare concerns are, this face serum targets them and improves them significantly.
I didn't have to wait long to see those results, and I honestly think I could throw away my face primer and just use this face serum instead.
Guarantee
All iS Clinical products are sold in salons or third-party online retailers, such as Amazon and Dermstore.  The return policy for the products is based on where you purchase the product.
Where To Buy
To purchase iS Clinical Active Serum, click here.
iS Clinical Active Serum: Summary
| | |
| --- | --- |
| Factor | iS Clinical Active Serum |
| Overall Rating | |
| Texture/Feel | Very thin, feels exactly like you're rubbing water on your face. Causes tingling feeling on skin. |
| Application | After cleansing and toning face, apply a small amount to your face and neck. |
| Drying Time | Almost immediate. Less than 10 seconds |
| Smell | Extremely strong odor, very similar to cough medicine |
| Immediate Results | Incredible makeup application, blemishes completely disappeared the next morning, immediate healthy glow |
| Long Term Results | Zero acne on my face, decrease in wrinkles around my eyes, age spots much lighter, complexion feels more smooth overall, and skin feels very hydrated. |
| Ingredients | Sugar cane extract, bilberry extract, glycerin, white willow bark extract, Arbutin, mushroom extract |
| Price | $71.00 |
| Guarantee | iS Clinical is only sold in salons and online through third-party retailers, so the return policy is based on each individual supplier. |
| Where To Buy | Click Here |