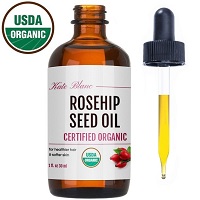 Product Name:  Kate Blanc Rosehip Seed Oil
Overall Rating: 

Serum Type:  Anti-aging
Size:  1 fl oz
Price:  $13.95
Cost Per Ounce:  $13.95
Where to Buy:  Click Here
# of Ingredients:  1
Notable Ingredients:  Organic Rosehip Seed Oil
Overall Opinion:
Adding a facial oil into your skincare routine can be a game-changer for your skin's health and appearance, and Kate Blanc Rosehip Seed Oil is one of many options available on the market today.  At an affordable price point for a product that only requires 3-4 drops daily, this is definitely a product that is budget-friendly!
With a consistency and texture that isn't overpoweringly oily, and is void of any strong odors that often accompany products such as these, there are definitely great aspects about Kate Blanc Rosehip Seed Oil.  Unfortunately, it doesn't deliver on the anti-aging claims it promises.
Leaving most fine lines and wrinkles untouched, and failing to revitalize and brighten your complexion, this facial oil ends up being just an added step in your skincare routine, rather than a necessary part of it.  There are other rosehip oils on the market that do a much better job at changing the appearance of your skin than Kate Blanc's does, so this is one to skip.
Detailed Opinion:
Texture/Feel
As a facial oil, Kate Blanc Rosehip Seed Oil is obviously very oily.  However, compared to other facial oils I've used before, it's not overpowering at all.  I'm actually super surprised by this!  I don't think you could wear it during the day necessarily, but I didn't feel like my face was as oily as it normally is when I use products like this.
It does leave behind an oily, sheen residue on your face, obviously, but it's super comfortable to wear!
Application
The application for Kate Blanc Rosehip Seed Oil is super simple.  It doesn't specifically say to apply it as your final step in your skincare routine, but since I've used other facial oils, I know this is how you use them.
All you need to cover your entire face is 3-4 drops, so this product will definitely last you a long time.  Make sure you apply the oil to clean skin, and that you've applied the rest of your skincare products beforehand—from serums to moisturizers, and everything in between.
I personally like to wait about a minute to let those other products absorb into my skin before applying the oil, so I did that with Kate Blanc Rosehip Seed Oil, as well.
With facial oils, you only use them at night because you can't walk around with a greasy face all day, or really use them under makeup and whatnot, so you only need to use this once daily, at night.  Super simple!
Drying Time
Since Kate Blanc Rosehip Seed Oil is actually a facial oil, and not a serum, it really doesn't have a dry time.  You apply it at night, and the product has absorbed into your skin by the time you wake up.
I don't think this really matters since it's the final step in your skincare process, so you don't need it to dry in order to apply other products on top.  However, you may get a little bit of oil on your pillowcase, but nothing too crazy.
Smell
Kate Blanc Rosehip Seed Oil is completely odorless, which really surprised me!  Most other rosehip oils I've used in the past have a very strong floral scent to them, which I personally enjoy.  However, this doesn't have any smell whatsoever.
This was a bit of a bummer for me, because I love that luxury odor that normally comes with rosehip seed oils, but I think many people would find the odorless aspect a bonus!
Immediate Results
I normally try new face serums out at night first anyways, but since Kate Blanc Rosehip Seed Oil is only intended for nighttime use, it worked out perfectly!
My initial thoughts were how easy the product was to use, and how comfortable the oil itself was to wear.  So many other facial oils are super oily and greasy, but that wasn't the case with this one, which was a major bonus!
The next morning, my skin looked the exact same—no good or bad changes.  So I didn't really have any immediate results with this product.
Long Term Results
Despite using this product every night for weeks, I unfortunately didn't experience many impressive results.  One of the minor positives I did experience was seeing a slight improvement in the fine lines around my eyes, so it did make a small difference in that aging area on my face.
Kate Blanc Rosehip Seed Oil also kept any dry skin at bay, which is always nice.  Nobody likes dry, flaking skin, and this facial oil definitely made sure I didn't have any occurrence of that.  However, I definitely wouldn't categorize this as a hydrating product.
Beyond that, however, I didn't experience any results.  Despite promising to repair skin, revitalize and brightened skin appearance, and decrease fine lines and wrinkles, it sadly didn't deliver on those elements much at all.  This was sadly a disappointing product for me.
Price/Value
Since I didn't experience many positive results with Kate Blanc Rosehip Seed Oil, I don't think it's worth the money—even though it's very affordable and would last you a long time!
I've used other rosehip oils that really do brighten my skin tone and help with anti-aging benefits, and they have been comparable in price.  I just don't think this product has enough going for it to justify asking anyone to pay really anything for it, especially since there are much better products available on the market.
Guarantee
Kate Blanc offers a full refund for 365 days after you've purchased the product.  I think this is a really good return policy! You have plenty of time to decide whether the product works for you, and find time to make the return if you don't like the product. I really enjoy this aspect of the Kate Blanc brand!
Where To Buy
To purchase Kate Blanc Rosehip Seed Oil, click here.
Kate Blanc Rosehip Seed Oil: Summary
| | |
| --- | --- |
| Factor | Kate Blanc Rosehip Seed Oil |
| Overall Rating | |
| Texture/Feel | Since it's a facial oil, it definitely has an oily consistency. However, it isn't as overpowering as most other face oils.  It leaves behind a slick, oily residue on face the entire night but is comfortable to wear. |
| Application | Use once daily, at night, on clean skin. Apply as the final step to your skincare routine, once all other facial products have been applied. Only need 3-4 drops for face and neck. |
| Drying Time | No real dry time |
| Smell | Odorless |
| Immediate Results | No real immediate results |
| Long Term Results | Small changes in the fine lines around my eyes, and kept dry skin away, but no real changes beyond that |
| Ingredients | Organic Rosehip Seed Oil |
| Price | $13.95 |
| Guarantee | Full refund for 365-days after purchase |
| Where To Buy | Click Here |