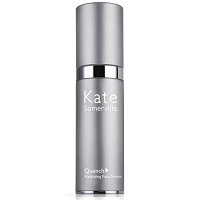 Product Name:  Kate Somerville Quench Hydrating Face Serum
Overall Rating: 

Serum Type:  Hydrating, Anti-aging
Size:  1 fl oz
Price:  $75.00
Cost Per Ounce:  $75.00
Where to Buy:  Click Here
# of Ingredients:  16
Notable Ingredients:  Dimethicone, Retinol, Glycolipids, Sodium Hyaluronate
Overall Opinion:
Kate Somerville Quench Hydrating Serum is the face product your skin needs if it's in dire need of some hydration.
As a hydrating serum, this product absolutely delivers on its claim to increase plumpness and hydration to your face, and just makes your skin feel more comfortable overall.
While the face serums also tries to throw an 'anti-aging' label on the box, this sadly is a major fail.  Besides the added plumpness to your face from the increased hydration, this serum doesn't provide any other anti-aging benefits.
Kate Somerville Quench serum is easy to apply, specifically at night, but causes a few problems in daytime application if you tend to wear a full face of makeup for work or school.
Given its incredible ability to hydrate your face, and how little product goes a long way, I think this serum is worth the price you pay for it.
Detailed Opinion:
Texture/Feel
Kate Somerville Quench face serum is very oily.  While it has a very "serum-like" thickness to it, it goes on very slick, and a little goes a long way.
While some face serums have more of a silicone feel to it, this serum feels more like you're applying baby oil to your face.
At first, I was nervous that the oiliness of the face serum would be too overwhelming, but because it soaks in fairly quickly, it didn't feel uncomfortable to wear.
I do think that it impacts the application of other products, though.  I could tell a major difference in applying my acne cream and face lotion after I applied this face serum as opposed to other face serums I've used.
Application
Application of Kate Somerville Quench face serum is super easy.  Use one pump both morning and night on a clean, dry face.
I made the mistake of using two pumps the first night, and it was way too much product.
It may not seem like a lot of product when you initially pump it out, but a little goes a long way, so make sure you just stick with the single pump.
Once the product has absorbed fully into your skin, apply a face moisturizer on top.
I found using the product at night to be very simple, and I didn't find that any of the product transferred to my pillowcase, which was encouraging since it has a more oily consistency.
The face serum definitely changed how my makeup applied to my face, and how it wore throughout the day, so incorporating it into my morning routine was much more difficult and unenjoyable.  I ultimately switched to just using it once daily for this reason.
Drying Time
I was super surprised at how quickly Kate Somerville Quench serum dried.
With many oily serums, it can take an eternity to feel like it's sunk into your skin enough to apply other products on top of it.  That wasn't the case with this face serum.
I would say within 15 seconds of applying it, I could feel it begin to dry and some of the sheen on my face begin to disappear.  By 45 seconds, it was completely dry.
An oily texture still remained on my skin, but you could tell that the product had actually absorbed into my face.
Smell
Kate Somerville Quench Hydrating Face Serum is completely and totally odorless.
Immediate Results
As I do when trying out any new face serum, I applied Kate Somerville Quench face serum at night first.  I noticed how easy it was to use, and how little product went a long way.
When I woke up the next morning, my face immediately felt more hydrated.  Since I began using this face serum when temperatures had dropped, my face was feeling really dry and in need of some love.
This serum felt like it breathed life back into my skin, and my face felt extremely plump and healthy right off the bat.
Long Term Results
When it comes to the hydrating aspect of the serum, Kate Somerville Quench Hydrating serum completely knocks it out of the park.
My skin continued to feel so hydrated, and the plumpness and elasticity only increased as I used the face serum for longer.
I honestly felt like my face felt so much better in this cold weather than it has with any other serum I've used.
As far as the anti-aging aspect of the face serum, I don't think it did anything for me in that department.  It did add plumpness to my skin, but I think that had to do with hydration.
So long term, I didn't experience any anti-aging benefits from using Kate Somerville Quench serum.
Price/Value
At $75.00 for an ounce, Kate Somerville Quench Hydrating Serum is relativity expensive compared to other face serums on the market.
As a hydrating serum, I absolutely think this is worth it.  And a little product goes a long way, so I think it would take a while to get through an entire ounce.
I also think you can get away with using it just once a day, which is what I ended up doing since I really disliked how my makeup applied on top of the serum.  So that would help the product last longer too if you're like me in the makeup department.
As far as anti-aging serums are concerned, this is a big failure, so it is most definitely not worth the money if that's the type of serum you're looking for.
Guarantee
Kate Somerville offers a 30-day money back guarantee on purchases made through authorized sellers.
Where To Buy
To purchase Kate Somerville Quench Hydrating Serum, click here.
Kate Somerville Quench Hydrating Face Serum: Summary
| | |
| --- | --- |
| Factor | Kate Somerville Quench Hydrating Face Serum |
| Overall Rating | |
| Texture/Feel | Oily texture, but comfortable to wear. Slick feeling when applying the product, but it absorbs nicely into the skin |
| Application | Apply one pump of face serum twice daily to clean, dry skin |
| Drying Time | 45 seconds |
| Smell | Odorless |
| Immediate Results | Very hydrated skin, noticeable increase in plumpness to face |
| Long Term Results | Super hydrated, comfortable skin, increase in plumpness, zero anti-aging benefits |
| Ingredients | Dimethicone, Retinol, Glycolipids, Sodium Hyaluronate |
| Price | $75.00 |
| Guarantee | 30-day money back guarantee |
| Where To Buy | Click Here |