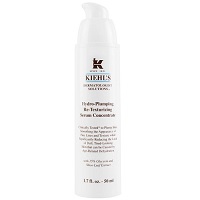 Product Name:  Kiehl's Hydro-Plumping Re-Texturizing Serum Concentrate
Overall Rating: 

Serum Type:  Anti-aging
Size:  1.7 fl oz
Price:  $58.00
Cost Per Ounce:  $34.12
Where to Buy:  Click Here
# of Ingredients:  18
Notable Ingredients:  Glycerin, Dimethicone, Perilla Ocymoides Leaf Extract, Citric Acid
Overall Opinion:
When it comes to Kiehl's Hydro-Plumping Re-Texturizing Serum Concentrate, I'll cut straight to the chase—I am absolutely obsessed with this face serum.
Marketed as an anti-aging serum, it delivers on all of its guarantees and then some.  I was amazed at how radiant my skin looked, and how soft and cared for my skin felt after just using the serum once.
As a thicker serum, I was initially fearful that the product would be difficult to work into my skincare routine, but that couldn't have been further from the case.  Kiehl's serum concentrate was extremely easy to apply, and didn't negatively impact any of my other face products.
With a price tag that is extremely affordable, I am blown away at how well this serums works in such a short period of time, and what a drastic difference it made to my skin.
Detailed Opinion:
Texture/Feel
Kiehl's Hydro-Plumping face serum is extremely thick.  I would compare it to Aquaphor or Vaseline, but not nearly as greasy as that.
The texture of the serum itself is pretty interesting.  It has somewhat of a silicone feel to it, but it's not slick at all.  In fact, it doesn't seem to have any oily component to it period, which I love, especially as someone with a combination skin type.
Even though the serum is thick, it applied very comfortably on my face.  It didn't feel thick once I had rubbed it in, and it didn't leave me with really any residue once it had dried.
Application
Application of Kiehl's Hydro-plumping face serum is super easy, which had a lot to do with the packaging.
I loved that this serum had a pump.  A lot of face serums don't have this, but the pump makes it so easy to get out the exact right amount of product you should be using on your face.
To apply this face serum, use 1-2 pump on clean, dry skin both morning and night.
Since the texture of the serum didn't impact how my other face products applied, including makeup, it was super easy to use twice a day, which is something I struggle to find in many other face serums.
You can also use Kiehl's face serum on your eye contour, which I think is a really unique aspect of this serum.  I chose to apply it there and I think it made a huge difference in my results.
Drying Time
I was super surprised at just how quickly Kiehl's Hydro-Plumping face serum dries.
Once I applied it evenly on my face, it was dry within 5-10 seconds.  And once it had dried, it didn't leave any uncomfortable residue behind.  I could still feel the serum on my face—it was just that comfortable to wear.
I haven't found a serum that dries this quickly, and it made my skincare routine even that much simpler because I could move through applying my different products quicker, which is an added bonus.
Smell
Kiehl's Hydro-Plumping serum concentrate is completely odorless.
Immediate Results
As I do when trying out any new face serum, I applied Kiehl's Hydro-Plumping serum concentrate at night first.
When I woke up the next morning, my skin felt insanely soft.  I have never used a product before that made my skin texture feel that evened out and smooth.
I also had an intense radiance to my skin that was noticeable to the point that even my husband said something.  It looked like I had applied highlighter directly to my face.
So initial results were extremely impressive.
Long Term Results
I am absolutely blown away at the long term results of Kiehl's Hydro-Plumping face concentrate.
When it comes to anti-aging, I found that this face serum significantly reduced the visibility of dark spots on my skin, and overall just evened out my skin tone.
My skin felt so healthy and hydrated, and it gave my skin an almost unrealistic looking glow to it.  I didn't even want to apply foundation on top of my skin because of how beautiful my natural skin looked.
Kiehl's face serum instructed to apply the product on your natural eye contour, and I was shocked at what a difference that made.  My fine lines in that area are now basically gone, and the amount of radiance I'm experiencing there is incredible.
Overall, I still can't really believe that this is my natural skin after using Kiehl's Hydro-Plumping serum concentrate.
Price/Value
At $58.00 for a 1.7 fl oz, Kiehl's Hydro-Plumping serum concentrate is one of the more affordable face serums on the market, which seems crazy because of how well it works!
Based on how much product you get, how quickly you see results, and just how impressive the results are, Kiehl's face serum is well worth the money, and I would happily pay even more to achieve these results.
Guarantee
Kiehl's offers a 100% money-back guarantee at any point after you've purchased their products.
Where To Buy
To purchase Kiehl's Hydro-Plumping Re-Texturizing Serum Concentrate, click here.
Kiehl's Hydro-Plumping Re-Texturizing Serum Concentrate: Summary
| | |
| --- | --- |
| Factor | Kiehl's Hydro-Plumping Re-Texturizing Serum Concentrate |
| Overall Rating | |
| Texture/Feel | Extremely thick, but doesn't feel thick once applied to face. Silicone feeling serum without the slick residue those often leave behind. |
| Application | Apply evenly to clean face twice daily before applying moisturizer |
| Drying Time | 5-10 seconds |
| Smell | Odorless |
| Immediate Results | Insane amount of glow and hydration to skin, extremely soft feeling face |
| Long Term Results | Radiant skin, more even texture on face, noticeable reduction in visibility of dark spots and fine lines, more plump skin |
| Ingredients | Glycerin, Dimethicone, Perilla Ocymoides Leaf Extract, Citric Acid |
| Price | $58.00 |
| Guarantee | 100% money-back guarantee at any point after purchase |
| Where To Buy | Click Here |
Kiehl's Hydro-Plumping Re-Texturizing Serum Concentrate Review